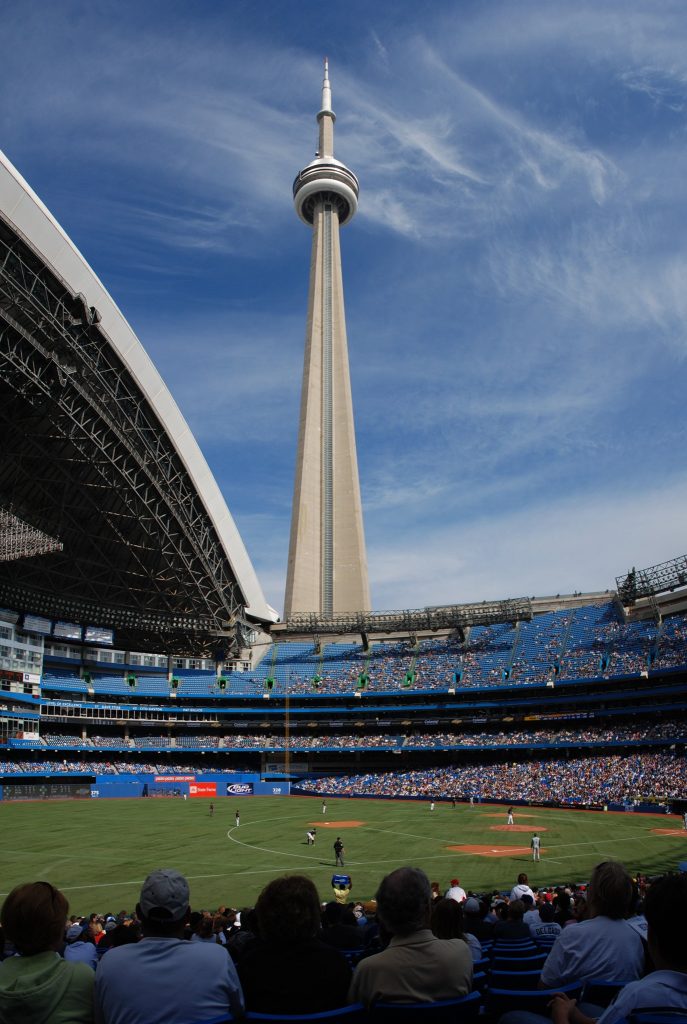 What to see in Toronto, Canada
Art Gallery of Ontario. Tu, Th-Sa 10AM-5:30PM, W 10AM-8:30PM (free admission after 6PM), closed M. The largest art gallery in Canada recently redesigned by architect Frank Gehry. It has a great Canadian paintings exhibit and the world's largest collection of Henry Moore sculptures. The European paintings exhibit has a few excellent pieces and it has one of the world's most expensive paintings on view (Ruben's The Massacre of the Innocents).
Royal Ontario Museum, 100 Queen's Park. F 10AM-9:30PM, Sa-Th 10AM-5:30PM. One of the better and larger museums in North America. The original building was built in 1910, and is a handsome Romanesque revival, with many carvings of people and events and breathtaking original frescoes lining vaulted interior atria. The newer addition is a large DE constructivist crystal, made of steel and glass – the result is a striking, thought-provoking, and polarizing juxtaposition of ancient and post-modern styles, an attempt to capture the unique modernity of Toronto's culture. Thousands of artifacts and specimens are featured in over 20 exhibits; including dinosaurs, Ancient China, native Canadians, Canadian furniture, medieval Europe, art deco, ancient Egypt, textiles, Middle East, India and Pacific islanders. The world's largest totem pole, which is over 100 years old, is also housed in a place of honor.
Ontario Science Centre, 770 Don Mills Rd. 10AM-7PM daily. Lots of hands on science exhibits, including a rainforest, a tornado machine, a sound proof tunnel, balance testing machines and more. It also contains Ontario's only Omnimax (full wrap around) movie theatre.
Bata Shoe Museum, 327 Bloor St W. M-Sa 10AM-5PM, Su noon-5PM. This offbeat museum is devoted to shoes and footwear, and contains Napoleon Bonaparte's socks, and footwear from cultures all over the world.  Pay-what-you-can admission ($5 suggested) Th 5PM-8PM.
Canadian National Exhibition (CNE). Annual agricultural exhibition that is Canada's largest fair and the fifth largest in North America, with an average annual attendance of 1.3 million. Runs mid-August through early September.
CN Tower. The tallest free standing structure in North America, at over 500 meters tall. There is a glass elevator to the top. The view is incredible and there is a glass floor, which for some is very scary to walk on. There is also a revolving restaurant, which offers spectacular views as the sun sets over the city.
Casa Loma, 1 Austin Terrace (at the corner of Davenport Rd and Spadina Rd). 9:30AM-5PM daily, until 1PM Christmas Eve, closed Christmas Day. Visit Casa Loma and step back in time to a period of European elegance and splendor. The museum is the former home of Canadian financier Sir Henry Pellatt complete with decorated suites, secret passages, a 250 meter long tunnel, towers, stables and beautiful 5-acre estate gardens. A self-guided digital audio tour in 8 languages (English, French, Japanese, German, Italian, Spanish, Mandarin and Korean) is available.
Spadina House – A historic mansion dating from the 1860s, the grounds contain a beautiful garden, which is free to walk around in. If you want to view the historic interior, you need to pay.
Gardiner Museum of Ceramic Art. Dedicated to ceramics in an exquisite contemporary building right across from the Royal Ontario Museum – from Ancient to Contemporary with an extraordinary European collection.
Hockey Hall of Fame. Dedicated to the history of ice hockey, it is both a museum and a hall of fame. It is housed in the historic Bank of Montreal building and dates from the 1880s.
Black Creek Pioneer Village, 1000 Murray Ross Pkwy (One set of lights east of Jane Street, on the South side of Steeles Avenue. Historic site in northern part of Toronto, just west of York University and southeast of the Jane and Steeles intersection. It overlooks Black Creek, a tributary of the Humber River. The village is a recreation of life in 19th-century Ontario and consists of over forty historic 19th century buildings, decorated in the style of the 1860s with period furnishings and actors portraying villagers. The village is populated with ducks, horses, sheep and other livestock and is self-explored, although many of the individual sites will have a guide inside to explain details of the structure. A good time to visit is weekdays during the autumn as there are comparatively few visitors. 
Toronto City Hall. Two buildings forming an apparent semi-circle (though in fact from overhead the circle hemispheres can be seen to be asymmetrically oblate) overlooking Nathan Phillips square, which has a very popular skating rink in the winter. Architecturally stunning, it is one of those few examples of 1960s-era ultra modernism that manages not to look dated decades down the line. Next door to Old City Hall (currently the court house) which has a more classical architecture. As a side-note, images of Toronto City Hall have played stand-in for many science fiction film and television locales, including consistently being used to represent Star Trek's Federation Headquarters ever since the original Star Trek series.
Toronto Zoo. A world-class facility, the Toronto Zoo is best accessed by car or GO Transit + TTC bus as a day-trip as it is located at the eastern reaches of the city. The zoo is divided into zones (such as Africa, South America and North America) and features both indoor and outdoor displays. Open daily except for Christmas Day, and worth a visit in both the winter and summer months.
Toronto Aerospace Museum, Parc Downsview Park, 65 Carl Hall Road. (open M on public holidays 10AM-4PM). The Toronto Aerospace Museum (TAM) is dedicated to developing an exciting educational, heritage and tourist attraction at Parc Downsview Park. Founded in 1997, the museum lost its lease and is currently looking for another location to house its artifacts.
Ripley's Aquarium of Canada, 288 Bremner Boulevard, Toronto. It is located in downtown Toronto, just south of the CN Tower. The aquarium features several aquatic exhibits including a walk-through tank. The aquarium has 5.7-million litres (1.5-million gallons) of marine and freshwater habitats from across the world. The exhibits hold 13,500 exotic sea and freshwater specimens, from more than 450 species.
Aga Khan Museum, 77 Wynford Dr, Toronto, ON M3C 1K1, Canada. Tu-Su 10AM-6PM. This is the largest museum in North America dedicated to Islamic Arts. Designed by Fumihiko Maki, winner of the Pritzker Architecture Prize, the museum has an amazing architecture.  Free on Wednesdays.