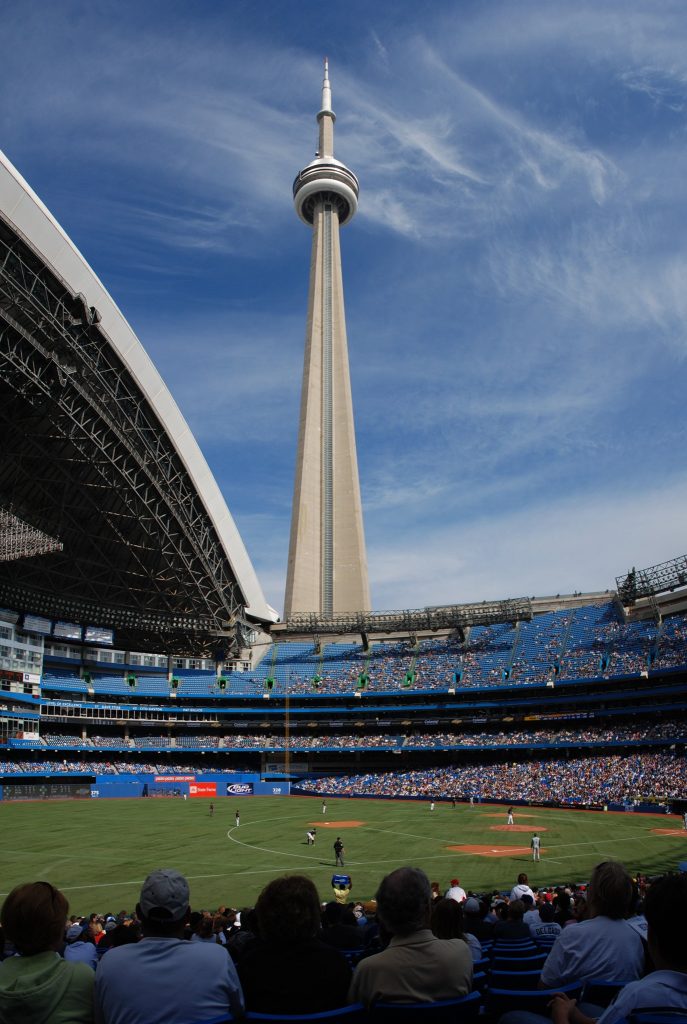 What to buy in Toronto, Canada
Toronto has ample opportunities for shopping, and nearly any section of the city has unique places to shop:
Yonge Street, is recognized by the Guinness Book of World Records as the longest street in the world. It runs from the edge of the lake to about 1896 km north of the city, and the Yonge subway line runs right under the Street from King Street North to Finch Avenue. You can drive along this street if you want (give up trying to find parking), but the smart way to explore Yonge is on foot, with a subway day pass to whisk you between the spots you want to see.
South of Queen St. to the lake, is mostly the financial district, with very little for tourists. If you want to have a good look at the skyscrapers of the financial district, walk west from the King subway station to the corner of King and Bay. This is the financial heart of the country; Canada's equivalent to New York's Wall Street.
From Queen St. to Bloor St. is the busiest stretch. While some locals will hang out and shop here (mostly younger folks), many of the stores are limited to souvenirs or lower budget shopping. This is a pretty exciting place to be, and most visitors find this part of the city an interesting experience, even if the most refined shopping is found elsewhere.
Toronto Eaton Centre. A massive shopping mall on the West side of Yonge between Queen and Dundas Streets, The Eaton Centre is a Toronto landmark. Because of its downtown location and accessibility by subway, the mall tends to have a less-antiseptic feel than more remote suburban centres. This place is generally packed with people, an exciting mix of locals and visitors. The bottom level houses an impressive fountain, which is a nice place to take a rest and make a wish. If you're coming from a warm country during winter, a popular store with locals that work outdoors where you might find fairly-priced winter clothes is Mark's inside the mall.
Bloor St. If you head West from the corner of Yonge and Bloor, you are in the most upscale of Toronto's shopping districts, Yorkville. While not strictly on Yonge street, this area is easily accessible from the Yonge-Bloor subway station (you can also go to Bay station on the Bloor-Danforth subway line).
Bloor St. to Eglinton. A bit sleepier than other parts of Yonge, and a long walk without too much shopping, but for those who want a proper urban hike (4 km), there's no reason to skip this stretch. The shopping is not as vibrant, but that's not to say there aren't sights to see. Of particular interest is the Mount Pleasant Cemetery, roughly halfway between St. Clair and Davisville subway stations. The subway route between Bloor and Eglinton is interesting as well, as much of it runs outside, and the view out the window of the train is enjoyable, so if it's shopping you want, take the train to Eglinton from Bloor.
Eglinton to Lawrence. This stretch of Yonge is not as well known by tourists, and consequently more popular with locals. Surrounded by upper middle class and wealthier neighborhoods, this is where you want to go to experience the energy of Yonge street, without the tourist traps. Take the subway to Eglinton station, and walk North. It is a 2 km walk (1.3 miles) from Eglinton to Lawrence, and there are hundreds of stores and restaurants on both sides of the street. If you can handle a 4 km walk, you can walk up to Lawrence on one side of the street, and then cross over and walk back. There's even a half kilometer North of Lawrence that you can cover, for a total of 5 km of continuous shops. Bring comfortable shoes!
Yorkville. The high-end shopping district of Toronto. Once a heaven for Toronto's hippie population, it is located just north of Bloor and Bay Streets and is now home to many designer boutiques. During the annual Toronto Film Festival the area is "ground-zero" for celebrity watching.
Located a short walk West of the Eaton Centre is the city's fashion district along Queen Street West, an area usually bustling with locals looking for the latest fashion in a variety of trendy stores. The stretch between University Ave and Spadina tends to be much more main stream with an ever increasing number of chain stores, but it is still well worth the look. More offbeat choices can be found west of Spadina Ave stretching all the way into Parkdale (at least 2 km/ 1.4 miles). Take the University subway to Osgoode station and walk west.
Kensington Market, (around College and Spadina. Take the Bloor-Danforth subway to Spadina station, and then take the Spadina streetcar south into Chinatown. Kensington Market is one block West of Spadina. You can get off anywhere between College and Dundas streets.). Saturday is a good time to go; some stores are closed on Sunday.. Once a centre of Jewish life but has morphed into the centre of Toronto's bohemian scene. Visitors will be assaulted by sounds and smells unlike anywhere else in the city, as narrow streets bustle with immigrants, punks, and yuppies alike. Stores include surplus shops, coffee houses, small restaurants (including vegetarian), clothing vendors, and record stores. Fish and fruit markets are also present in great numbers, and the area is experiencing a boom of South American food stalls of late. Several weekends throughout the summer are designated "car-free" by the city, but even on the average weekend this is a place to avoid with a car, as pedestrians tend to wander as they please.
Pacific Mall, at Steeles and Kennedy in Markham. The largest Chinese indoor mall in North America, and definitely worth a visit if you are interested in Asian-Canadian culture). About 45 minutes from downtown by car, well over an hour by transit. Also located close to Milliken GO station.
Chinatown. Centred at Dundas and Spadina, Toronto's Chinatown is a great way to sample a tiny bit of cities like Hong Kong, without spending the airfare. Vast crowds crush the sidewalks as vendors sell authentic Chinese and Vietnamese food, and not-so-authentic knock-offs. It is one of North America's largest Chinatowns, and with many shops aimed at tourists, it is a good place to pick up some unusual and inexpensive souvenirs. The area is also home to a growing number of Korean and Vietnamese shops and restaurants. Toronto's multicultural mosaic never stops evolving. For a complete tour, travel along Spadina (North/South) starting at College Street in the north or Queen Street in the south.
Yorkdale Shopping Centre. A shopping centre located in the north of the city, accessible from Yorkdale subway station. This is a full-service, upscale mall with hundreds of stores, a mid-sized movie theatre, and a huge and recently upgraded food court containing everything from fast food to sit-down restaurants to sushi and espresso bars, as well as a glass-enclosed sunlit dining area with sofas and fireplaces and a walk-out, unenclosed balcony. Be advised that because of the quality of the shopping, it is always extremely busy, and is a popular hangout destination for the local youth scenes, ensuring that this is not ideal for a quiet, unhurried shopping excursion. Make use of the subway if possible on weekends, as locals pack the parking areas to capacity.
The 'PATH' System. Stretches from the Eaton Centre south to Union Station, an underground shopping mall has been created for all the commuters to get from Union Station to their offices and back without ever going outside. In a city of Toronto's summer heat and winter cold, this is essential.
Scarborough. Kennedy Avenue from Lawrence Avenue East to Ellesmere Avenue is a commercial district featuring dozens of independent furniture, electronic, houseware and computer businesses that all share some of the best deals the city has to offer, together with a couple of large electronic chains. It is often very congested on weekends by automobile, and many merchants lack adequate parking, but it is within walking distance of the Scarborough RT and there is bus service from the Kennedy subway station on the Danforth line. This is not really a destination for tourists, and it's quite a drive from the city centre, but if you're in the area, and want to do some discount shopping, there may be something here to suit your needs.
Vaughan Mills. Big new shopping mall 6 km North of City of Toronto. It includes attractions such as LEGOLAND Discovery Center and Lucky Strike Lanes.
Microbrews are ubiquitous across Ontario. These can be purchased at the brewery, Beer Store, LCBO, and many large grocery stores. They are also enjoyed at brewpubs.