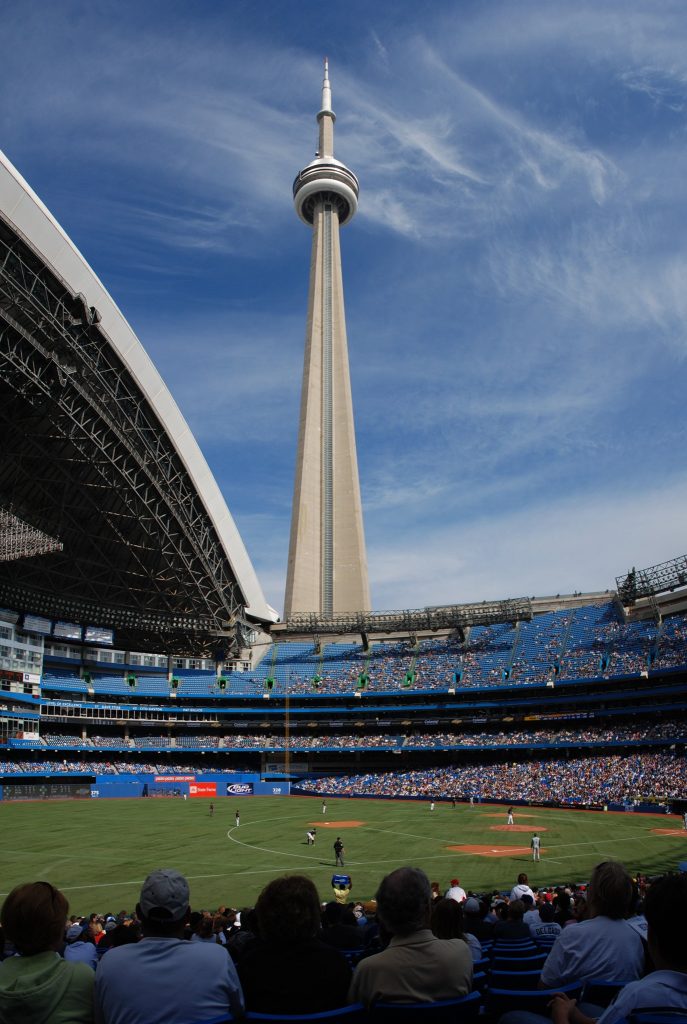 Explore Toronto the most populous city in Canada and the provincial capital of Ontario. It is located on the northwestern shore of Lake Ontario. Toronto, with a population of 2.6 million, is at the heart of the Greater Toronto Area (GTA) which contains 6.2 million people. The city is the anchor of the Golden Horseshoe region, which wraps around Lake Ontario from Toronto to Niagara Falls and totals over 8.5 million residents, approximately a quarter of Canada's entire population. Toronto is the fourth largest city and fifth largest urban agglomeration in North America. Toronto is sometimes referred to as The New York City of Canada because the general feel of the city is similar to that of New York City, and because Toronto has been a popular destination for immigrants.
Spawned out of post-glacial alluvial deposits and bluffs, the area was populated at different times by Iroquois and later Wyandot (Huron) peoples. The settlement by Europeans started with the French building a seldom occupied fort near today's Exhibition grounds in the mid-1700s, then grew out of a backwoods English trading post established as York in 1793 (reverting to the current name Toronto in 1834). Later in the 19th century, it grew to become the cultural and economic focus of Canada. Owing largely to the country's liberal immigration policies starting in the 1960s, and the region's strong economy, Toronto has, in recent decades, been transformed into one of the most culturally and ethnically diverse cities in the world. More than 80 ethnic communities are represented, and over half of the city's residents were born outside Canada.
Districts
Covering more than 600 square kilometers, Toronto stretches some 32 kilometers along the shores of Lake Ontario, and includes a dense, urban core surrounded by an inner ring of older suburbs followed by an outer ring of post-war suburbs. The city is laid out on a very straightforward grid pattern and streets rarely deviate from the grid, except in cases where topography interferes such as the indented, curved Don River Valley and to a lesser degree the Humber and Rouge valleys at opposite ends of the city. Some main thoroughfares do intersect the grid at angles.
Toronto's climate on the whole is on the cool side and variable conditions can be expected. Downtown temperatures average -3.8°C (25°F) in January, but the extreme cold experienced further north typically lasts less than a week at a time. Despite this, come prepared. Winters are still cold and mostly cloudy, at some times snowy and uncomfortably windy and at other times, damp.
The city experiences warm and humid summers with an average high of 27°C (80°F) and a low of 18°C (65°F) in July/August, with many muggy evenings, but rarely extreme heat.
The best times to visit for the weather are late spring/early summer or early fall, with comfortably cool nights and less crowds. Mid-summer is the peak tourist season, but visitors will find that Toronto's vibrancy extends throughout the winter with outdoor ice rinks and bundled up club goers. Air conditioning and heating are standard in Toronto's public buildings.
Visitor information
Ontario Travel Information Centre, 20 Dundas St W (at Yonge inside the Atrium on Bay; Subway: Dundas. M-Sa 10AM-6PM, Su noon-5PM. 
Toronto Pearson International Airport is located 28km (17 miles) northwest of downtown and is served by most major airlines.
Once you've arrived, your ground transportation options include car rentals (all the majors), public transit (UP Express, TTC, Brampton Transit, MiWay, Go Transit), out-of-town van services, taxis, limousines, and ride hailing services by Uber and Lyft.
UP (Union Pearson) Express, is a modern express train that takes you to downtown Toronto in 25 minutes, every 15 minutes. It runs from 5:30am to 1:00am daily.
TTC (Toronto Transit Commission), is the main local public transit system in Toronto and operates three bus routes from Terminals 1 and 3.
GO Transit, is the main interregional bus service in Ontario and operates two bus routes from Terminal 1.
MiWay is the main local public transit system in Mississauga and operates three bus routes from the airport
Taxis and Airport Limousines can take you wherever you want to go. You can pick them up on the arrivals level of any terminal. To be safe, avoid hiring drivers soliciting inside the terminals or asking you to follow them to the parking garage or any other location. All vehicles are fully licensed to ensure they meet specific safety requirements and that you are charged fair and consistent rates.
Uber or Lyft can both take you to anywhere in the Greater Toronto Area. You need to have their apps installed on your phone and accounts set up to use their services, and if you don't have cellphone data, you can connect to Pearson Airport's free Wi-Fi.
By bus
The main bus terminal in Toronto, the Toronto Coach Terminal (also known as Bay Street Terminal or the Metro Toronto Coach Terminal), is used for intercity coach travel and is served by Greyhound, Coach Canada, New York Trailways, and Ontario Northland.
By car
The main streets in Toronto are laid out in a grid pattern that makes it one of the easiest cities to get around in by car. Getting from point to point anywhere in the city can be achieved with only a few turns. Parking in the downtown core can be expensive and hard to find, but is plentiful and inexpensive or free throughout the rest of the city. Canada drives on the right.
Get around
Toronto is huge, and most roads run for very long distances. Streetcar rail, subway rail, and intercity rail services are clean and efficient but overcrowded, yet it's entirely possible to get around Toronto without a car, especially downtown. You may find it quicker and easier to drive, but be aware that traffic congestion is severe at almost any time of day, especially during rush hour. Toronto has plentiful parking garages downtown, most of which can be identified by the prominent green P signs, but they are very expensive, particularly on weekdays. Toronto is at an angle to geographic north, but most maps are drawn with respect to the shoreline. This is sometimes called Toronto North.
Transit
Toronto has a very large transit system, the third most heavily used in North America (after New York City and Mexico City). It consists of buses, streetcars, subway lines, and the quasi-subway Scarborough Rapid Transit line. Buses and streetcars are prone to get caught in Toronto's notorious traffic during rush-hours, though some streetcar lines have dedicated lanes.
The subway system is quite fast and efficient; the subway lines extend well into the suburbs and have spurred a great deal of high-density, high-rise development in far-flung neighborhoods that would not otherwise have had any large-scale development. A prime example of this is the neighborhood of North York, filled with high-rise development right on top of three subway stations. As a result, the subway is the easiest, fastest and most efficient way to get around the city. Unlike many cities, Toronto's subway lines have extremely frequent service, even late at night. Trains come every five minutes or better from 5:30 a.m. to 1:30 a.m. every day of the week except Sunday, when service starts at 8 a.m.
The TTC operates a comprehensive network of overnight bus and streetcar routes called the Blue Night Network. Service runs at 30-minute intervals from 1:30 a.m. to 5:00 a.m. Night routes are numbered starting from 300, and stops with all-night service have a blue 24hr badge at the top.
By bicycle
There are many casual cyclists out all the time and cycling is fast: door to door, in all of downtown Toronto, a bike beats a car or transit nearly every time.
The city is predominantly flat, aside from a general climb away from Lake Ontario and the deeply indented, forested Don Valley and Humber River Valley, and post-and-ring locking posts are present throughout the city. There are many bike-only lanes on major roads and threading through various neighborhoods and parks. The city publishes a cycling map, available on the city website.
It is a provincial law that cyclists under 18 must wear a helmet, and all riders must have a bike with reflectors and a bell. This tends to only be enforced when the police go on their annual "cycling blitz".
Driving
As Toronto is a very large city and many areas of the city are inadequately served by the public transit system, the car is the most commonly used method of transportation in the Greater Toronto Area.
Money
Most Canadians don't carry large amounts of cash for everyday use, relying on their credit cards, ATMs and direct debit cards. Personal checks are rarely accepted. Also, many places in Toronto accept US Dollars for small transactions- with a rough 1:1 exchange rate.
ATM
Interbank ATM exchange rates usually beat traveller's checks or exchanging foreign currency. Canadian ATM fees are low ($1.50 to $2 per transaction), but your home bank may charge another fee on top of that.
Credit Cards
Visa, MasterCard, American Express and JCB cards are widely accepted in Canada. Credit cards can get you cash advances at bank ATMs, generally for a 3% surcharge. Beware: many US-based credit cards now convert foreign charges using highly unfavorable exchange rates and fees.
What to eat – drink in Toronto
Contact
For an emergency, dial 911 (you can dial it at the pay phone without inserting any coins).
As a visitor, it's also possible to purchase a pay-as-you-go SIM card for your GSM phone. There is no shortage of mobile phone shops and visiting 3-4 different shops should give you an idea of what's available.
Internet
Toronto is a city with many internet cafés, especially on Yonge Street around Bloor, and also on Bloor Street between Spadina and Bathurst. It's not hard to find a place to call home and the costs range from $3 for 30 minutes. The widespread availability of high-speed internet access means that internet cafes are largely becoming a thing of the past, so on repeat visits to the city, you may find that the one you used last time has disappeared. Most major hotels offer high-speed internet in their rooms and in their business centers. In addition, most independent coffee shops in Toronto offer free Wi-Fi for their customers, as do the major chains such as Tim Horton's, Second Cup, Starbucks.
Stay safe
Toronto is remarkably safe and the streets are vibrant with pedestrians and bicyclists, even in most neighborhoods at night. If you use common sense, you should have no trouble at all.
The overall violent crime rate in Canada, and particularly in Toronto, is much lower than that found in major cities in the United States and below the average of other large Canadian cities to the west. Over the last decade, there has been an average of fewer than 70 homicides per year in the city, a rate of fewer than three per 100,000. Organized gang violence occurs but has been very sporadic since a noticeable rise mid-last decade. Petty crime is generally not a large-scale problem in Toronto, but as always, keep vigilant with your possessions and avoid keeping valuables in outer pockets. Car and bike theft are comparable to other large North American cities and many stolen automobiles wind up being exported overseas.
Get out
Niagara Region — A lush region known primarily for its vineyards as well as the thundering waterfalls at Niagara Falls and the beautiful town of Niagara on the Lake. About 1 to 1.5 hours south along the QEW.
Buffalo — gorgeous early 20th Century architecture including some Frank Lloyd Wright work and excellent museums are just a 1.5 hour drive from Toronto. There are also a number of outlet malls near there.
The Niagara Escarpment — A world biosphere, protected by UN mandate running from the Niagara Falls west to Hamilton then northward to Georgian Bay. It is covered by forest with high cliff views along the Bruce Trail bordering the western edge of the Greater Toronto Area, at its closest point about is about an 1/2 hour drive from the western end of Toronto.
Waterloo Region — this area 1 to 1.5 hours west of Toronto has large university campuses, rolling farm hills and Mennonite culture.
Stratford — this cute town 2 hours west of Toronto is host to the world-renowned Stratford Shakespeare Festival (April-November).
Prince Edward County – This charming rural island on the north-eastern shores of Lake Ontario is increasingly being recognized for its vineyards, beautiful scenery, and great food.
Thousand Islands and Kingston — this scenic area and its nearby historic city are 2.5 hours east, on the way to Ottawa.
Ottawa — The Canadian capital is about a 4 hour drive from Toronto.
Montreal – Montreal is more distant, but still a doable six hour drive (or a faster 4.5-hour train trip) from Toronto.
Muskoka, Georgian Bay and The Kawarthas — All in the range of 1.5-2 hours north are cottage country areas with more rocky and hilly terrain speckled with hundreds of lakes and waterways. The Muskokas and the Kawarthas are known for their country inns, cottages, spas/resorts, provincial parks, and a wealth of outdoor activities including camping, fishing/hunting, snowmobiling, nature viewing, and hiking set amongst natural beauty. The Georgian Bay area is where the hilly terrain and cliffs of the Niagara Escarpment meet its shores, the area has renowned ski facilities frequently blasted with high snowfall amounts but beaches Wasaga Beach, wineries and golfing are the choices in summer.
Many people visit these regions in fall to experience some of the best fall-color leaves anywhere in the world.
There are also several golden sand beaches along the clean fresh waters of the Great Lakes that are ideal for hot summer days. Popular beach destinations within 1.5 – 2.5 hours of Toronto include Wasaga, Sauble Beach,Sibbald Point Provincial Park, Sandbanks, Grand Bend, Long Point, and Turkey Point.
Official tourism websites of Toronto
For more information please visit the official government website: 
Watch a video about Toronto
Instagram Posts from other users
Tickets for remarkable experiences
If you want us to create a Blog Post about your favourite place,
please message us on FaceBook
with your name,
your review
and photos,
and we will try to add it soon
Useful Travel Tips Be sure to read these travel tips before you go. Travel is full of major decisions — like which country to visit, how much to spend, and when to stop waiting and finally make that all-important decision to book tickets.  Here are some simple tips to smooth the way on your next […]