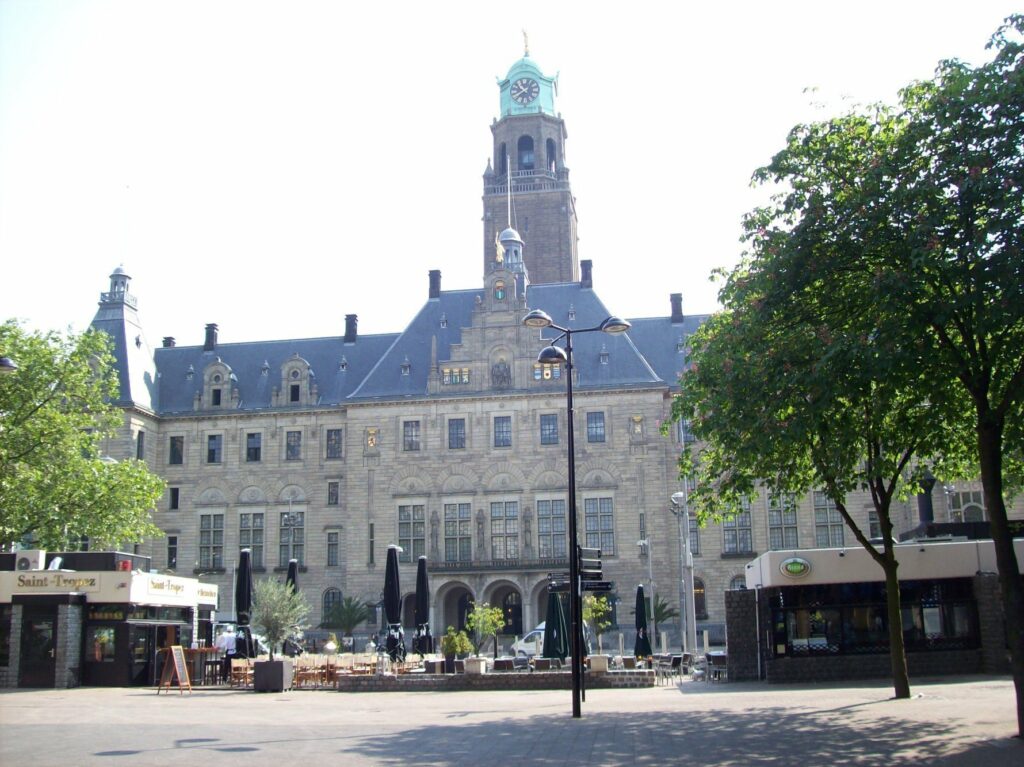 Museums in Rotterdam, Netherlands
Museum Boijmans Van Beuningen, Museumpark 18-20. Tue-Sun: 11.00AM to 5.00PM; Mon: closed. The museum, founded in 1849, houses a rich, broad collection that can be generally grouped into four wings: Old Art, with masterpieces such as Pieter Brueghel the Elder's The "little" Tower of Babel (1563). The collection of Prints and Drawings and the collection of Applied Arts and Design with their international allure. And the Modern Art wing has an important collection of surrealism, prominently featuring Salvador Dalí and René Magritte.
Kunsthal, Westzeedijk 341. Tue-Sat: 10.00AM – 5.00PM; Sun: 11.00AM – 5.00PM. An exhibition hall that houses some 25 expositions annually. The Kunsthal often experiments with themes that have never been used for an exhibition before. This approach produces a fascinating and widely varied repertoire. In total, the Kunsthal has 3,300 m² of exhibition space in a striking building, designed by OMA (Rem Koolhaas / Fuminori Hoshino) and is a true work of art all on its own.
Het Nieuwe Instituut(The New Institute) formerly known as NAI, Museumpark 25. Tu-Sa: 10:00-17:00; Su: 11:00-17:00. Closed on Mondays, 1 jan, 30 apr and 25 dec. The ticket for the NAI also provides access to Sonneveld House Museum.
Nederlands Fotomuseum, Las Palmas building, Wilhelminakade. Tue-Fri: 10.00AM – 5.00PM; Sat-Sun: 11.00AM – 5.00PM. The Nederlands Fotomuseum focuses on photography in the broadest sense of the word. By doing so, the museum wants to show the diversity of forms of photography. Not only as an artistic form of expression, but also and especially as a medium of social expression and commentary.
Maritime Museum, Leuvehaven 1. Tue-Sat: 10.00AM – 5.00PM; Sun: 11.00AM – 5.00PM; Mon: 10.00AM – 5.00PM in July and August as well as during school holidays in Rotterdam. A variety of expositions about the harbour of Rotterdam and maritime history. The museum also has an outdoor part.
Museum of Chess-Pieces, Overblaak 94. saturday and sunday 14-17. This little museum can be found among the famous Cube houses and houses a diverse collection of chess games. From ancient Chinese to all sorts of cartoon characters.
Chabot Museum, Museumpark 11. Mo-Fri: 11.00 – 16.30; Sat: 11.00-17.00; Sun: 12.00 – 17.00. This neat little museum is housed in a splendid modernist 30's villa. It houses a collection of works of the expressionist painter Hendrik Chabot. A very recommendable if short visit for art lovers.
Natuurhistorisch Museum, Westzeedijk 345. Tue-Sun: 10.00AM – 5.00PM. The "Natural History Museum" Is situated in the Museumpark, near Boijmans, the NAi and the Kunsthal. It has changing expositions and a fixes collection of mammals, plants and fossils.
Wereldmuseum, Willemskade 25. Tue-Sun: 10.30 – 17.30. The Wereldmuseum (World Arts Museum) focuses on encounters and cross-cultural inspiration.
Witte de With, Witte de Withstraat 50. Tue-Sun: 11.00AM – 6.00PM. Witte de With (Centre for Contemporary Arts) exhibits, lectures, multimedia for comtemporary arts.
Mariniersmuseum, Wijnhaven 7-13. Tue-Fri: 10:00-17:00, Sat,Sun: 11:00-17:00. The museum of the Marine Corps is situated in a historic building in the Oude Haven. It shows the history of the 340 years-old corps as well as it's modern day role. Special attention is given to the heroic role of the corps in the 1940 defense of Rotterdam. In the nearby White House you can still notice the bullet holes in the stone wall.
Oorlogs Verzets Museum, Coolhaven 375. Tue-Fri: 10:00-17:00, Sun: 12:00-17:00. The small 'War and Resistance Museum' paints life in Rotterdam and the Netherlands during the Second World War. Attention is also given to the military developments of the time and the destruction of the city of Rotterdam. Lectures and evenings with documentaries are often on the programm.
Miniworld Rotterdam, Weena 745. It's the largest indoor model railroad layout of The Netherlands.
Monuments
City Hall, Coolsingel 40. Mon-Sat: 8:00-17:00. Rotterdam City Hall was built in 1914 in a somewhat exuberant Art Deco style. It is nice to walk into the monumental main hall and see the statues. The courtyard is also worth a look. As the City Hall is still in use you are free to enter the public areas and have a look. The other halls will be off limits, unless you can persuade one of the guards to open the showpiece Burgerzaal for you. The City Hall also has a belltower with carillon which is often played, while the roof of the middel tower is made of gold.
Erasmus Statue, Grotekerkplein. The statue of Desiderius Erasmus of Rotterdam stands opposite the Grote of Sint Laurenskerk. It is a handsome bronze of the hand of sculptor Keijser and dates from 1622. Children are told by the elderly that Erasmus turns his page every hour.
De Verwoeste Stad Statue, Plein 1940. This statue, "The Destroyed City", by the Franco-Belarussian sculptor Ossip Zadkine dates from 1953. Zadkine got his inspiration when visiting Rotterdam shortly after the Second World War. The cubist statue depicting a man in agony who just lost his heart (symbol of the bombed city centre) still evokes strong feelings in Rotterdam.
Sylvette, Westersingel). This large work by Pablo Picasso was erected in 1973. It is one of the elaborations Picasso made based on the portraits of his muse Sylvette David. Definitely worth a look.
Windmills
Rotterdam has only seven windmills left. Of these, only De Ster and De Lelie are open to visitors on a regular basis. Other windmills are open to visitors when the mill is turning (easy enough to see), but there are some exceptions to this rule of thumb. A blue flag also indicates that the mill is open to visitors.
Windmills De Ster and De Lelie, Plaszoom. Open every 2nd Sat of the month: 10.00 – 16.00; and also whenever the mills are in use. These two windmills (Star and Lily) date from 1777 and 1829. They are very handsomely situated on the side of the Kralingse Plas Lake. The mills do still do their original job which is grinding ingredients for spices and snuff tobacco. Adjacent is a small shop where these products are sold.
De Prinsenmolen, Prinsenmolenpad. Closed to visitors. De Prinsenmolen dates back to 1648 and worked until 1966 to keep the adjacent polder dry. It's a house now, but the mill is still in working order. It's a nice walk alongside the Bergse Voorplas Lake.
De Vier Winden, Terbregse Rechter Rottekade. Closed to visitors. De Vier Winden was built in 1776. Until 1964 it was used to grind wheat. Although the mill itself is not open to visitors, it has a small shop with old fashioned mill-products.
De Speelman, Overschiese Kleiweg. Open when turning. De Speelman was built in 1712. Heavily damaged during WW2 it was restored and moved to its present location.
De Zandweg, Kromme Zandweg. Open when turning. De Zandweg dates from 1723. It's situated at the southern part of town called Charlois. When walking a little bit further you can also see the nice Oliphant country mansion.
De Distilleerketel, Voorhaven 210. Open We; 13.00-17.00 and Sat; 10.00-16.00. De Distilleerketel ('the Distillers' Kettle) was rebuilt in 1986 after the original mill was destroyed in WW2. The original mill from 1727 was meant for grinding malt for the numerous distilleries in Delfshaven. Now it works as a mill for grinding wheat on a commercial basis.