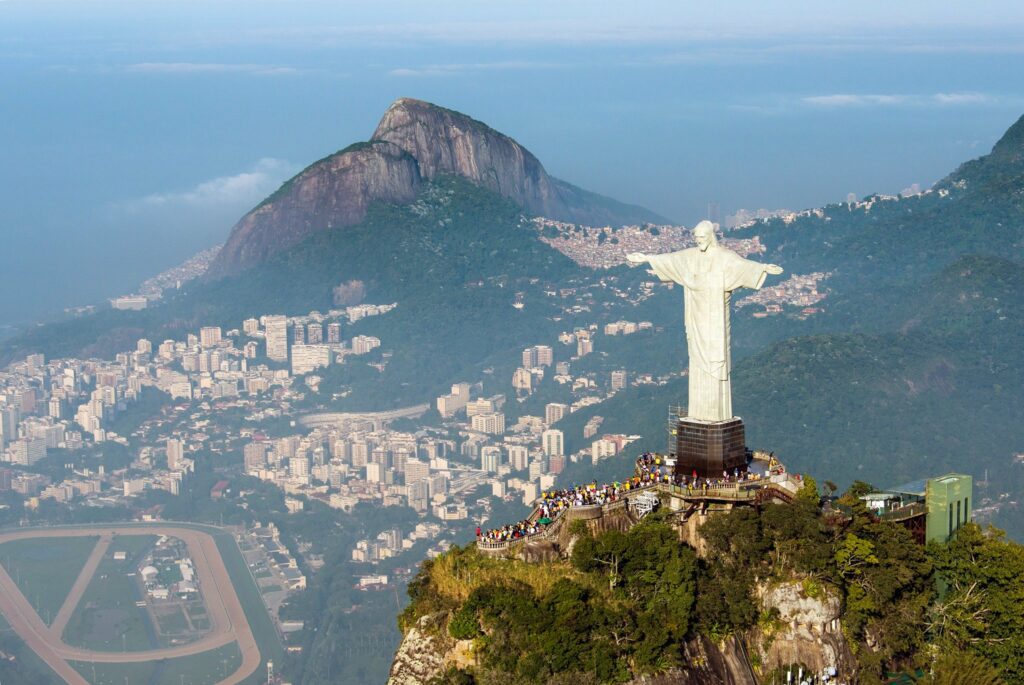 What to eat and drink in Rio De Janeiro, Brazil
In Rio de Janeiro you can probably find something to fit any craving. A good approach to local food is "comida a kilo" – buffet style restaurants where you pay by the weight of the food on your plate.
For the hungry, nothing beats a good rodízio (all-you-can-eat service). These are available in numerous types, although the most well-known are the churrascaria, all-you-can-eat grilled meats.
At various restaurants around town, you can also find rodízio style dining featuring seafood, pizza, or various appetizer-style snacks. The defining element of rodízio is that unlike an all-you-can-eat buffet, the servers continuously bring skewers of various meats.
Brazil has the largest population of Japanese outside of Japan, and sushi has become widely popular in Rio too. If you are a sashimi and sushi lover, you will find a great deal of options in Rio de Janeiro.
Because its huge coast, many Brazilian specialties are in the seafood area. They are very rich in shrimps, lobster, calamaris, shellfish, clams, mollusks and many other tasty fishes. So, once in this land, don't miss the opportunity to order those lovely dishes.
Travellers with fatter pockets may also splash out a bit at the Dias Ferreira Street in Leblon, Rio's up-and-coming restaurant row. There are many places to get pizza and lots of restaurants also offer pasta.
Rio has open juice bars. Very often, these are located on street corners and have long, curved bars offering you juices from pretty much every fruit you can imagine. The best option is a small chain of juice bars called "Big Bi'". The juices are astounding value alongside their good selection of salgados and sandwiches. Their açaí is one of the best in terms of value and taste and the staff are excellent. On top of all this, if you leave a tip, you get a big "Obrigado" (Thank you) from all the staff. For the best Big Bi's experience, try the Tangerina ao Limão juice along with the famous Bauru. Finish it all off with an açaí to go. Perfect. Big Bi's has a few branches dotted around Copacabana and Ipanema.
There are many specialized "health food" shops that offer an incredible variety of rich meat and vegetable sandwiches, plus an awesome variety of fruit juices, many of them delicious and usually unknown by foreigners. Among them are graviola, fruta do conde, jaca, açaí, guaraná, pitomba, mango, coconut, orange, lemon, papaya, melon, etc. They make it as you ask and all food is 100% organic and fresh. The meal is often prepared as you wait, so you can ask them to mix whatever fruit you want and create a customized mix if you like. You must try açaí and guaraná, Amazon fruits which are famous to be the strongest energizers and anti-oxidants of the world. They also offer Brazilian snacks (including many Italian and Oriental delicacies), and other simple but delicious things to eat. I never got enough of them! These shops usually are cheap and hang many fruits at the entrance or somewhere visible to display their quality. Warning: look for clean places, as hygiene can be poor in many street shops.
Some different flavors:
Coxinha – Rio is also famous for its pastries and street food, heritage from Portuguese and old European culture. In most cafeterias (lanchonete; lun-sho-NETCH) you can have a pastel (pahs-TELL) or salgado(saw-GAH-do; local pastry). Typical pastries are coxinha (ko-SHEEN-ya; chicken nugget shaped like a chicken leg), and unique Rio's joelho (zho-EH-lyo; rolled dough filled with ham and cheese). Also try pão de queijo (paw-djee-KAY-zhoo; cheese baked dough), typical from Minas Gerais but very common in Rio as well, and tapioca (typical from Bahia), a kind of crepe made out of manioca flour.
Guaraná – For drinking, ask for guaraná (gwa-ra-NAH; soda made from the seed of an Amazon fruit, also available as a strong drink), mate (MAHTCH; sweet ice tea; not like Rio Grande do Sul or Argentina's hot and sour mate), água de coco (ah-gwa-djee-KOH-ku; natural coconut water) or caldo de cana (sugarcane juice).
Açaí – There is also a common fruit called açaí, with a dark-purple pulp out of which are made juices, and ice-creams. Typical cariocas eat it like cream in cups or glasses, mixed with granola, oats or other flakes.
If your palate is homesick for more familiar tastes, Rio has most of the fast-food chains found around the world (McDonald's, KFC, Domino's, Outback, Subway, Pizza Hut and Burger King). Bob's and Habib's are the biggest national fast food chains. Many foods that in other countries are simply picked up in the hands and eaten or are eaten with knife and fork (such as pizza), also are picked up by wrapping a napkin around the food so that it is not touched with the hands (such as sandwiches). You will undoubtedly notice napkin dispensers on the tables in most restaurants for this purpose.
What to drink
Caipirinha, a drink made of cachaça (a Brazilian liquor made of sugarcane juice), lime, sugar and ice cubes.
Botequims, also well known as botecos are quite unpretentious bars with simple appetizers and lots of ice-cold chope (draft beer). They can be foung everywhere and are almost inseparable from the carioca lifestyle.
Juice bars can also be found on nearly every corner for refreshing juices in the often hot and muggy city. Choose from dozens of freshly squeezed fruit juices – mix two or three fruits together or simply try the freshly squeezed orange juice. For a delicious Brazilian special try the açaí, a smoothie made from a deep purple fruit from the Amazon.
Kiosks along the boardwalk at Copacabana and Ipanema beach stay open all night.
Samba clubs
Samba clubs are live music bars with great atmosphere where locals go for dancing and meeting people. When in Rio, don't miss visiting one. Most of these bars work with a kind of consumption card, which is handed to you when you enter. Everything you consume is marked on this card, and losing it means you'll have to pay a high fee  – so take good care of it. There are countless samba clubs in the town, a couple in the Zona Sul, but most in Rios the nightlife district, Lapa.
Rave clubs
Rio has some good options for clubbers. You'll be seeing lots of flyers talking about "raves". Usually Rio's raves are devoted to trance, which is pretty popular, especially with the upper-class youngsters, though some electronic parties do offer djs of other styles. The night in Rio is pretty much divided between mainstream and underground.
Mainstream would be such "raves" and big electronic festivals, as well a nightclubs that are devoted to pop, dance and variations of house and trance. Those are not, however, places you go for the music. They are usually packed with "patricinhas" (tanned, long soft-haired girls with gym-built bodies) and specially "pitboys" (upper/middle-class boys, known for having various degrees of martial arts training and a certain tendency for violence).
Though with far less options, the underground clubbing scene is more available and interesting than the mainstream. Most of the underground clubs are on Zona Sul and offer different parties for each day of the week. The underground club scene has a more diverse public, from goths to punks also with strong hedonistic tints.
Street party
Thursday to Saturday nights see the party from the bars and clubs in Lapa extend into the street. People play and dance to Samba, Choro (soft rhythm with flutes and mandolin), Reggae and Hip Hop, as well as ballroom music (gafieira), but not to Pop or Rock (except for some underground, which doesn't happen often or in the same place, but usually in some less known places of Lapa). While drinks are sold in the bars and clubs, vendors roam the streets wearing coolers full of beer for cheaper prices. Be sure not to bring valuables, as there are a lot of pick-pockets operating in the area.