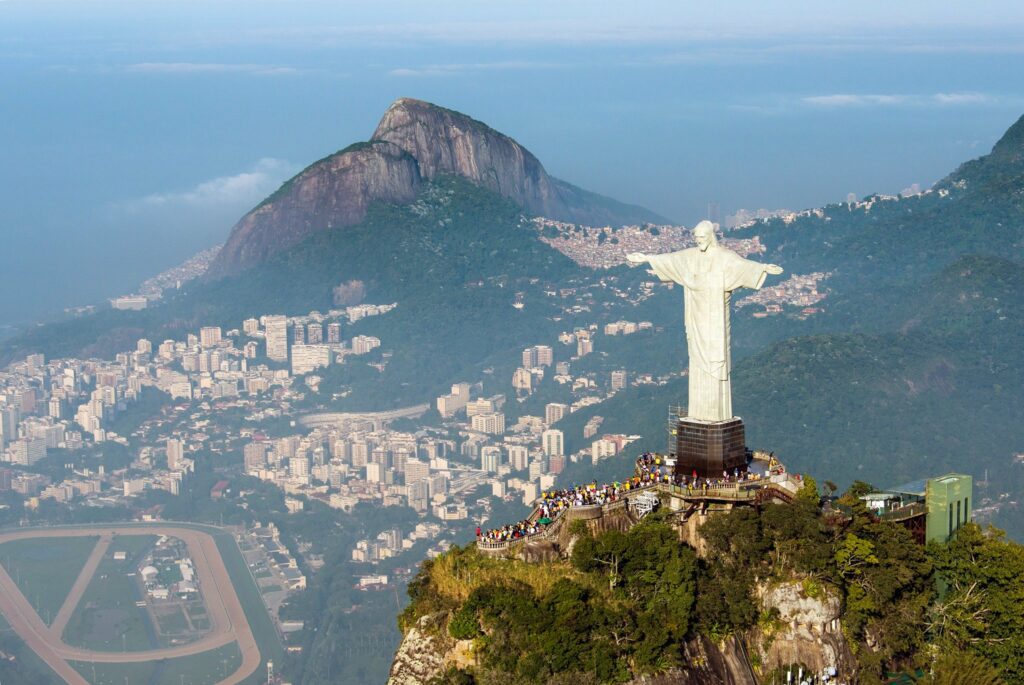 What to do in Rio De Janeiro, Brazil
Backpacker travel
Rio is one of the coolest cities to backpack. It is also part of one the first experiment in Latin America that intends to make travels a lot easier. The city is being part of a project of students from UFF(one of Brazil's top Universities) who have built a free travel planner, that generates in seconds the best possible itineraries(what to do in Rio plan) based on your traveler profile and personal preferences. Give it a try and enjoy to the fullest your stay in Rio doing what the best things you could possibly do based on your profile.
Still the greatest reason for visiting Rio seems to be the Carnival. This highly-advertised party lasts for almost two weeks and it is well known for the escolas de samba (samba schools) that parade in Centro, on a gigantic structure called Sambódromo (Sambadrome). During Carnaval, Rio has much more to offer though, with the blocos de rua, that parade on the streets. There are now hundreds of these street "samba blocks", that parade almost in every neighborhood, especially in Centro and the South Zone, gathering thousands of people. Some are very famous, and there are few cariocas that have not heard of "Carmelitas", "Suvaco de Cristo", "Escravos da Mauá" or "Simpatia É Quase Amor".
Sambodrome at night. Here thousands spend the night dancing, singing and celebrating their favorite samba school (comparable to soccer teams) till dawn.
The rest of the year, samba shows are popular with tourists, and are held at several venues like Plataforma and Scala. These are expensive and not really representative of Brazilian culture, they present a lot of almost naked women and bad musicians, a tourist trap (much like the real thing.) Much more interesting and genuine, though, are the night practice sessions held by the various samba schools in the months leading up to Carnaval. You will find only a small number of tourists here, and you will be served the best caipirinhas of your trip! These go on into the wee hours of the morning, with the fun really only starting at 13:00-14:00. A good cab driver should be able to hook you up, and cabs will be available to take you back when you are samba-ed out. Salgueiro and Mangueira are good choices, as they are two of the larger samba schools, and are located relatively close to the tourist areas in a fairly safe area.
Note that a change is afoot that may make this genuine experience a thing of the past (or more convenient, depending on your viewpoint) for all but the most savvy tourists. The local government built a complex of buildings (Cidade do Samba) where many of the samba schools are moving their practice halls and float-construction facilities from the gritty warehouses typically located in or near their home favelas. One can expect many more tourists, and shows made-up for the tourists as the tourist bureau milks this facility for all it's worth year-round.
Music
Rio was the cradle of three of Brazil's most important musical genres: samba, choro, and bossa nova. In recent years, there has been a boom of traditional samba and choro venues. A lot of them are in the downtown district of Lapa. There are good and cheap nightlife options, where you will see some of the best musicians of the country. Any of the city newspapers provide pointers to the best shows.
If you're not such an anthropological type of tourist, you can check out the same papers for tips on other kinds of music. Being a big city, Rio has big and small clubs that play almost every kind of music. The major mainstream clubs mostly play whatever's on the Radio – which is usually whatever's on the USA radios and MTV – but the underground scene has a lot to offer on Rock, E-Music, Rap and such. The best way to find out about those are the flyers handed or left at hostels, cinema and theater lobbies, nightclub lines, etc.
New Year's Eve celebrations
Rio hosts the country's largest and most popular New Year's Eve celebrations. The huge fireworks display and music shows attract 2 million people to the sands of Copacabana beach every year. People dress in white for luck and toast the arrival of the New Year. It's usual also to have some national and international concerts on the beach for free.
Family
Brazilians value family above all else. Large extended families are very common, and thus, social functions such as weddings and reunions tend to be large. It is not uncommon for children and young adults to live with their immediate family until marriage.
Hang gliding and paragliding
The Hang gliding and Paragliding flights have found in Rio de Janeiro, the ideal land for its high hills and favorable wind. Different from other places in the world, in Rio, the sport could be done in urban areas and landing on the beach! These conditions naturally attract many tourists who get the courage to enjoy a flight. And even the most inexperienced person can flight since there´s no training or special gear needed. Operators:
Hiking and Trekking
Not surprisingly, a huge city that has an actual forest within its limits has lots to offer for hikers. It's always advisable to have a local with you when trekking in Rio (Couchsurfing's Rio de Janeiro group usually organizes hikes around the city), as some treks are not very well-marked.
Parque Lage – Corcovado
The trek is fairly demanding and steep, and takes about 1h30/2h to complete, but yet very popular among locals – it's normal to see groups of friends doing it and of course foreigners. Ask the park's staff or look for signs that say "Trilha" to get to the start of the trail, just behind the ruins of an old house. From there you have two paths: going straight ahead leads to a waterfall that is usually full of families on the weekends (it's a good spot to stop on your way back if you go back the same way), and left leads straight to the main path of the trek. Along the way there are 3 waterfalls (just one you can actually bath in, though) and a small path where you have to hang on to a chain to pass through some rocks, which also have some iron steps. This will require a little climbing. Until this point you will be going up, but always surrounded by forest. The first views of the city will start after the chain (about 1h/1h30 in). Then you get to the train tracks and the road, which you can follow up to the statue of Christ (another 15/30 minutes). Views from here on are breathtaking. Your entrance ticket includes the shuttle bus to the car park; from there you can take a taxi or try to get an Uber car.
Sugar Loaf/Pão de Açúcar
This is a short and fairly easy hike, taking about 30 to 45 minutes to complete, also very popular among locals, especially because you can go up for free then hitch a ride back on the cable car (after 6pm, it's free to return on it – *not anymore May 2016). The hike begins at Pista Cláudio Coutinho in Urca. If you ask the guards they'll point you to the start. It's uphill, but just the first twenty minutes are rather steep, though the trail is very good (like a staircase). Once you reach a saddle just keep to your left. There are amazing views of Urca and the Guanabara Bay during the final 20 minutes, some of which are angles you don't get from the vantage points above. The trek actually ends on top of Morro da Urca, the smallest of the two, to continue to Pão de Açúcar you need climbing gear, or to pay for the cable car. Most people walk back the same way they came.
Pedra da Gávea is a more challenging hike. To get to the trailhead take a bus from Copacabana/Ipanema to Praça Euvaldo Lodi in Barra Tijuca. The area is pretty safe, the hike actually begins in a gated community. There is a ranger station a short while later where you register before starting on the trail proper. Note that there is a short Class 4 climbing section, which is possible without ropes, but not for everybody. Only attempt this hike without a guide if you are in good physical condition and have a head for heights. Remember that you may find climbing down the Class 4 section more difficult than climbing up. You can take a guide, who will provide a rope and get you up and down safely. Best view of Rio, and without the crowds found at other viewpoints. Be aware you hike through jungle for about 2hours each way and that it gets dark VERY quickly, even before sunset, so start your descent in plenty of time.
You may hear stories about people being invited by locals to visit their home in a favela. If you receive such an invitation do think carefully about it and perhaps ask around about the person that has invited you. Many of the favelas are rife with drugs and guns so think carefully about how much you trust the person that is inviting you. A search on the Internet may reveal some accounts of tours others have taken. A visit like this will obviously be more authentic than a book tour and could be the highlight of your visit to Rio; on the other hand you are taking a risk.
Santa Teresa
Santa Teresa is a neighborhood in Rio that borders with Lapa. It is located on a hill and has one of the best views of the city. It is quieter than other parts of Rio with its steep hills and narrow streets. Originally an upper class neighborhood, it transformed itself into a hub for artists of all kind. The look and feel of Santa Teresa is that of a slow fisher town that got taken over by graffiti artists and the jungle.
Here are some of the best places:
Centro Cultural Municipal Parque das Ruínas is definitely worth a visit when you want to get out of the heat and are looking for a relaxed afternoon. The cultural center is located in a small park next to Museu da Chácara do Céu. The ruin is actually an old mansion and has free entrance and an exposition area on the ground floor. The amazing view and breeze you get on top of the stairs make this house a welcome break from the busy and sizzling city. In the park there is a small bar and some benches to lie down on. On some nights or afternoons the cultural center organises concerts or events. Address: Rua Murtinho Nobre, 169 Santa Tereza.
Museu da Chácara do Céu is the former mansion of Raymundo Ottoni de Castro Maia, an art collector and industrialist. The estate was turned into a museum and its exhibits include works by Matisse, Jean Metzinger, Eliseu Visconti, Di Cavalcanti, and Candido Portinari. The museum displays books, furniture and Brazilian maps dating from the 17th and 18th centuries, and also hosts temporary exhibitions. In 2006, some paintings were stolen, and have not yet been recovered. It is located near the cultural center Parque das Ruínas. Beautiful gardens surround the building, and a panoramic view of Centro and Baía de Guanabara awaits visitors. Address: Rua Murtinho Nobre, 93 Santa Teresa.
Both locations are only a steep 15 min. walk from the famous stairs of Lapa, and close to local bars and restaurants.