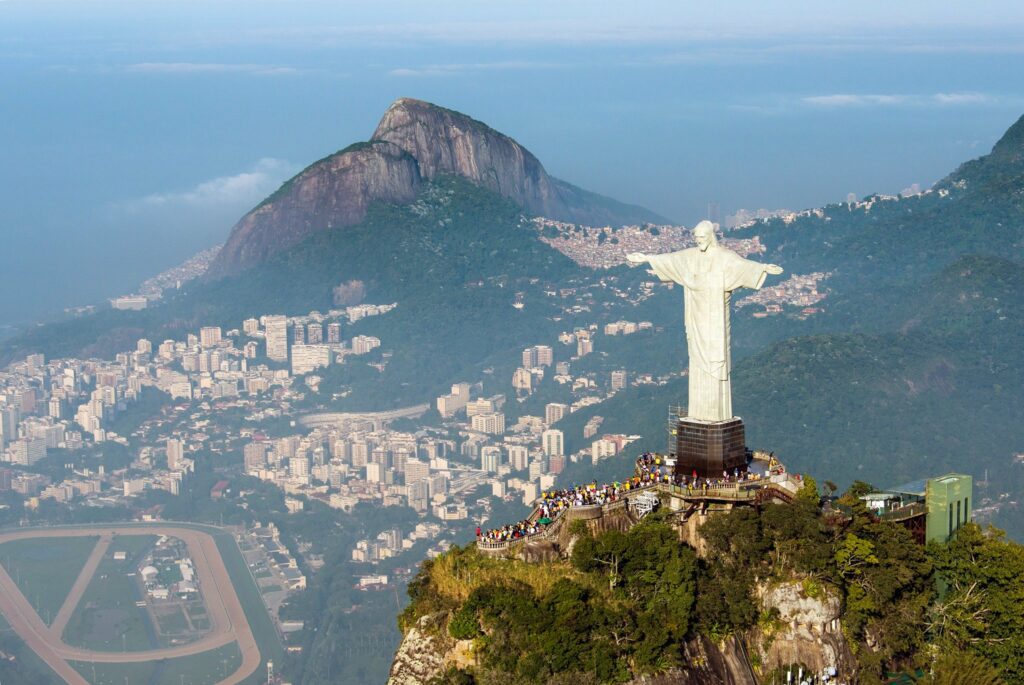 Sights in Rio De Janeiro, Brazil
Parque Lage. This small park attracts by its history and romance of the place. Acquired by an English lord in 1809 it was transformed into a landscaped park, then it changed owner. To the joy of his wife, the singer Gabriella Bezanzoni Lage, he built a beautiful mansion that today is the school of fine arts. Concerts and shows are organized regularly. The courtyard houses a coffee, there are strange concrete structures to entertain kids and the park has remnants of Atlantic Forest with some interesting sub-tropical rain forest plants and wildlife. The park is the beginning of a hiking trail to Corcovado.
Museu de Arte Contemporânea Niteroi (MAC). 10:00-18:00. The Museum of Contemporary Art opened in 1996 and accommodating temporary exhibitions of modern art, is across the Guanabara Bay in the city of Niterói, accessible by ferry or the 13 km long bridge President Costa da Silva. The museum occupies one of the most impressive and best known buildings by famous architect Oscar Niemeyer. His masterpiece of modern architecture features curved lines that evoke Rio's rounded peaks and, due to its circular shape suspended on a thin stand, reminds an UFO. From the patio and the restaurant inside there are panoramic views across the bay to Rio and over Niterói's coastline to the historic colonial fortress of Santa Cruz.
Monasteiro São Bento. 07:00-18:00. this amazing seventeenth century Benedictine monastery and its church stand on a hill in the center of the city. Despite the simple exterior of the church, its interior is filled with extravagant gold leafs.
Real Gabinete Portugues da Leitura. 09:00-18:00. Founded in 1837 by a group of Portuguese immigrants, this gem neogothic surprised by the elegance of its facade and its high altitude room full of thousands of books. With a church atmosphere, where the light is filtered by a colorful stained glass windows, readers try to study interrupted by a fleet of onlookers. Founded by Portuguese immigrants in 1837, the Manueline style building. The interior is a wood library with coffered ceilings and carved columns. It houses the largest number of Portuguese authors outside Portugal, with over 350,000 volumes of the XVI, XVII and XVIII.
Ipanema. M 20:00-01:00. It is the most modern neighborhood of Rio beach since 1964, when Morales Vinicius wrote The Girl From Ipanema about a beautiful woman he saw on the beach. The beautiful people still frequenting the stylish bars and clubs ipanema. 
Copacabana. One of the most famous beaches of Rio, Copacabana stretches from Morro de, leme hill to the north-east to Aproador rocks in the south-west. Year-round resort, best known for celebrating New Year's Eve. Before the construction of the tunnel connecting the area with Botafogo in 1982, Copacabana was untouched bay with picturesque dunes. At the time of construction in the Copacabana Palace were more than 30,000 residents. Today it is one of the most densely populated areas in the world. 
Igreja da Ordem Terceira de São Francisco da Penitência. Tu-F 09:00-12:00 and 13:00-16:00. at the entrance, a small museum houses the statues used during Ash Wednesday procession including the statue of St. Louis Louis XIII dress. Work of Manuel and Francisco Xavier de Brito, the exuberant gilded wood decoration of the church (1700-1737) is one of the masterpieces of Brazilian Baroque art. The Apotheosis of San Francisco, located in the ceiling of the church, is a work of Caetano da Costa Coelho, is the first example of perspective representation of Brazil. The layout of the Rua Carioca, on the north side of the monastery and Largo da Carioca, dates from 1741, when the Franciscan monks gave the land to the city for construction of a hospital.
Biblioteca Nacional. M-F 10:00- 17:00 Sa Su 12:30-16:30. With the bibliographic and documentary heritage of Brazil, the National Library since 1876 that called that, is in the city center, on the corner of the Municipal Theater of Rio de Janeiro. It is the largest library in Latin America and the seventh largest in the world. With more than 8 million pieces, one of your responsibilities is to preserve, promote and upgrade parts. Guided tours, you need to make an appointment for another day, you cannot do the same day visit. We recommend calling before you go to schedule, or if you want to get to know only the lobby can go directly.
Jockey Clube Brasileiro. M-F 07:00 as 22:00, Sa Su 07:00-21:00. Covers 640,000 meters and is the largest racecourse horseracing Brazil. There is also the Veterinary Hospital Octavio among others. Has a capaciade 70 thousand people with parking and security. The open area of the jockey, and is valued for parties, concerts etc.. Recommend be sticking programming jockey .
Bairro de Santa Teresa. Rickety old trams go up to Santa Teresa, the artists' favorite area, with a more refined style than Lapa. This neighborhood is a magnet for tourists, with museums, galleries, restaurants and magnificent views.
Theatro Municipa. Since its opening on July 14, 1909, the building, inspired by the Opera Garnier in Paris, was the pride of the city. The new theater is located, with the intersection of Avenida Rio Branco, and is modeled on the Parisian avenues style. Designed by the architects Francisco de Oliveira Passos, a Brazilian, and the French Albert Guilbert, the building has a room with a capacity of 2360 seats (32m high) and a scene of 28m deep. The onyx staircase at the entrance is decorated with chandeliers and statues. In the ancient underground restaurant, there are bas-relief ceramics of Mesopotamian inspiration form and a charming decoration. 600 people work in the theater that hosts an orchestra and a ballet company. In 2009, for the centenary, the theater received a major remodeling.
Parque Nacional da Tijuca. 08:00-19:00. This magnificent national park embraces the city with its lush forests. Its excellent walks and trails offer some of the best views of the city. Tijuaca contains the highest peaks of river and is one of the largest urban parks in the world. Most of the park was repopulated in the nineteenth century. This land so fertile was deforested during the seventeenth and eighteenth centuries to make way for sugar and coffee plantations. After several disastrous landslides, the authorities decided to restore the original landscape and prompted a massive restoration campaign between 1861 and 1888, a total of 130,000 copies were planted.
Centro Cultural Justiça Federal.
Fundação Oscar Niemeyer. Fundação Oscar Niemeyer, Roberto Silveira Memorial Center, Teatro Popular e Terminal de ferry de Charitas Oscar Niemeyer Foundation; JK Square, the monument to Roberto Silveira, popular theater, the Charitas barge terminal, and MAC. In JK Square, you can see a sculpture of Oscar Niemeyer and JK sitting on a bench in the square and a tent designed by Niemeyer. Waterways Charitas station has two thousand square meters. The living room has panoramic shipping 700 square meters of glass. The area has convenience stores, restaurants and a beautiful view of the harbor and Guanabara Bay. One of the highlights of the season is the water line and the construction of a pier on piles. 
Prédio da Petrobas. Built in 1969, is the headquarters of the state oil company. A 26 flat concrete and steel building. It was designed by Roberto Gandolfi, with metal feet and hollow pillars allowing Roberto Burle Marx to make hanging gardens. All this makes this building is one of the most interesting. The plot design was a national competition conducted by the Institute of Architects of Brazil (IAB).
Close to Praia do Diabo is the best surf spot in Rio. Beginners watch out. Discover this amazing place at the end of the walk way of Ipanema beach. From these cliff and rocks you will see the most amazing sunset in Rio de Janeiro.
Buildings
Paço Imperial (1743) – Old Royal and Imperial office where order were sent, and formal inquiries with the monarch took place, colonial architecture (in downtown, next to Praça XV, Fifteen Square). Nice quiet restaurant inside.
Casa França Brasil (1820) – French cultural centre, with gallery and video hall (in downtown, next to CCBB).
CCBB – Centro Cultural Banco do Brasil (1906) – A cultural centre with gallery, movie theater, video room, library and stages; usually hosts the main exhibitions in town (in downtown). An interesting building with old-fashioned elevators/lifts.
Candelária Church – Neoclassic cathedral (next to CCBB) is a fine piece of art.
Mosteiro de São Bento (1663) – Saint Benedict's Monastery, colonial architecture (downtown).
Ilha Fiscal Palace (1889) – Located in the Guanabara Bay, next to the Navy Museum
Gloria Church (1739). Small but interesting church reached by a funicular. Nice views.
Palácio Gustavo Capanema – Former ministry of culture, designed by French architect Le Corbusier; though small, it is regarded as an important pioneering in modern architecture (downtown).
Arcos da Lapa (1750) – Lapa Aqueduct, colonial structure that brought water from springs to downtown.
Catedral Metropolitana – a modern, cone-shaped cathedral, designed by Edgar de Oliveira da Fonseca (in Lapa).
São Francisco da Penitência church (1773) – Colonial church.
Teatro Municipal (1909) – City Theater, inspired by the Paris Opéra House (in Cinelândia square).
Biblioteca Nacional (1910) – National Library (in Cinelândia square).
Câmara Municipal – The City Hall, hosts the city council (in Cinelândia square).
Palácio do Catete – The former presidential palace (1893-1960), now hosts a museum of recent history and nice gardens (in Catete).
Itamaraty – Former presidential palace (1889-1893) and foreign office; now hosts a museum of South American diplomacy, a library and the UN information offices in Brazil (in Downtown, next to the Central station).
Palácio Guanabara – Former palace of the Imperial Princess, now governor's office; eclectic architecture; not open to public (in Laranjeiras).
Art Deco. Rio is a major centre for the Art Deco style of architecture. Indeed, the statue of Christ the Redeemer on Corcovado is considered a classic example of Art Deco work. There are numerous buildings in Copacabana and elsewhere that employ this style.
Museums
There is no shortage of things to do on a rainy day. In addition to a wide range of museums, Rio has many cultural centers, which are run by banks and other organizations and usually host free exhibitions.
Downtown
Museu Histórico Nacional (National Museum of History) – A museum of Brazilian history stretching from colonial to imperial times; big collection of paintings, but poor in artifacts (downtown).
Museu Nacional de Belas Artes (Museum of Fine Arts) – Includes large paintings from Academicist and Neoclassical Brazilian artists, as well as many copies of European sculptures (downtown, Cinelândia square).
MAM – Museu de Arte Moderna (Museum of Modern Art) – Opened in 1948 is the second most important contemporary art museum in Brazil, after MASP in Sao Paulo (downtown, walking distance to Santos Dumont airport). Modernist architecture spreading over almost the sea.  Not to be confused with MAC (Museu de Arte Contemporânea) located just across the bay in Niterói. Both are worth a visit.
Museu da Imagem e do Som (Image and Sound Museum) – For researchers about Brazilian film, radio, and broadcasting industry (downtown).
Museu Naval (Navy Museum) – Located downtown not far from the ferry terminal.
Museu do Carnaval (Museum of Carnival) – History of Brazilian carnival and parades (in downtown, next to the Sambódromo).
Museu Chácara do Céu – An important collection of South American modern art (in Santa Tereza).
South Zone
Museu da República (Museum of the Republic) – Hosted on the former presidential palace, this museum hosts permanent exhibitions about recent Brazilian history (from 1889 on); one of main features is the room where President Getúlio Vargas shot himself in 1954 (in Catete).
Oi Futuro (Formerly Centro Cultural Telemar) – Formerly Museum of Telephone, it now hosts a fine gallery with temporary exhibitions of digital art or art with interactive medias; it is sponsored by the local phone company (in Catete).
Museu Internacional de Arte Naïf (International Naïf Art Museum) – In Cosme Velho, next to Corcovado rail station.
Museu Carmem Miranda (Carmem Miranda Museum) – About this Brazilian actress and singer (the lady with pineapples-and-bananas hat), the national icon in the 1940s and 50s (in Flamengo).
Museu do Índio (Museum of the Indian) – A small museum with a collection of Brazilian Indian (povos indígenas) photographs, paintings, artifacts and other craft (in Botafogo). Very popular with local schoolchildren, but has much for adults as well.
Museu Villa-Lobos, Rua Sorocaba, 200 – Botafogo. M-F 10:00-17:30. A modest collection about Brazil's most important composer. Free.
North Zone
Museu Nacional (National Museum) – Actually, it's the Natural History museum, with dinosaur fossils and lots of mounted tanned animals; go there if you want to see a jaguar without getting into the jungle; it was formerly the Emperor's Palace (in São Cristóvão, just next to the Zoo).
Museu do Primeiro Reinado (First Reign Museum) – A museum about the reign of Emperor Pedro I (1822-1831), but with a modest collection (in São Cristóvão).
Museu de Astronomia e Ciências Afins (Astronomy Museum) – Also has an observatory (in São Cristóvão).
Museu do Trem (Train Museum) – A modest collection of 19th century engines, train cars and streetcars (in Engenho de Dentro).
Museu Aeroespacial (Aerospace Museum) – Located in Campo dos Afonsos (in the suburbs).
West Zone
Museu Casa do Pontal – The most important collection of popular arts and crafts (in Recreio dos Bandeirantes).
Parks
Quinta da Boa Vista, a park where Rio's Zoo and The National Museum are located.
Road leading to the Serra dos Órgãos Nat'l Park. This specific mountain is called Dedo de Deus (Portuguese for God's Finger).
Parque do Flamengo, also known as Aterro do Flamengo.
Parque Guinle
Campo de Santana
Quinta da Boa Vista
Parque Nacional da Serra dos Órgãos