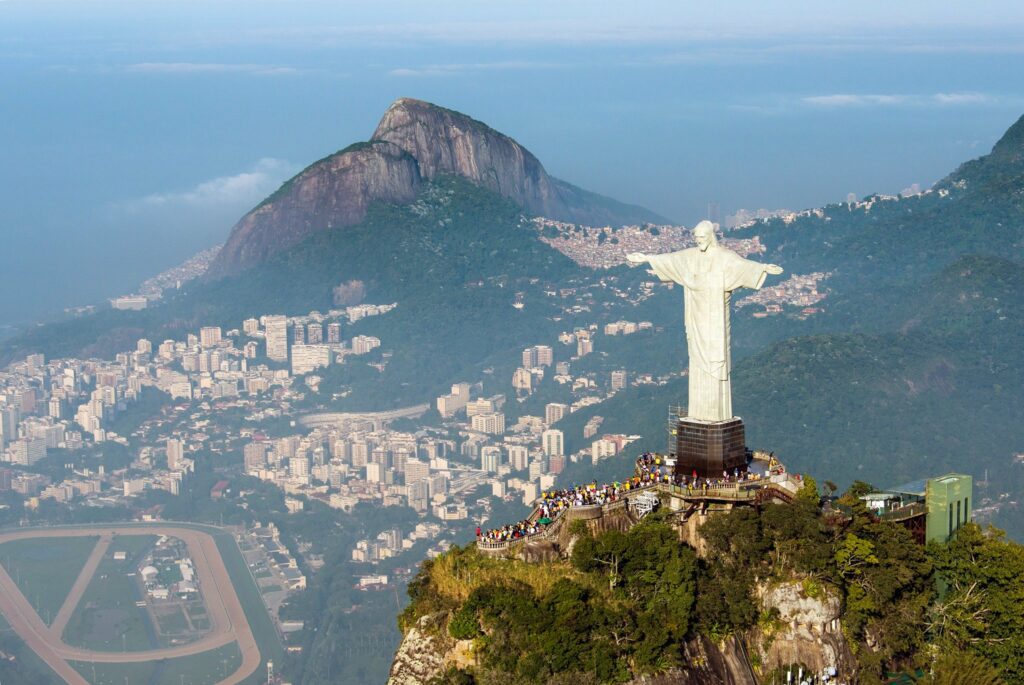 Explore Rio de Janeiro, Brazil
Explore Rio de Janeiro the second largest city in Brazil, on the South Atlantic coast. Rio is famous for its breathtaking landscape, its laid back beach culture and its annual carnival. Although, their soccer skills are very well recognized.
The harbor of Rio de Janeiro is comprised of a unique entry from the ocean that makes it appear to be the mouth of a river. Additionally, the harbor is surrounded by spectacular geographic features including Sugar Loaf Mountain at 395 meters, Corcovado Peak at 704 meters, and the hills of Tijuca at 1,021 meters. These features work together to collectively make the harbor one of the Seven Natural Wonders of the World.
Districts
Centro including Lapa and Santa Teresa. The city's financial and business centre also has many historic buildings from its early days, such as the Municipal Theatre, National Library, National Museum of Fine Arts, Tiradentes Palace, Metropolitan Cathedral and Pedro Ernesto Palace.
Zona Sul (South Zone) including Copacabana, Leblon and Ipanema, as well as the districts along Flamengo Beach. Contains some of the more upscale neighborhoods and many of the major tourist sites, such as the Rodrigo de Freitas Lagoon, and Sugar Loaf and Corcovado Mountains.
Zona Norte (North Zone). The Maracanã stadium, Quinta da Boa Vista Park with the National Museum the city's Zoo, the National Observatory and more.
Zona Oeste (West Zone), a rapidly growing suburban area including primarily the districts of Jacarepaguá and Barra da Tijuca, popular for its beaches. Most of the Olympic venues in 2016 were hosted there.
It is a common mistake to think of Rio as Brazil's capital, a distinction it lost on 21 April 1960 when newly built Brasilia became the capital. Beaches such as Copacabana and Ipanema, the Christ The Redeemer (Cristo Redentor) statue, the stadium of Maracanã and Sugar Loaf Mountain (Pão de Açúcar) are all well-known sights of what the inhabitants call the "marvelous city" (cidade maravilhosa), and are also among the first images to pop up in travelers´ minds, along with the Carnaval celebration.
Sadly, most people also know Rio for its violence and crime. The drug lords and the slums, or favelas, are the tip of very old social problems. The favelas are areas of poor-quality housing, slums usually located on the city's many mountain slopes, juxtaposed with middle-class neighborhoods. The South Zone holds most of Rio's landmarks and world-famous beaches, in an area of only 43.87 square km (17 mi²). Many of them are within walking distance of each other (for instance, the Sugar Loaf lies about 8 km/5 mi from Copacabana beach). Most hotels and hostels are located in this part of the city, which is compressed between the Tijuca Range (Maciço da Tijuca) and the sea. There are important places in other regions as well, such as Maracanã stadium in the North Zone and the many fascinating buildings in the Centre.
Though modest and small, the Paço was the office of the King of Portugal and Brazil's two Emperors.
Rio was founded in 1565 by the Portuguese as a fortification against French privateers who trafficked wood and goods from Brazil. Piracy played a major role in the city's history, and there are still colonial fortresses to be visited. The Portuguese fought the French for nearly 10 years, both sides having rival native tribes as allies.
Traffic within some parts of Rio can be daunting, but a car may be the best way to reach distant beaches like Grumari, and that can be an extra adventure. Avoid rush-hour traffic jams in neighborhoods such as Copacabana, Botafogo, Laranjeiras, and Tijuca, where moms line up their cars to pick up their children after school. Buy a map, and have fun.
What to buy
Money
Banks do Money Exchange but only the bigger branches and major currencies. There might be a commission. Better rates can be found at shops with the sign ´´Cambios`´ which base their rates on a semi-official ´´Parallel" rate, which is slightly higher than the commercial rate and thus better than you will get with a credit card or ATM. These are usually found on the main commercial streets, i.e. Avenida Nossa Senhora de Copacabana, one block from the Copacabana sea front, and Rua Visconde de Pirajá, two blocks from the Ipanema beach. Rates vary, so ask around. The shop offering the best rate today may not offer the best rate tomorrow so if you are changing money more than once ask around again.
ATM
Machines have different features, listed in Portuguese above the machine, and do not all return money for foreign cards. The features can vary between machines at the same bank. If you are trying to use a foreign card look for Visa/Mastercard logos on the terminals themselves and international banks (HSBC, Citi) as the best starting points. Also beware that in Rio specifically, most ATMs are closed between 22:00 and 6:00 (10pm and 6am) so plan accordingly. ATMs from Banco do Brasil works with most foreign Visa cards. Note that if you are withdrawing cash using a foreign card, commission may be added without any warning on the screen. You may not realize that commission has been added to your transaction until you get your receipt at the end of the transaction! Meanwhile the ATM access fee at the airport has been increased per transaction. For cash the commission is 30R per transaction plus a percentage of the amount you change. Moreover the rate is 10 to 20% less than in the city. Access fees for ATMs in the city and rates vary. Santander bank charges 20R per transaction, other banks do not charge this fee at all.
Shopping
When shopping in street commerce, always bargain; this can lower prices considerably. Bargaining in stores and malls, though, is usually impolite. But naturally merchants won't bargain unless you ask, especially if you are clearly a tourist. To tourists, items can easily be overpriced by a factor of 20% especially in highly informal markets such as Saara or on the beach.
Great bargains can be had on Brazilian-made clothing, as well as some European imports. Most imported items, however, such as electronics, tend to be insanely expensive due to protective import duties. For example, you will find digital cameras sell for about twice what they sell for in Europe or the U.S.
Store managers in Rio often speak some English, as this gains employees an almost-automatic promotion. But "some" can be very little, so it is useful to learn at least some very basic Portuguese. Just knowing basic greetings, numbers, and how to ask directions and prices will get you at least a "B" for effort, and despite finding that store clerks may know more English than you Portuguese, it can still come in handy to know a bit of the language. Don't be afraid to resort to writing numbers, pictures, or resorting to pantomime. Shop assistants will often tap out prices for you on a calculator. Visa and Mastercard are widely accepted in Brazil, with American Express to a significantly lower degree. But beware that many stores will accept either Visa or Mastercard, but not both! If you carry only one, look for the sign in the store window before attempting to buy.
A great choice of gift, since they do not take much space in the suitcase back home, are bikinis, a trademark from Rio for its quality and fashion style.
Shopping malls can be found all over town, with the cheaper ones in the Zona Norte like Shopping Tijuca and Shopping Iguatemi and popular upscale shopping malls concentrated in the Zona Sul like Shopping Rio Sul and Shopping Leblon and São Conrado Fashion Mall and BarraShopping in Zona Oeste.
Get out
Angra dos Reis and Ilha Grande. Angra is surrounded by 365 islands, the largest being Ilha Grande, a pretty island and former penal colony with beautiful beaches and good hiking. Angra is 2-3 hours from Rio by car and it is a one-hour boat ride from there to Ilha Grande.
Arraial do Cabo is a small town near Búzios. Its beaches have the most beautiful turquoise waters of Rio de Janeiro state. Beaches like Forno and Prainhas do Atalaia are surrounded by virgin lush green coastal vegetation and have clear blue waters similar to the Caribbean ones.
Búzios is a small peninsula about three hours east of Rio. It has several beaches, lots of places to stay and an abundance of night clubs.
Niteroi – The ferry between Rio and Niteroi, a city across the bay, is a pleasant and cheap trip. There are a couple of kinds of boats, ranging from very cheap and slow (called barca) to fairly cheap and fast (called catamarã, catamaran). Niteroi does not have many tourist attractions, but it does have a wonderful unique view of Rio, an intriguing contemporary art museum, which looks like a flying saucer jutting out over the sea, and the Niemeyer way – a park with several buildings including a theater – (All designed by famous architect Oscar Niemeyer). Many of the state's most beautiful beaches can be reached from this side of the bay.
Paraty – One hour south of Angra, this is a fully-conserved 18th-century colonial town by the ocean, hidden by tall jungle-covered mountains which used to be a hideout for pirates after the Portuguese ships; a must-see for people interested in History and Culture; also good for Rainforest hiking and kayaking.
Paquetá — Though not exactly outside of Rio, because it is an island and can only be reached by a 70 minutes ferry ride, this district of Rio makes an excellent (and inexpensive) day trip. The island is an car-free zone, so travel is limited to bicycles and horse-drawn carriages. There's not a lot to do on this island, but the ferry ride is worth it.
Petrópolis – In the mountains outside Rio. A good place to cool down when Rio becomes too hot.
Praia do Abricó. The best public naturist beach around Rio, located in Grumari, right after Prainha. Facilities and telephone service are quite limited, so plan ahead.
Teresópolis – Another mountain town, near Petrópolis.
Serra dos Órgãos – National park in the mountains west of Rio.
Official tourism websites of Rio
For more information please visit the official government website: 
Instagram Posts from other users
Tickets for remarkable experiences
If you want us to create a Blog Post about your favourite place,
please message us on FaceBook
with your name,
your review
and photos,
and we will try to add it soon
Useful Travel Tips Be sure to read these travel tips before you go. Travel is full of major decisions — like which country to visit, how much to spend, and when to stop waiting and finally make that all-important decision to book tickets.  Here are some simple tips to smooth the way on your next […]