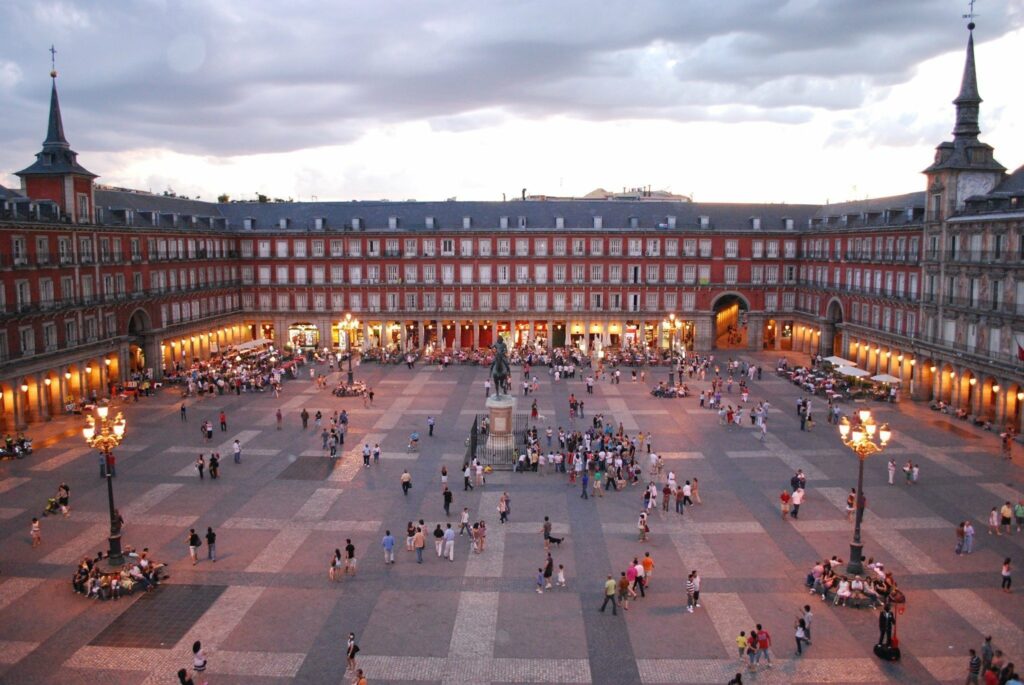 Museums and parks in Madrid, Spain
Museum Triangle
This is Madrid's museum district, named for the three major art museums clustered along Paseo del Prado east of the old city: the Museo del Prado, one of the finest art museums in the world, the Thyssen-Bornemisza, a baron's collection of classical art, and the Reina Sofia, Madrid's modern art museum. However, a couple of smaller museums also occupy the neighborhood which is well worth seeing as well. It's important to note that many of the museums offer free entry during certain times most days. It varies by museum and day, but to if you are looking to take advantage of these beautiful museums with a lesser budget, it is still possible, if you're willing to queue. For example, the Prado sometimes has queues of over 200 meters with several hundred people, yet one could stroll into the Thyssen on Monday at 1pm.
Museo del Prado, Paseo de Prado. Mo-Sa: 10AM-8PM, Su: 10AM-7PM. Closed and reduced hours on some holidays.. One of the finest art collections in the world and the best collection of classical art in Madrid. It includes many different collections: the Spanish (El Greco, Velázquez, and Goya), the Flemish and Dutch (Rubens, van Dyck, and Brueghel), Italian (Botticelli, Tintoretto, Titian, Caravaggio, and Veronese) and German (Albrecht Dürer, Lucas Cranach, and Baldung Grien). The Prado Museum currently offers free entry Monday to Saturday, 6pm to 8pm, and Sundays and holidays from 5pm to 7pm. The museum can be extremely busy during free entry hours, with several hundred people waiting in line for hours. Some highlights not to miss at the Prado: The Bosch masterpiece The Garden of Earthly Delights, The famous Velázquez piece Las Meninas, The Black Paintings and The Third of May 1808 by Goya, Adoration of the Shepards by El Greco, and David with the Head of Goliath by Caravaggio. Be sure to walk along Paseo del Prado, a pedestrian walkway full of fountains and trees near the museum. Nice affordable restaurant on the main floor. Free entry Monday to Saturday, 6pm to 8pm, and Sundays and holidays from 5pm to 7pm.
Reina Sofía National Museum and Art Center, Santa Isabel 52. M, W-Sa 10AM-9PM, Su 10AM-2:30PM. Houses Madrid's best collection of modern art. It includes many of Pablo Picasso's most revered works including the renowned Guernica. The Reina Sofía also houses masterpieces by Miró, Kandinsky, Dalí, Bacon, and more. The Reina Sofia National Museum and Art Center offers free entry into the museums on Sundays 3:00 to 7:00 (times change frequently). free Monday, Wednesday, Thursday, Friday and Saturday: 7 p.m. – 9 p.m. Sundays 1:30 p.m. – 7 p.m.
Thyssen-Bornemisza Museum of Art, Paseo de Prado. Tu-Su 10AM-7PM. The ticket office closes at 6:30PM. The Museum is closed all day on 1 Jan, 1 May, and 25 Dec. Contains a large art collection including masterpieces by Monet, Goya, Degas, Renoir, Van Gogh, Picasso, Mondrian, Bacon and Lichtenstein. The Thyssen-Bornemisza Museum of Art offers free entry on Monday afternoons courtesy of Mastercard for everyone, from 12:00 to 4:00.
Caixa Forum, Paseo de Prado, 36. A private museum of contemporary art and culture that is particularly well-known for the "vertical garden" by Patrick Blanc installed on a wall in front of the museum, as well as the quite special architecture of the building itself. The vertical garden can be seen from the street outside, just a block south of the Thyssen-Bornemisza and across from the Prado. Inside the museum has free exhibitions and functions. 
Naval Museum, Paseo del Prado 5. Beautiful museum with vast interesting collections about Spanish sailing. The Juan De La Cosa map, the oldest known map showing America, is held here. You will be asked for a donation on the free days. Free on Saturdays and Sundays.
Museo de América, Avenida Reyes Católicos 6. Tu-Sa: 9:30AM-3PM, Su 10:00AM-3PM, Closed Mondays, Jan 1, May 1, Dec 24, 25, 31. An excellent museum that many tourists miss. Houses thousands of artifacts from the Americas. The exhibit displays objects from many native cultures from before European conquest to colonial times and beyond. Don't miss the Tesoro (Treasure) de los Químbayas, a collection of gold objects that was given as a gift by the Colombian government. Also of interest is the Tudela Codex, an Aztec law book from the 1500's. Beware: most explanations to the objects on display are in Spanish only.
Museo de San Isidro, los Origenes de Madrid (Museum of San Isidro, the Origins of Madrid), Plaza San Andres 2. Mo: Closed Tu-Su: 9:30am-8pm. This is a museum of two parts. One part is dedicated to Saint Isidore the Laborer, while the other part is dedicated to the paleontology and archaeology of the region of Madrid from prehistory to 1561 (when Philip II made Madrid the seat of the court). Most of the exhibits are explained in both Spanish and English. Entry is free.
Museo de Historia de Madrid (Museum of History of Madrid), Calle Fuencarral 78. Mo: Closed, Tu-Su: 9:30am-8pm. This museum is dedicated to the history of Madrid from 1561 to present. Much of the history is explained by referencing exhibited paintings depicting people or events from the time, so it is also an art museum. Several maps and models (including two large ones in the basement) show how Madrid grew since the 16th century. All exhibits are explained in both English and Spanish. Entry is free.
Museo de Lazaro Galdiano, Calle Serrano 122. W-M: 10AM-4:30PM. Closed: Tu; Jan 1; Easter Thursday and Friday; May 2 and 3; Nov 1; Dec 6 and 25. This museum houses the stunning collection of Spanish entrepreneur José Lázaro Galdiano (1862-1947) and is considered to be one of the best private collections in Spain. Not only will you find works by Goya, Velázquez, El Greco and others, the museum is also filled with jewelry, furniture, sculpture and ceramics. This is an excellent museum that is usually not crowded and well worth the price of admission. Free on Sundays.
Museo Sorolla, General Martínez Campos, 37. Tu – Sat: 0930 to 2000 – Sun 1000-1500. This museum is in what was the impressionist painter's house and features fine furniture and porcelain as well as his paintings.
Museo del Traje (The Costume Museum), Avenida de Juan de Herrera 2. Tu-Sa 9:30AM-7PM, Su 10:00AM-3PM. Closed 1, 6 Jan, 1, 15 May, 24, 25, 31 Dec. Offers a wide selection of historical and more temporary costumes (from the early 1200s to now) which shows the aspects of different cultures and Spain. The museum also organizes many activities and events.
National Archeology Museum, Calle Serrano 13. Tu-Sa: 9:30AM-5PM, Sun and Holidays 9:30AM-3PM. Closed: M; Jan 1 and 6; May 1 and 15; Dec 24, 25, and 31. (Holidays: Apr 5 and 6, May 2, Aug 15, Oct 12, Nov 1 and 9, Dec 6 and 8. Don't let the sound of it frighten you. This large, well designed museum opened again in April 2014 after several years of renovation works. It houses an incredible collection of archaeological finds from across the peninsula. It leaves the visitor with a sense of the chronology of civilization in Spain (Iberian, Phoenician, Greek, Roman, Visagoth, Arab, and into the modern age). The famous Dama de Elche, an Iberian (pre-Roman) fertility goddess statue, is in this museum. There are also a few pieces from ancient Egypt and Mesopotamia. Free entry Saturday after 2:30PM and Sundays.
Real Academia de Bella Artes de San Fernando, Calle Alcalá 13. Tu-Fr: 9:30AM-7PM, Sa-M: 9:30-4:30PM. Highly impressive art collection with paintings, sculptures, drawings and prints. Several Goya masterpieces.
San Antonio de La Florida Hermitage. This small church is famous for its murals, painted by Goya. It's also the mausoleum of the painter.
Planetario de Madrid (Planetarium of Madrid), Avenida del Planetario 16. Mo: Closed, Tu-Fr: 9:30am-1:45pm and 5pm-7:45pm, Sa-Su: 11am-1:45pm and 5pm-8:45pm. Features several exhibits related to space exploration, two screens playing documentaries, an interactive area and, of course, the planetarium. Projections last 45 minutes each. Different ones play on different days so check their website. Note that all the exhibits are explained in Spanish only and the projections in the planetarium are also in Spanish. Entry is free but the sessions in the planetarium each have a cost.
Museo de Ferrocarril de Madrid (Railway Museum of Madrid), Paseo de las Delicias 61. Mo: Closed, Tu-Th: 10am-3pm, Fr-Sa: 10am-8pm, Su: 10am-3pm. Museum with four railway tracks, exhibiting a large number of steam, diesel and electric locomotives used in Spain in the 19th and 20th century. Also on display are several model railways. Exhibits are described in Spanish only.
Museo Nacional de Ciencia y Tecnologia (National Museum of Science and Technology), Pintor Velazquez s/n, Alcobendas. This is a museum dedicated to the history of science and technology, exhibiting scientific instruments and consumer products from the last few centuries. It also contains a large educational hall, explaining natural phenomena with practical hands-on exhibits (fun for children). Many exhibits are described in English and Spanish, although some sections have only a summary in English. Entry is free.
Museo Nacional de Ciencias Naturales (National Museum of Natural Sciences), José Gutiérrez Abascal 2. Contains a large collection of fossils and minerals, plus educational exhibits (some are described in English but many are in Spanish only). Has two parts open to visitors with separate entrances. The ticket is purchased at the main entrance and to visit the other part you need to exit from the main entrance, turn left and follow the building until you reach the second entrance. Your ticket will be checked again there so don't lose it.
Museo Geominero (Geo-mining Museum), c/ Rios Rosas 23. Mo-Su: 9am-2pm. Part of the Spanish Institute of Geology and Mining, this museum is dedicated to Geology (with a focus on Mineralogy) and Paleontology, containing an impressive collection of fossils and minerals discovered on the territory of Spain and abroad. Also contains educational exhibits, although all are described in Spanish only. The interior of the building is just as impressive and may be worth a quick tour even if you are not particularly interested in Paleontology and Mineralogy. Free.
Museo Nacional de Antropologia (National Museum of Anthropology), Alfonso XII, 68. Mo: closed, Tu-Sa: 9:30am-8pm, Su: 10am-3pm. Small but interesting museum with artefacts and models from the indigenous people of Asia (mainly the Philippines, former colony of Spain), Africa and America. The exhibits are described in Spanish, however on each floor there is a leaflet in English explaining all sections. Free on Sat after 2pm and on Sun.
Parks
El Retiro Park. The main park of Madrid, the perfect place to take a rest during a sunny day, or take part in the drum circles around the statue of Alphonso XII on summer evenings. There is a large boating lake where one can hire a rowing boat – great fun for the children! There is a monument to the victims of the Madrid 3/11 terrorist bombings, the Forest of the Absent, and the Crystal Palace, a large structure entirely made of glass. Sunday afternoons in summer are a treat in the park, where young hippies play bongos and dance.
Royal Botanical Garden (Real Jardín Botánico). 8-hectare garden located next to the Prado Museum and Retiro Park. Opens at 10am, closing time varies by season.
Parque del Capricho. One of the most beautiful parks in Madrid. Built in 1797-1839, it has a strong Romanticism influence. Declared as a Historic Garden, its lakes with swans and ducks, labyrinths, palaces, squares and fountains makes this a lovely place. 
Templo de Debod, Paseo del Pintor Rosales 2. Tue-Fri: 10AM – 2PM and 6PM – 8PM, Sat-Sun: 10AM- 2PM, closed Mondays and holidays. An Egyptian temple, located in one of Madrid′s most beautiful parks. Near the Royal Palace and Plaza de España, it was a present given by Egypt to Spain for its role in saving the temple of Abu Simbel from the floodwaters of Lake Nasser following the construction of the Aswan Dam in southern Egypt. A great place to watch the sunset. Free.
Rosaleda del Parque del Oeste, Calle Rosaleda 2. 10AM – 7PM. The rose garden of Madrid, located in the same park as the Templo de Debod. If you like roses and are in Madrid when they have flowered, definitely worth a visit. The garden holds an international competition yearly. Entry is free.
La Casa de Campo. The park at the rear of the Palacio Real which used to belong to the Royal family. Much of the park has been taken to smaller activity parks such as the Zoo but in general it's peaceful. From Moncloa you can take a teleferico across into the park.
Zoo Aquarium Madrid. See the Pandas. Pet the Lemurs. Watch the Dolphin show. Enjoy the Bird show.
Faunia. A different type of zoo, aiming to recreate the native habitats of the animals (e.g. the building of the nocturnal animals is dark on the inside, emulating night time and allowing visitors to see the animals during their active hours). Several shows, include marine mammals and birds of prey.