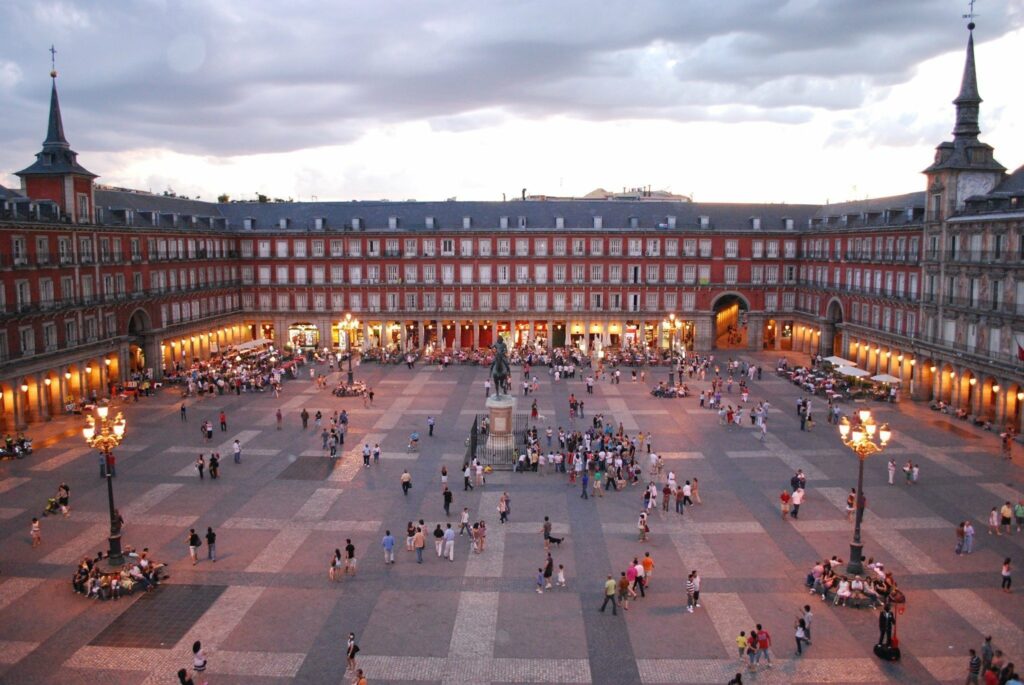 Explore Madrid the capital and largest city of Spain. The population of the city is roughly 3.3 million with a metro area population of almost 6.5 million. Madrid is best known for its great cultural and artistic heritage, a good example of which is the El Prado Museum. Madrid also boasts some of the liveliest nightlife in the world.
The climate of Madrid is continental; mainly dry and quite extreme at times. Madrid sees perpetual sunshine, a characteristically hot and dry summer, and a fairly cold winter with frequent frosts during the night and the occasional snowfall. Spring and autumn are mild with the most rainfall concentrated in these seasons
The culture of Madrid is largely influenced by its royal history, as the center of the Spanish Empire. The Royal Palace, big places and buildings used by the Spanish Monarchy, enormous cathedrals and churches are plentiful in Madrid, as well as medieval architecture, although nowadays Madrid is just as much a cosmopolitan city as Berlin or London, full of new architecture, lifestyle and culture.
The citizens of Madrid, who refer to themselves as Madrileños or the more traditional and currently seldom used term "gatos" (cats), live by a daily routine that is heavily influenced by the climate. Due to the typically midday heat during summer, a "siesta" can be still observed during which some citizens take a break to cool off. Madrileños can usually only afford this "luxury" during holidays and weekends. Most stores are open all day; only smaller stores are often closed during this time. Workers and those more afflicted by Western lifestyles choose not to observe this long break and work traditional business hours, which are usually between 9AM and 6-7PM. Most grocers are closed on Sundays, but some major chain and department stores linked to "culture" (books, music, etc.) will be open throughout the day and all of them on the first Sunday of the month. Shops and department stores in Puerta del Sol area are open every day.
Madrid possibly has the largest number of bars per capita of any European city and a very active nightlife; Madrileños are known to stay up until as late as 5AM-7AM. It is quite common to see a crowded Gran Vía on weekend nights
Madrid has a very modernized and elaborate transportation network of buses and Metro. The city contrasts with some large European cities in that it is extremely clean, and city employees in bright yellow vests can almost always be seen cleaning the streets and sidewalks.
Some popular neighborhoods are:
Alonso Martínez – Many pubs and small discos. Until about 3AM, a very young crowd, and if you′re around here before midnight, and over the age of 20, prepare to feel positively old. Most places close around 3AM, then people move to nearby areas to continue partying (clubs in Gran Vía or Tribunal).
Barrio de las Letras / Huertas – Many of Spain's most famous writers lived there (Cervantes, Quevedo, etc.). It's inbetween Lavapiés, Puerta del Sol and Paseo del Prado. It is an area full of history and interesting buildings and is also well-known because of its concentration of bars, pubs, restaurants and hotels. Plaza de Santa Ana is a beautiful square. It can be considered "too touristic" for some local people.
Chueca – Near Malasaña and Gran Vía, it is the gay district (although no one is ever excluded) with a very strong personality. New design, trendy shops, cool cafes. Pop and electronic music. By far, the most cosmopolitan place in town. Has become quite chic and expensive.
Tribunal / Malasaña – Hip area. You can enjoy a café, a dinner, a book or just some drinks. Mainly rock and pop music clubs, some of them still open from "La movida madrileña" (a vibrant cultural period from the early 80's). Calle Manuela Malasaña is a great place to eat. So is Calle del Pez although it has mostly bars. Plaza Dos de Mayo is the heart of the district and a great place to have a drink in the open.
Conde Duque – Like Malasaña, this district shares a similar audience. Calle Conde Duque is full of cafés and restaurant. Between the main squares in the district, Plaza de Guardias de Corps and Plaza de las Comendadoras, you will also find other options to have drinks, cafés or tapas. The Conde Duque Cultural Centre usually hosts shows, concerts and exhibitions.
Gran Vía – The place that never sleeps. Major street that includes many popular nightclubs, usually open from 1AM to 6-7AM.
La Latina – Near Lavapiés, it is the place to go for tapas and full of bohemian young people looking for stylish bars. In the old section, many small bars and pubs, a generally older crowd (late 20s, 30s – you know, "adults"). Contains La Cava Baja street. Avoid places in the Plaza Mayor but for sunbathing and beers. Multiple bars serving fantastic tapas in the Cava Baja and Cuchilleros. The area centered on Calle Calatrava (what the locals call 'Chuecatina') is has developed into a gay (but very hetero-friendly) zone. It's surprisingly very crowded on Sunday mornings, from 11AM to late in the afternoon due to its close location to the flea market El Rastro.
Lavapiés – Multicultural quarter of the city, with more than 50% foreign residents, mostly from Africa, Asia and Latin America. An increasing amount of westerners are choosing Lavapies as their residence in Madrid, mainly because of the hip vibe it has attained in recent years. Plenty of world music bars and many alternative theaters and art galleries. Lavapiés is maybe the most cosmopolitan and hippy area at the same time in Madrid. Indian restaurants, alternative cafés, African music and South American shops. Several community gardens, food co-ops and eco shops are scattered around the district. Not a lot of tourists here since the quarter holds no monumental sights but has a rather a unique atmosphere. Walking around for a beer or a coffee is well worth it.
Moncloa – Due to its proximity to the main University in Madrid (Universidad Complutense), Moncloa is associated with students and a student lifestyle, many cheap bars and discos as it is near the university, although some of the places are best avoided.
Salamanca – Plenty of expensive boutiques, unique shops with impossible prices and department stores.
Torre Europa. There used to be several posh pubs and clubs under the tower across from the stadium. There are 4 or 5 bars and discos in the avenida de Brazil area catering to a young and student crowd.
Ciudad Universitaria. This area is where most of the students reside as there are several dorms in this area. There are many, many cheap bars with great nightlife starting from Thursdays.
Adolfo Suárez Madrid-Barajas Airport is located 13km from the city center. It is one of the largest airports in Europe and is serviced by many airlines, as well as being the homebase for Iberia Airlines.
There are car rental facilities available at the airport, train stations, and other main travel sites. Always be sure to have a street map handy! The roads within Madrid are difficult to navigate as there are no places to stop and consult a map or check your route.
Also, if you are relying on GPS navigation, be aware that there are several consecutive junctions underground near the centre and your GPS may not get a signal underground. Plan your turns before you enter the tunnels.
Madrid city is well covered by the main global car rental companies, such as Avis, Budget,Hertz, Thrifty & Europcar, some of these also provide Rent to Buy Facilities. All car rental companies offer competitive pricing for economy class vehicles and unlimited mileage options. Some local car rental companies may also offer competitive pricing.
Talk
While knowledge of the English language is increasing among the younger generations, the majority of Madrid's residents know only a few words – even employees at American businesses such as McDonald's, KFC or Burger King and employees at cash exchange centers rarely speak much English. You can often find someone with a fair grasp of English at larger hotels and tourism sites, but it would nevertheless be helpful to know at least a few common Spanish words and phrases.
Major credit cards and foreign bank cards are accepted in most stores but be aware that it is common practice to be asked for photo-ID ("D.N.I."). If asked for your DNI present your passport, residency permit or foreign ID card. Basically anything with your photo and name on it will be accepted by most shopkeepers. The signatures on credit cards are usually not checked.
Shopping Districts
Sol-Salamanca districts. The most convenient area for tourists is around Calle de Preciados, between Sol and Gran Vía, home to the El Corte Inglés department store, high-street names like Zara, Gran Vía 32, H&M, Sephora, Pimkie. The smartest shopping district is Salamanca northeast of the center, around Calle Serrano. Top designer names like Chanel, Versace, Hermès, Hugo Boss, Louis Vuitton, Giorgio Armani, Dolce e Gabbana and Hugo Boss, including the fluid fabrics and elegant cuts of Spanish designer Adolfo Domínguez, are located on Calle Ortega y Gasset. Head for Calle Serrano for Purificación García, Roberto Verino, Ermenegildo Zegna, Loewe, Carolina Herrera, Manolo Blanik, Cartier, and Yves Saint Laurent. Prada is on Goya Street, and on Jorge Juan St you can find even more luxury shops.
Chueca and Fuencarral Street Area— this part of the city used to be an abandoned and marginal area. However recently, it has quickly turned into the most avant-garde and modern part of Madrid. Thanks to the gay community, old shops were taken over and turned into the coolest places of Madrid. Today it is an example of modernity, a paradise for entertainment where everything is possible. The streets are filled with restaurants, alternative cafés and shops, a good example is the Market of Fuencarral (Mercado de Fuencarral, in Spanish) a novel shopping center concept. Apart from the purely commercial, this area proposes a wide range of gastronomy and party clubs by night in the weekends.
Calle Toledo, south of Plaza Mayor— a number of traditional shops selling Spanish rope soled shoes (espadrilles or alpargatas), jute products, and leather can be found here.
Markets
El Rastro. Only open on Sunday mornings. Madrid's largest flea market, featuring rows upon rows of private vendors selling a variety of homemade bags, and a plethora of live entertainment. It is very important to note that the Rastro is notorious for having an abundance of pickpockets, so watch your handbag closely and do not bring along valuables.
Cuesta de Moyano, (near Museo del Prado). A quaint outdoor book market.
El Mercado de San Miguel, San Miguel Plaza (Close to the west corner of Plaza Mayor). Sets the ambiance of a traditional market, with the advantages of the new times. It has an Iron and Glass Structure from the 20th Century. Quite upscale with beautiful displays of food with high prices to match.
Shopping Outlets
Las Rozas Village Chic Outlet Shopping, Calle Juan Ramón Jimenez 3, Las Rozas. M-F 11AM-9PM, Sa 11AM-10PM, Su 11AM-9PM. Fantastic outlet in the suburbs of Madrid with villa-like shops. It is part of the Chic Outlet Shopping Villages in Europe which has other villa-like outlets in Paris, Barcelona, Dublin, London, Milan, Brussels, Frankfurt, and Munich. It offers up to 60% off in over 100 luxury brands such as Bally, Burberry, Hugo Boss Man and Woman, Pepe Jeans, Loewe, Desigual, Camper, Tommy Hilfiger and Versace. In Las Rozas Village you can also find some coffee places like Starbucks and a few bars. It takes around 40 minutes to get there by car from the center of Madrid. A fantastic experience for a warm Sunday afternoon.
What to eat
Gallinejas and Entresijos – Portions from different parts of lamb fried in its fat. Very traditional and typical from Madrid city.
Callos a la Madrileña – A hot pot of spicy beef tripe similar to those found in Turkey and the Balkans.
Cocido Madrileño – Chickpea stew with meat and vegetables. The particularity of this stew is the way it is served. The soup, chickpeas and meat are served and eaten separately.
Oreja de Cerdo – Pigs ears, fried in garlic. This popular dish is widely eaten throughout central Spain.
Sopa de Ajo – Garlic soup is a rich and oily soup which generally includes paprika, grated Spanish ham, fried bread and a poached egg. A variation of this soup is known as Sopa Castellana.
It is ironic that Madrid, located right in the centre of Spain has higher quality seafood than most coastal regions. This quality comes at a price, and most Spaniards only occasionally shell out for a mariscada (Spanish for "seafood feast"). Experiencing Madrid's seafood may be, for the visitor, an experience which will be worth the cost.
Meat and meat products (Jamon Iberico, morcilla, chorizo etc) are of generally a very high quality in Spain and particularly in Madrid.
Restaurants
Many of the restaurants and cervecerías in the Sol and Plaza Mayor area have "generic" poster board advertisements on the sidewalks with pictures advertising various paella dishes. These paellas are usually of bad quality and should be avoided. If you are looking for good, authentic Spanish paella, it is usually best to find a more expensive, "sit-down" type of restaurant that offers a variety of paella dishes.
A much better option is the La Latina neighborhood just south of Plaza Mayor, especially along the Cava Baja street. To enjoy a gastronomic tour of this area you can join the Old Madrid Tapas & Wine Tour. There are also a number of deli-like shops along Calle Arenal that offer food para llevar (for take away).
At bars, one generally orders various sized plates, a ración meaning a full dish, a media ración a half dish or a smaller version which would be a tapa, a pinxto or a pincho.
The Spaniards don't eat lunch until 2 or 3 pm, and dinner doesn't start until 9 or 10 pm. As a rule of thumb, restaurants serve lunch from 1PM (earlier in touristic zones) until 3:30PM, then close and re-open for dinner at 8:00PM, serving until 11:00PM. This schedule is usually for restaurants since bars and "mesones" are usually opened all day long offering a wide variety of "tapas" and "bocadillos"(rolls) for a cheap price. If you're really desperate, the standard bunch of fast food chains do stay open throughout the day.
What to drink
Nightlife starts later in Madrid, with most people heading to the bars at 10-11PM.
Clubs generally open at about midnight. If you go in any earlier you may find it quite empty. Many clubs don't close until 6AM, and even then everyone is still full of life.
Stay safe
Madrid is a relatively safe city. The police are visible, and the city is equipped with cameras. There are always a lot of people in the streets, even at night time, so you can walk across the city generally without fear.
Official tourism websites of Madrid
For more information please visit the official government website: 
Watch a video about Madrid
Instagram Posts from other users
Tickets for remarkable experiences
If you want us to create a Blog Post about your favourite place,
please message us on FaceBook
with your name,
your review
and photos,
and we will try to add it soon
Useful Travel Tips Be sure to read these travel tips before you go. Travel is full of major decisions — like which country to visit, how much to spend, and when to stop waiting and finally make that all-important decision to book tickets.  Here are some simple tips to smooth the way on your next […]