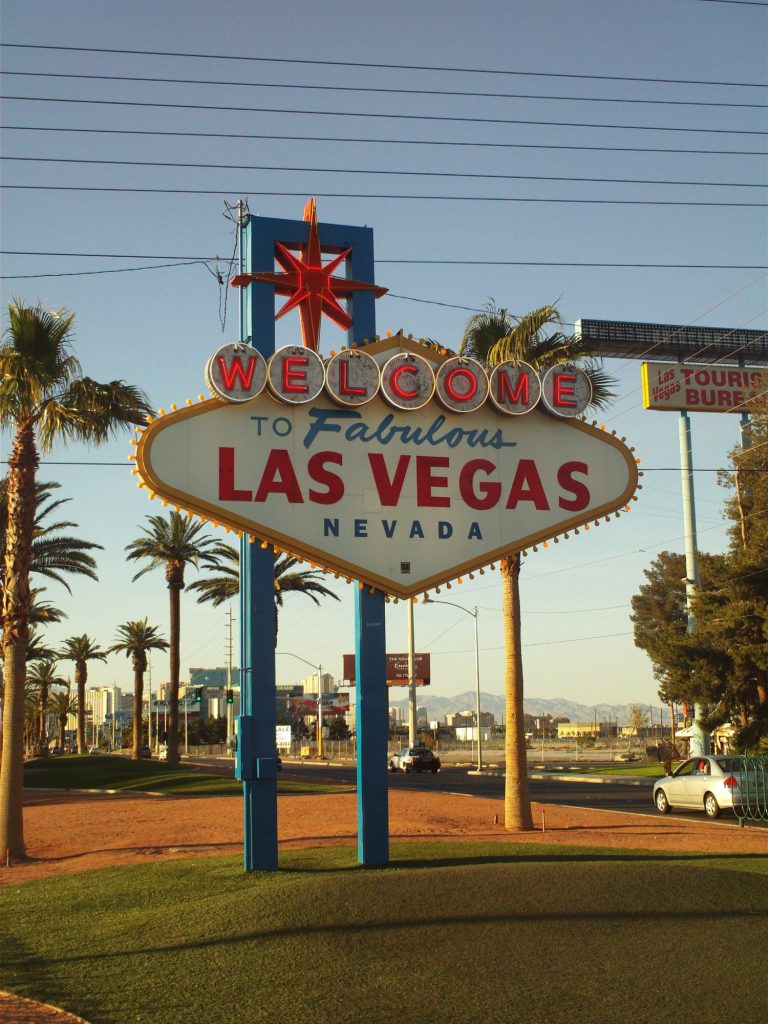 World-Class Circus Acts @ Circus Circus, 2880 S Las Vegas Blvd. From 11am, every half-hour. Aerialists, jugglers, acrobats and trapeze artists take the stage at the world's largest permanent circus daily. Free.
I Lost My M in Vegas @ M&M World, 3785 S Las Vegas Blvd (in the Showcase Mall, next to the MGM Hotel & Casino). Daily. 3–D movie. Free. 
Las Vegas hosts very popular Cirque du Soleil shows. To secure the best seats, reservations well in advance is recommended. In order of opening date, the shows are;
Mystère @ Treasure Island, 3300 S Las Vegas Blvd. A classic Cirque show, full of amazing feats, impressive costumes, and humor. Definitely worth the time and money. Although it's family-friendly, it verges on too intense and psychedelic for younger children, so consider avoiding for children under eight.
'O' @ Bellagio, 3600 S Las Vegas Blvd. The stage at the Bellagio contains a 1.5 million gallon swimming pool, from which most performers emerge and retreat to. It's an incredibly impressive show.
Zumanity @ New York-New York, 3790 S Las Vegas Blvd. An adult show. You must be 18 or older to attend.
KÀ @ MGM Grand. Spectacular show that tells a tale of Imperial Twins on a journey to fulfill their destinies.
Love @ Mirage, 3799 S Las Vegas Blvd. This recent addition to Cirque du Soleil is a show based on the music of The Beatles. The show explores the content of the songs as interpreted by performances from a cast of 60.
Criss Angel Believe @ Luxor, 3900 S Las Vegas Blvd. Based on the magic of Criss Angel.
Production Shows
Reserve your tickets well in advance for the best available seating. The most popular shows are sold out on the weekends.
Absinthe @ Caesars Palace, 3570 S Las Vegas Blvd. 8:00pm: Sunday & Wednesday, 8:00 & 10:00pm: Tuesday & Thursday-Saturday. What is perhaps the world's sexiest adult-themed circus makes its way to the strip. Be mesmerized as exotic burlesque, vaudeville and circus acts unfolds before your eyes.
Blue Man Group @ The Monte Carlo, 3770 S Las Vegas Blvd. Nightly 7:30pm and/or 10:30pm. Blue Man Group is unlike any other show on the Las Vegas Strip. There are no elaborate costumes, no death-defying acrobatics and no scantily clad dancers. There are simply three blue-hued men dressed in black who make music, make you laugh and make you think. Now at the Monte Carlo, the group is presenting their first new show in more than 20 years to audiences in Vegas.
Frankie Moreno @ Stratosphere, 2000 S Las Vegas Blvd. 8:00pm Wednesday-Saturday. A fan favorite of the Las Vegas entertainment industry and local celebs, Frankie's unique style and sophisticated swagger highlight a fun and entertaining performance that everyone should experience. Frankie Moreno was named "Best All-Around Performer" by Las Vegas Review – Journal's Best of Las Vegas 2012 and "Best Strip Headliner" – Las Vegas Weekly.
Jabbawockeez @ Luxor, 3900 S Las Vegas Blvd. The Jabbawockeez is an eight-member, all male, hip-hop dance crew best known for being the winners of the first season of America's Best Dance Crew.
Jersey Boys @ Le Theatre Des Arts – Paris Hotel & Casino, 3655 S Las Vegas Blvd. 5:00pm & 8:15pm: Tuesday-Sunday. How did four blue-collar kids become one of the greatest successes in pop music history? Find out at the runaway smash-hit, Jersey Boys. Winner of Best Musical accolades on Broadway, in London and Australia, this blockbuster phenomenon takes you up the charts, across the country and behind the music of Frankie Valli and The Four Seasons.
Le Rêve @ Wynn Las Vegas, 3131 S Las Vegas Blvd. F-Sun 7:00PM & 9:30PM. Held in a domed stage with no seat further than 40 feet from the stage. Le Rêve takes you through a young woman's dream, and features acrobats, synchronized swimming and diving.
Marriage Can Be Murder @ The D Las Vegas, 301 Fremont St. 9:30am – 9:30pm Monday-Wednesday, 9:30am – 11:00pm Thursday-Sunday. The award-winning comedy show is an interactive, murder mystery, dinner show experience, where the actors are planted among the unsuspecting guests. You'll be thoroughly entertained during your three course meal while you try to figure out "who dun-it?" Marriage Can Be Murder is the longest running dinner show in Vegas.
Menopause – The Musical @ Luxor Hotel & Casino, 3900 S Las Vegas Boulevard. 5:30pm: Wednesday-Monday, 8:00pm: Tuesday. Four women at a lingerie sale with nothing in common but a black-lace bra AND memory loss, hot flashes, night sweats, not enough sex, too much sex and more! Menopause The Musical is a 90-minute production which includes 25 re-lyricized tunes from the '60s and '70s and culminates with a salute to women who are experiencing The Change. Come see what nearly 11 million fans all over the world are laughing about.
Rock Of Ages @ Rock of Ages Theater at The Venetian, 3355 S Las Vegas Blvd. 8:00pm Tuesday-Friday, Sunday; 7:00pm & 10:00 Saturday. Set in L.A.'s infamous Sunset Strip in 1987, Rock of Ages tells the story of Drew, a boy from South Detroit and Sherrie, a small-town girl, both in L.A. to chase their dreams of making it big and falling in love. Rock Of Ages takes you back to the times of big bands with big egos playing big guitar solos and sporting even bigger hair.
Tony 'N' Tina's Wedding @ Windows at Bally's Hotel & Casino, 3645 S Las Vegas Blvd. 7:00pm nightly. The exciting interactive show concept gives audiences a chance to attend an actual wedding in which there is a ceremony, reception, guests and lots of improvisation.
Tournament of Kings @ Excalibur Hotel & Casino, 3850 S Las Vegas Blvd. 6:00pm: Monday & Wednesday, 6:00pm & 8:30pm: Thursday-Sunday. Travel back to the middle Ages and experience a celebration of medieval proportions at Excalibur's Tournament of Kings. This dinner and show features jousting, dancing, singing and a feast fit for a king. The show is a fun way to combine getting dinner with experiencing the excitement that ensues when knights in shining armor on horses duel to determine a champion.
V – The Ultimate Variety Show @ V Theater at Miracle Mile Shops Planet Hollywood, 3663 S Las Vegas Blvd. Nightly 7:00pm & 8:30pm. Comedy, magic, aerial acrobatics, dancing and some of the wildest modern-day Vaudeville acts you will ever see. V truly is the Ultimate Variety Show.
Vegas! The Show @ Saxe Theater at Miracle Mile Shops Planet Hollywood, 3663 S Las Vegas Blvd. 7:00pm & 9:00pm: Monday-Saturday. VEGAS! The Show recreates the greatest moments in Vegas' history. This is the story of the most influential and exciting entertainers who made Vegas… Vegas! From vintage Vegas icons like The Rat Pack and Elvis to today's hottest performers… this award- winning cast, big band orchestra and beautiful showgirls make VEGAS! The Show the biggest stage production on the Strip in almost 20 years.
Comedy shows
There are always different comedians coming to Las Vegas. Some comedians that have recently performed in Las Vegas include Robin Williams, Howie Mandel, and Carrot Top. Always a great way to get a laugh and end the night.
Comedy Pet Theater @ V Theater – Planet Hollywood, 3663 Las Vegas Blvd #360. The most beloved family show in the world, featuring an amazing cast of housecats, dogs, parrots… even geese and mice! Critics describe the show as a unique blend of physical comedy, world-champion juggling and the extraordinary talents of more than 30 performing pets. Gregory Popovich has rescued these animals from shelters all over the country and has transformed them into Las Vegas stars. Popovich is a fifth generation circus performer who learned early on how to develop strong bonds with animals.
Big Al's Comedy Club @ The Orleans Hotel & Casino, 4500 West Tropicana Ave. 8:00pm Wednesday – Sunday.
Anthony Cools presents Strip Comedy @ Palms Resort & Casino, 4321 West Flamingo Rd. 8:00pm Wednesday-Sunday. This wild, down and dirty show follows two teams of improv actors going head-to-head in comedic games where everyone wins and nothing is off limits. The audience gets in on a big piece of the action, participating throughout the night in this fully improvised show created from their suggestions. The audience also judges the scenes, deciding which team takes each round and live human "scorecards" keep tally on the wins. Similar to strip poker, each win allows the "scorecard" to remove an item of clothing – eventually leaving one lovely lady almost baring all and thus winning the game for her team.
Brad Garrett's Comedy Club @ MGM Grand Hotel & Casino, 3799 S Las Vegas Blvd. Nightly at 8:00 PM.
Carrot Top @ Atrium Theater – Luxor Hotel & Casino, 3900 S Las Vegas Blvd. 8:30pm: Wednesday-Monday. Luxor Las Vegas Hotel and Casino features Carrot Top, "Best Male Stand-Up Comedian!" The wackiest red-headed comedian since Lucy! The award-winning comedy of Scott "Carrot Top" Thompson, also titled "Entertainer of the Year!" and "Comedian of the Year," keeps his audience in stitches as he unpacks trunk loads of crazy props and wacky inventions. Carrot Top describes himself as a culmination of George Carlin ("observational humor"), Steven Wright ("dark, sick humor") and Gallagher ("the props"). Whatever his style, Carrot Top – with his trademark mop of red hair – is rocking Luxor Las Vegas right now! Don't miss the best comedic entertainment in Las Vegas.
Comedy After Dark starring Anthony Padilla @ Westgate Las Vegas Resort & Casino, 3000 Paradise Rd. 10:00pm Thursday-Saturday. This edgy comedy review showcases a rotating lineup of comedians along with host Jeremy Wieand and comedian Anthony Padilla. Many of the headliners, including Padilla, have been on television or in movies. Padilla has been featured in a number of TV shows, including the History channel's "Pawn Stars" and "American Restoration.
Defending the Caveman @ Harrah's Hotel & Casino, 3475 S Las Vegas Blvd. 4:00 & 7:00pm Sunday – Monday, 7:00pm Tuesday – Saturday. Defending the Caveman starring Kevin Burke delivers a healthy dose of insight to the ways of modern man. Men and women will relish this hilarious one-man encounter with the Neanderthal.
Eddie Griffin @ King's Room – Rio All Suites, 3700 W. Flamingo Rd. 7:00pm Monday-Wednesday. Eddie Griffin doesn't hold anything back in his R-rated comedy show at the Rio. He brings his signature brand of "Comedy without a Condom" to audiences for a night of non-stop laughs. A comedy veteran, Griffin has no problem working the crowd and cracking jokes with his off-the-cuff comedy.
George Wallace @ The Flamingo, 3555 S Las Vegas Blvd. 10:00pm Tuesday – Saturday. Wallace derives his comedy from everyday moments of life. Today he is considered one of the funniest stand-ups in the business.
Guidos of Comedy @ Royal House Lounge at Royal Resort, 99 Convention Center Dr. 7:00pm Friday-Sunday. Mikey V and Tommy T turn the Royal House lounge into Sunday dinner at mama's with lots of laughs and songs. If you're not Italian you just might think you are by the end of the show.
The Improv @ Harrah's Hotel & Casino, 3475 S Las Vegas Blvd.
Jeff Civillico – Comedy In Action @ The Quad (formerly The Imperial Palace), 3535 S Las Vegas Blvd. 2:00pm Wednesday – Monday.
The Joe Show @ Tuscany Suites & Casino, 255 East Flamingo Rd. 8:00pm Thursday-Saturday. This 75-minute performance features comedian, Joe Lowers, who's been doing comedy for two decades and headlining Las Vegas for the past five years.
Laugh Factory @ The Tropicana Hotel & Casino, 3801 S Las Vegas Blvd. Daily 8:30pm & 10:30pm.
Las Vegas Live Comedy Club. Las Vegas has a new home for the Best Comedy in the Country. "Las Vegas Live" Comedy Club will bring together a cross section of best comedians from NY, Chicago, Boston, L.A., and Las Vegas. Make this Vegas show one of the top things to do on your Vegas trip, and come see comedy aces from HBO, SHOWTIME, and COMEDY CENTRAL "live" on our stage. Daily at 9pm. 702.260.7200.
Louie Anderson – Big Baby Boomer @ Palace Station Hotel & Casino, 2411 W Sahara Ave. 7:00pm Wednesday – Saturday. $59.95 plus tax/fees for general admission.
The Riviera Comedy Club @ The Riviera Hotel & Casino, 2901 S Las Vegas Blvd. 9:00 PM daily.
Sammy Shores's Legends of Comedy @ Wolf Theater at Clarion Hotel & Casino, 305 Convention Center Dr. 8:00pm Saturday. Comedy legend Sammy Shore returns to Las Vegas with a new stand-up show. Shore gained notoriety as "the man who made Elvis laugh" and was invited to open for Presley during his famed Vegas run from 1969 to 1972. Shore then opened the venerable Comedy Store in Los Angeles in 1972, which helped launch the careers of dozens of renowned comics including Bob Saget, Richard Lewis, David Letterman and Jay Leno. Join Sammy and Pete Barbuti with special guests for an evening of laughter.
Sin City Comedy Show @ Sin City Theater at Theater Planet Hollywood, 3667 S Las Vegas Blvd. 9:00pm: nightly. Two time winner of the coveted "Best of Las Vegas Award"; Sin City Comedy features a rotating lineup of nationally known comics performing each night, that you might have seen before on Comedy Central, VH1, HBO, The Tonight Show with Jay Leno, The Late Show with David Letterman, Conan, Jimmy Kimmel, The Late Late Show with Craig Ferguson, and Late Night with Jimmy Fallon. Each week features a different well-known comedian, so you'll never see the same Sin City Comedy show twice.
Vinnie Favorito @ Bugsy's Cabaret – Flamingo Hotel & Casino, 3555 S Las Vegas Blvd. Nightly at 8:00 PM.
Wolf's Den Comedy @ Wolf Theater at Clarion Hotel & Casino, 305 Convention Center Dr. 8:00pm Friday. An eclectic combination of national touring and local comedians, joined by performers from TV shows like Last Comic Standing and The Howard Stern Show radio program, Wolf's Comedy Den will bring a rotating cast of funny folks to Las Vegas with the goal to leave you in stitches. From the who's-who to the rising stars of comedy, the laughs will come flying from all directions.
Impressionist/Impersonation shows
Terry Fator @ Mirage, 3400 S Las Vegas Blvd. Monday – Thursday 7:30pm. Backed by a live band, Fator wows audiences nightly with singing, comedy and unparalleled celebrity impressions.. The "America's Got Talent" winner brings to life a hilarious range of characters.
Gordie Brown @ Golden Nugget Hotel & Casino, 129 Fremont St. 7:30pm Tuesday – Saturday, Dark December 2-17.
Tribute shows
VEGAS! the Show @ Saxe Theater inside Miracle Mile Shops, 3663 Las Vegas Blvd S. 7:00pm & 9:00pm. Voted "Best Show in Las Vegas!" VEGAS! the Show is the best of Las Vegas all in one show and tells the story of the most exciting entertainers to ever set foot on The Strip. A cast of more than 40 singers, dancers, showgirls and a live big band orchestra make it the "must see" show of Las Vegas.
The Australian Bee Gees Show: A Tribute to The Bee Gees @ The Excalibur Hotel & Casino, 3850 S Las Vegas Blvd. 7:00pm daily. Performing since 1996, the tribute band brings the sound of the legendary Bee Gees to live with superb sound, graphics and lighting. The multimedia concert revisits the sounds of the famous Gibb Brothers.
Beatleshow @ Saxe Theater inside Miracle Mile Shops, 3663 S Las Vegas Blvd. A TRIBUTE to The Beatles is as close as you can get to a real Beatles concert. Hear their greatest hits performed live.
Barbra and Frank: The Concert That Never Was @ Boulevard Theater, 3765G S Las Vegas Blvd. 3:00pm daily. In "Barbra & Frank: The Concert That Never Was…," tribute artists Sharon Owens and Sebastian Anzaldo take audiences on a trip down memory lane as Streisand and Sinatra.
Hitzville The Show Motown Revue @ V Theater inside Miracle Mile Shops, 3663 S Las Vegas Blvd. Tues-Sat at 6:00pm. Hitzville – The Show is the most authentic Motown show ever to hit Las Vegas. See the performance that earned standing ovations from legendary producer Berry Gordy and the "King of Pop" himself, Michael Jackson.
Brian Hoffman's Remembering Red – A Tribute To Red Skelton @ The Westin Las Vegas Hotel & Casino, 160 East Flamingo Rd. 2:00pm Monday-Tuesday, Saturday. A Tribute to Red Skelton is a heartfelt trip down memory lane. Reminisce with Brian Hoffman as he performs the jokes and routines that made Red Skelton famous. Brian's portrayal of Red Skelton will have you in stitches as he re-creates some of Red's most well known characters. Laugh with Clem Kadiddlehopper, that dim-witted country bumpkin. Giggle along with Gertrude and Heathcliffe, the two seagulls. Feel the love of Freddy the Freeloader, the hobo who lived in the city dump.
Magic shows
The Mentalist @ V Theater at Miracle Mile Shops Planet Hollywood, 3663 S Las Vegas Blvd. 7:30pm Thursday-Tuesday. Reality show Phenomenon, Gerry McCambridge performs comedy, magic and mindreading live on stage for astounded audiences. Gerry thrills audiences with incredible mentalism skills and his ability to get inside the minds of others.
Nathan Burton Comedy Magic @ Saxe Theater at Miracle Mile Shops Planet Hollywood, 3667 S Las Vegas Blvd. 4:00pm Tuesday – Sunday. Burton intertwines original illusions, comedy, street magic and showgirls to create a fast-paced, contemporary and riveting performance amid his mischievous and masterful magic.
David Copperfield @ MGM Grand, 3799 S Las Vegas Blvd, [98]. 7:00pm & 9:30pm Sunday-Saturday, 4:00pm matinee shows on Saturdays. One of the world's most famous magicians. Some of his best known illusions are making the Statue of Liberty disappear, walking through the Great Wall of China and flying over the audience (which he does nightly). David Copperfield has been hailed by audiences and critics alike as the greatest illusionist of our time. In addition to decades of network television events, worldwide tours, and "Dreams and Nightmares," the critically acclaimed Broadway show that set box-office records, he has been featured on the covers of Forbes, Architectural Digest and Esquire.
ILLUSIONS starring Jan Rouven @ Starlite Theatre – Riviera Hotel & Casino, 2901 S Las Vegas Blvd. 7:00pm nightly. Some of the most dangerous and thrilling acts and gives the audience a front-row seat into the imagination of a master illusionist. ILLUSIONS brings heart thumping music and five dancers to help Rouven cross many boundaries. Magic, mystery and imagination will transport the audience on an unforgettable journey into his world of Illusions.
Hypnotists
Marc Savard Comedy Hypnosis @ V Theater – Miracle Mile Shops at Planet Hollywood, 3667 South Las Vegas Blvd. 10:00pm: Saturday-Thursday. An energetic mix of comedy, hypnosis and chaos. You can see the show or BE the show! Come to watch hilarious audience volunteers live onstage as Marc Savard whips the crowd into a frenzy.
Anthony Cools – The Uncensored Hypnotist @ Paris, 3655 South Las Vegas Blvd. 9:00om Tuesday & Thursday-Sunday. World-famous hypnotist Anthony Cools performs at Paris Las Vegas, using his skills for decidedly evil purposes, tapping into the carnal desires and subconscious naughtiness of his audience, shearing off all inhibitions. Not only is Cools the only hypnotist playing in a casino on the Las Vegas Strip, his show is the longest-running hypnotist show in Las Vegas history, and the longest-running show at Paris Las Vegas.
Topless female dancers
Crazy Horse Paris @ MGM Grand, 3799 S Las Vegas Blvd. The show is unlike most other topless revues as it is presented in a more artistic manner through lighting, costumes, and set designs. Most of the females are of the same shape and size. One of the slogans for the show is 'celebrating the artistry of the nude'. Also features two breaks for the women when a male performer takes the stage first performing a magic card act, then a comedic musical number.