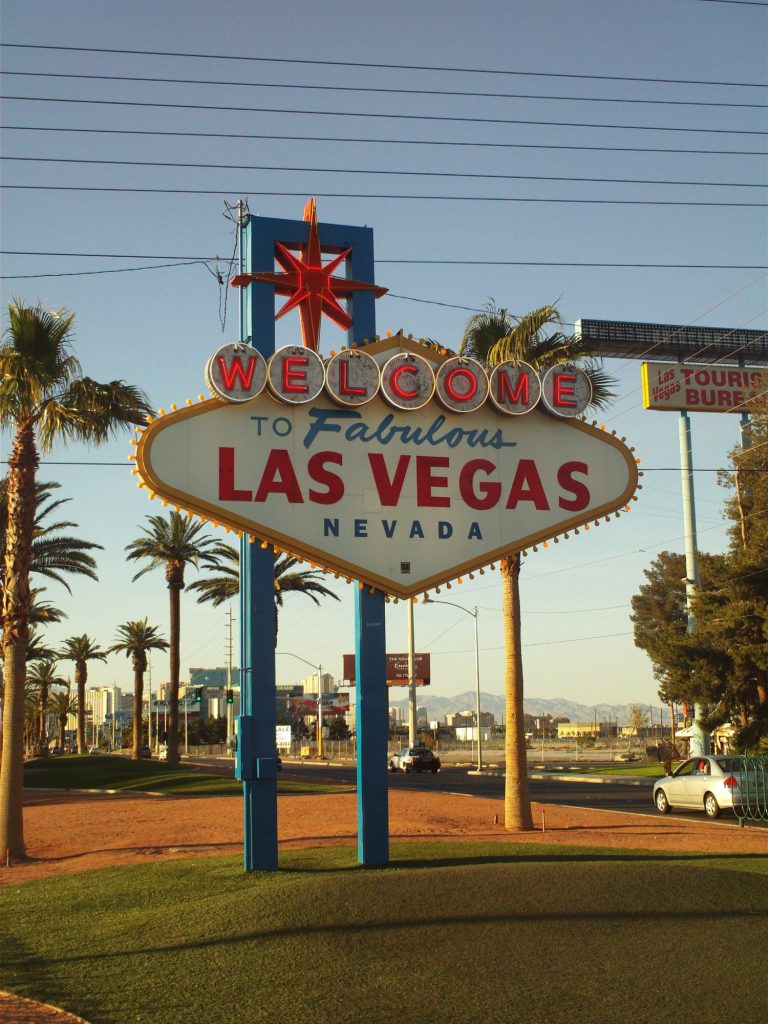 Explore the largest city in the U.S. state of Nevada. Las Vegas is the Entertainment Capital of the World. Explore Las Vegas, the city which features many mega-hotel/casino complexes decorated with lavish care and attention to detail creating a fantasy-like environment. The casinos often have names and themes that evoke romance, mystery, and exotic destinations.
Las Vegas has an arid climate with sunny, dry, and extremely hot summers.  During winter, a cold spell may set in for several days. Summer monsoons occur from late July to early September.
Compared with other cities in the western U.S., Las Vegas (literally, "the meadows" in Spanish) is a relatively recent arrival. It was founded in 1905, and for many years it was merely a small settlement in the middle of the desert. However, several pivotal events would come together in less than twenty years that would help Las Vegas grow into what it is today.
North Las Vegas Airport services a lot of air tour operations along with other forms of general aviation. It's the second busiest airport in Vegas, and the third busiest airport in the state of Nevada.
Rental cars
If you mostly plan to hang around one casino and your time in Vegas is short, you might want to forego a rental car altogether and just take taxis or the Strip buses. On the other hand, taxi fares and bus passes add up quickly, and with car rental so cheap, anyone staying a few days or longer would be better suited with the flexibility of a car. Some of the best sights (e.g., Hoover Dam) are located just outside of Las Vegas and require that you drive to those destinations. If you need to or might go farther (e.g., out of state), ensure your rental agreement allows it as well as sharing of driving duties.
There are numerous car rental offices on the Strip, making it very easy to rent a car from your hotel for a day trip. Even you can rent a car online from Sixt. Remember to rent ahead of time as it can be busy during weekends and during major conventions.
Age restrictions
It is Federal law that all gamblers must be at least 21 years of age.
ATMs
Most casinos offer ATMs and over-the-counter cash facilities, but beware about the charges set by your bank and the machine operator or establishment. ATMs in casinos may charge exorbitant fees for withdrawals.
Shopping malls
Fashion Show Mall, 3200 S Las Vegas Blvd; offers nearly every major and deluxe U.S. retail chain store. Also offers numerous others often associated with major designers, plus a large food court and several excellent restaurants, all in a fully-enclosed, air-conditioned facility. The mall's plaza on the side facing the Strip is covered by a giant silver oval shade called the "Cloud" so it's hard to miss. Features extensive, free covered parking that often gets very busy by midday.
Town Square, 6611 S Las Vegas Blvd. About half a mile south of Mandalay is an outdoor mall in the shape of a small Mediterranean town and stands out as such amidst all the other, air-conditioned indoor malls. The idea of open-air shopping in the summer in the desert might seem crazy at first, but an extensive network of trees, shadow alleys and water sprayers let you actually enjoy sunny afternoons outside. And as such, Las Vegas' temperatures are not as heat prone in the seasons of fall, winter, and spring. All shops and restaurants here have their own distinctive one- or two-story structures. The "town" actually centers around a real town square featuring trees, ice cream and coffee stands and benches to rest.
Forum Shops, 3500 S. Las Vegas Boulevard (in Caesars). A huge high-end shopping area that also offers free animatronics shows at Fountain of the Gods and Atlantis located at either end of the mall.
Grand Canal Shoppes, 3377 South Las Vegas Boulevard (in the Venetian). Another massive shopping area that features the tacky objets d'art shop featured in Martin Bashir's interview with Michael Jackson.
Miracle Mile Shops at Planet Hollywood, 3663 S. Las Vegas Blvd. 10:00am – 11:00pm: Sunday – Thursday, 10:00am – midnight: Friday – Saturday. Open all year, including holidays. Restaurant and bar hours vary. In addition to 170 specialty stores, 15 restaurants and three live entertainment venues, the Miracle Mile Shops also features a multi-million dollar fountain show and an indoor rainstorm. edit
Outlet malls
The two largest and most prestigious are the Las Vegas Premium Outlets centers. Both are owned by the Premium Outlets chain, which is part of Simon Property Group. The southern one was originally independently developed by another company as Las Vegas Outlet Center and is still described by that name in older travel guidebooks. Both share many of the same tenants. The northern one features a few designer brands not found in its southern sibling, like Armani Exchange, Burberry, Dolce & Gabbana, Elie Tahari, Kate Spade, Salvatore Ferragamo, St. John, Tory Burch, and Tumi, while the southern one features a Saks Fifth Avenue Off 5th store.
Las Vegas Premium Outlets – North, 875 South Grand Central Parkway. At the gateway of Downtown – 150 designer and name-brand outlets in an outdoor setting. edit
Las Vegas Premium Outlets – South, 7400 Las Vegas Boulevard South (a few miles S of Mandalay Bay). 140 outlet stores in an indoor setting complete with two food courts. edit
What to eat
Large casinos will invariably offer a variety of dining options, ranging from the omni-present buffet to simple cafes to gourmet restaurants.
Buffets
Buffets are extremely popular in Las Vegas and the city has a plethora of them. They are popular with locals and tourists alike. The best buffets typically run about $30 a person for a weekend dinner. Lunch is a better value at most buffets as it is typically half-price but serves some of the same types of food that can be found at dinner hours. Breakfast is the least expensive and often has a good spread too. Don't forget that tipping your buffet waiter 10-15% is customary. You can leave cash on the table at the end of your meal or tip the cashier at the counter on a credit card.
Drink
In Las Vegas, free drinks are offered to all gamblers whether playing table games or slots of any denomination. You should tip the waitress at least $1 per drink. Failure to do so will most likely result in the waitress visiting you less often, and visiting those more often who do tip.
Nightclubs/Dancing
There is a club or lounge in nearly every hotel and casino. Most clubs remain open until 4AM, with various after-hour clubs available for the truly hard-core partiers. Drink prices can range anywhere from $4-8 for a domestic bottle of beer, $8-10 for well drinks made with cheap generic liquor, and $200 or more for a bottle of spirits. Clubs are always busy on weekends, and may also be packed during weekdays at places that have Service Industry Night (SIN), usually Tuesday to Thursday, when locals working in the service industry have their night off.
Heat exhaustion and dehydration
Expect extremely low humidity and temperatures above 105°F (40°C) May to September. Bring sunscreen and wear loose, light-colored clothing that substantially reflects sunlight. Avoid dehydration by drinking plenty of fluids.
Smoking
Inside all large casinos (generally those casinos exceeding 15 slot machines), strip clubs and standalone bars not serving food, tobacco smoking is permitted. In large casinos, there are areas which are smoke-free, but they may be very close to smoking areas. Poker rooms are typically smoke-free. Smoke-free table games and slot areas are also available. Restaurants inside casinos are non-smoking. Nightclubs and lounges may allow smoking if they do not serve food.
For all other standalone restaurants, bars, convenience stores, grocery stores and airport facilities smoking is banned in all establishments which sell food other than prepackaged snacks.
Hoover Dam is located in nearby Boulder City.
Rock climbing and hiking. Spring Mountains, North of Red Rock Canyon. Five peaks over 11,000′ which is Bristlecone Pine County. At 11,918 ft (3,362 m), Mt. Charleston reaches the treeless alpine zone and is Nevada's fourth highest peak. The geology is mainly limestone which soaks up rainfall and snowmelt up high and releases it in lower canyons. Carry plenty of water for hikes along the crest. Expect snow at higher elevations October to May or June.
Lake Mead National Recreation Area – one hour and twenty minutes north-east by car. Hot springs.
Grand Canyon is about 4 hours by car, via the Hoover Dam.
Mount Whitney, highest U.S. peak outside Alaska. About two hours beyond Death Valley.
Zion National Park is about three hours east of Vegas and offers stunning scenery in a red-walled canyon.
Las Vegas Ski and Snowboard Resort, (in the Spring Mountains, reached by State Highway 156). 45 minutes from Las Vegas.
Brian Head Resort, (in southern Utah). Offers more vertical feet but is about a three hour drive via I-15.
Charleston ski area in winter, hiking up to alpine zone in summer. 35 miles northwest of Las Vegas.
Bootleg Canyon, (near Boulder City, take Highway 93). provides excellent technical cross-country and downhill trails. 30 minutes south of "the Strip".
Blue Diamond, (just south of Red Rock Canyon). Less technical riding, but with amazing views.
White Mountains (California) includes the Ancient Bristlecone Pine Forest. To get there, take US-95 and S.R. 168 to Westgard Pass, then paved road as far as Shulman Grove at 10,000 ft, gravel to Patriarch grove just below treeline.
Death Valley is two hours to the west by car.
Desert National Wildlife Range, primitive camping on 1,588,459 acres of Mohave Desert. Set aside primarily for desert bighorn sheep, is 23 miles north of Las Vegas on U.S. 95.
Great Basin National Park has Nevada's only glacier and other excellent mountain scenery, Bristlecone Pines, cave tour with stalactites etc. North on US-93 to Ely, east on US-50.
Valley of Fire State Park is one hour north-east by car. However, note that the highway is under construction and so driving north from Lake Mead will add two extra hours to go 4 mi (6 km).
Promo Codes: Mobile promo codes for many Las Vegas hotels available at LasVegas.im. These are hotel promo codes and must be booked directly with each hotel.
Los Angeles is about 4 hours by car.
Mesquite is a delightful little resort on the Nevada-Arizona border near Utah. About 1.25 hours by car.
Sedona, Arizona, New Age tourist town in red sandstone canyon. About 4.5 hours by car.
Official tourism websites of Las Vegas
For more information please visit the official government website: 
Watch a video about Las Vegas
Instagram Posts from other users
Tickets for remarkable experiences
If you want us to create a Blog Post about your favourite place,
please message us on FaceBook
with your name,
your review
and photos,
and we will try to add it soon
Useful Travel Tips Be sure to read these travel tips before you go. Travel is full of major decisions — like which country to visit, how much to spend, and when to stop waiting and finally make that all-important decision to book tickets.  Here are some simple tips to smooth the way on your next […]