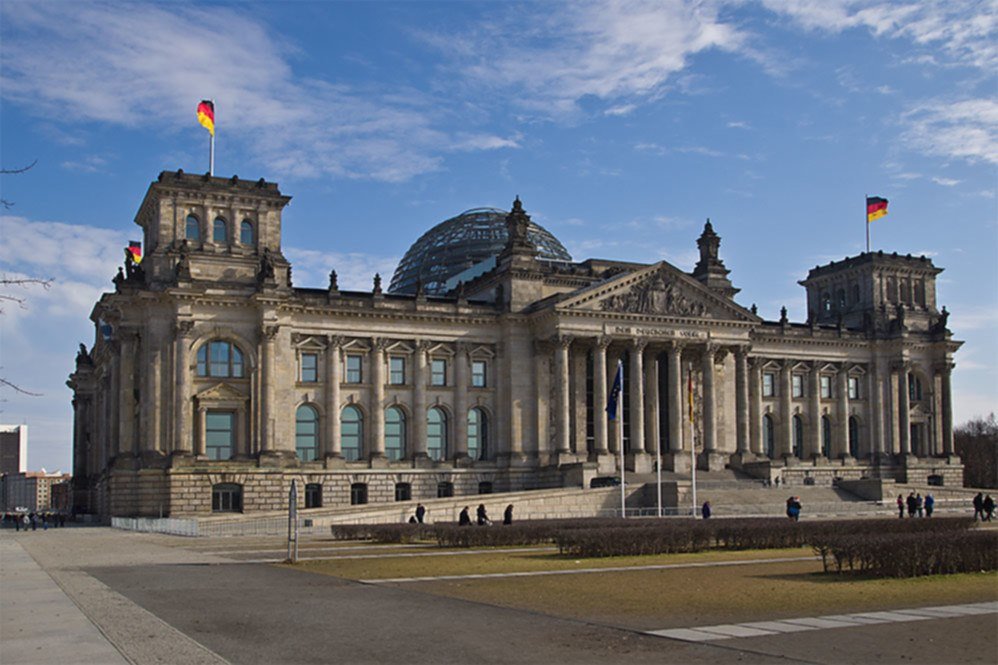 German food usually sticks to its roots and a typical dish will consist of meat with some form of potatoes and gravy, accompanied by vegetables or salad. Modern German cuisine has been influenced by other neighboring European countries such as Italy and France to become lighter. Dishes show a great local diversity which is interesting to discover.
Since most large employers have a canteen for their employees, you will find relatively few sandwich shops and takeaways, and eating out culture in Germany is dominated by the Gasthaus/Gasthof and restaurants. Putting places to eat into 6 categories gives you a hint about the budget/taste. Starting from the lower end, these are:
Imbiss
'Schnellimbiss' means 'quick snack', and is what you will see on the sign of German stalls and small shops that sell primarily sausage (Wurst) and fries (Pommes Frites). Sausages will include Bratwurst, which is fried and usually a boiled pork sausage. A very German variant is Currywurst: sausage chopped up and covered in spiced ketchup, dusted with curry powder. Beer and often even spirits are available in most Schnellimbisse.
'Döner Kebab' is a Turkish dish of veal, chicken or sometimes lamb stuffed into bread, similar to Greek Gyros and Arab Schawarma. Even though considered Turkish, it's actually a speciality which originated in Germany. According to legend, it was invented by Turkish immigrants in West Berlin during the 1970s. In fact, the 'Döner' is Germany's favourite fast food dish. The sales of 'Döner' exceed those of McDonald's and Burger King Products by far.
Nevertheless, American fast food giants like McDonald's, Burger King and Pizza Hut can be found in most towns. Nordsee is a German seafood chain, which offers 'Rollmops' (pickled herrings) and many other fish and seafood snacks. However, many independent seafood snack bars (most common along the German coasts) offer slightly better and slightly cheaper seafood.
Bakeries and butchers
Germans have no tradition of sandwich shops but you will find that bakeries/butchers sell quite good takeaway food and are serious competition for the major fast food chains. Even the smallest bakeries will sell many varieties of bread or rolls, most of them darker (for example, using wholemeal or rye flour) than the white bread popular around the world and definitely worth a try. Even if they don't already have it prepared, almost all butchers will prepare a sandwich for you if you ask. Some butchers even prepare meals for you. This butcher 'imbiss' is mainly popular in southern Germany, and the quality and freshness of food is usually high.
Biergärten
Here you will get the obvious drink. In traditional beer gardens in Bavaria, it is possible to bring your own food if you buy drinks, while in the northern parts of Germany, this behavior would be considered inappropriate, so you had better courteously ask the waiter for the specific place's policy. Most places will offer simple meals.
Brauhaus
Smaller breweries sell their products straight to the customer and sometimes you will also find food there, among it usually "Haxe" or "Schweinshaxe" (pig's leg), a distinctively German specialty and probably the best dish in almost every establishment of that sort. In Frankonia, this is replaced by "Schäuferla" in different spellings. In other parts of Germany, you might find different traditional dishes being served. For example, in Cologne, where "Halve Hahn" (a rye roll with cheese) is considered typical. However, be aware of local customs. For example, in Cologne, it is usual that beer glasses that you have emptied will be replaced by a fresh, filled one, without any further enquiry; if you do not want to get it replaced any more, indicate this by putting a cardboard beer mat on top of your empty glass. Increasingly, new breweries, offering innovative beers, are opening in Germany, where you may order dishes which are down-to-earth and innovative at the same time. In some traditional breweries, and in pubs in the western part of Germany, your consumption is usually recorded on your beer mat, which is a small round piece of cardboard which is placed below your beer glass. And this leads to something which may be considered typically German: This pragmatic recording approach is supported by the legal order. Any manipulation of those records on beer mats, or the suppression of such beer mats, is considered "forgery of documents", or "elimination of documents", both being criminal offences. The fact that beer mats are associated with legal documents even got reflected in a campaign of a German politician, demanding that tax returns should be so easy that "every citizen should be in a position to file the return on a beer mat".
Gasthof/Gasthaus
Probably 50% of all eating places fall into this group. They are mainly family-run businesses that have been owned for generations, comparable to pubs in the UK. You can go there simply for a drink, or to try German food (often with a local flavor). Food is usually down-to-earth and may range from very basic dishes to local specialties.
Except from very simple places that try to feed people off with reheated convenience products, the quality of the food can be very good. If you spot a place that appears popular with the locals, it's usually worth giving it a try. When locals who appear to be quite well-off indicate a certain place and state that prices are appropriate, you should definitely give a try to such place: In formerly rural areas which are quite near to larger cities and which have turned into quite wealthy suburban spaces, formerly simple rural pubs have adopted to a quite wealthy, albeit price-aware and critical, new clientele. They might offer surprisingly elaborate food, a large variety of beverages, in particular selected wines, and food which conforms to specific dietary requirements. Usually, they do not need to advertise much, but rather rely on recommendations. And they know that their clientele knows the German proverb: "You do not get rich from spending money, but from keeping it." This means: You have to pay some price for good quality of food and beverages, but not for more. Expect such places in particular around cities like Frankfurt, Düsseldorf, Munich, or Hamburg.
Especially in more rural areas, a traditional Gasthof may not cater for all dietary requirements (e.g. vegetarian/vegan). In that case, check the menu before entering.
Restaurants
Germany has a wide range of foreign cuisines available (e.g. German, Chinese, Japanese, Thai, Polish, Indian, Italian, French, Spanish, Greek, Turkish) and almost all styles of the world are represented.
Most cities will also have specialty restaurants that cater for various dietary requirements. Berlin in particular, offers a lot of vegan and vegetarian options. Outside of the bigger cities, the situation may be more difficult but most restaurants will try to accommodate you and list at least some vegetarian options.
Food at Turkish and Arab eateries will usually be halal, and most of the time they will also have vegetarian options. Kosher restaurants are rare and will only be found in cities with a notable Jewish population, such as Berlin.
In most restaurants in Germany you can choose your own table. You can make reservations (recommended for larger groups and haute cuisine on Saturday nights) and these are marked by reservation cards ("Reserviert"). In some more expensive restaurants in larger cities, you should have reservation and will be seated by the staff – in simpler restaurants you'll just pick a table and sit down.
Restaurants in commercial areas often offer weekday lunch specials. These are cheap (sometimes including a beverage) options and a good way to sample local food. Specials tend to rotate on a daily or weekly basis, especially when fresh ingredients like fish are involved.
Some restaurants offer all-you-can-eat-buffets where you pay around €10 and can eat as much as you want. Drinks are not included in this price.
If you cannot finish your meal, you can ask whether it is possible to wrap your leftovers for taking them home. Most restaurant staff are happy about this request, as it indicates that you indeed liked the food and simply could not finish. Legally, you bought the food served, are the owner of it, and are allowed to take it home, but the restaurant is not required to wrap it. As they will be happy to wrap it for you without formal surcharge, and as they will be providing you with a bag for comfortably taking it home, consider to add an additional euro to the tip for that service as a gesture of appreciation.
"XXL-Restaurants" are rising in popularity in some areas. These restaurants offer mostly standardized meat dishes like Schnitzel or Bratwurst in big to inhumane sizes. It is common and encouraged to take leftover food home. Such food will usually not contain any preservatives or other additives (as the turnaround is high.
Typical dishes
Rinderroulade mit Rotkraut und Knödeln: this dish is quite unique to Germany. Very thin sliced beef rolled around a piece of bacon and pickled cucumber until it looks like a mini barrel (5cm diameter) flavored with tiny pieces of onion, German mustard, ground black pepper and salt. The meat is quick-fried and is then left to cook slowly for an hour, meanwhile red cabbage and potato dumplings are prepared and then the meat is removed from the frying pan and gravy is prepared in the frying pan. Knödel, Rotkraut and Rouladen are served together with the gravy in one dish.
Schnitzel mit Pommes frites: there are probably as many different variations of Schnitzel as there are restaurants in Germany. They have in common a thin slice of pork often covered in egg and bread crumbs that is fried for a short period of time and it is often served with fries (that's the Pommes frites part). Variations of this are usually served with different types of gravy: such as Zigeunerschnitzel, Zwiebelschnitzel, Holzfäller Schnitzel and Wiener Schnitzel (as the name suggests, an Austrian dish – the genuine article must be veal instead of pork, which is why most restaurants offer a Schnitzel Wiener Art, or Viennese-style schnitzel which is allowed to be pork). In the south, you can often get Spätzle (pasta that Swabia is famous for) instead of fries with it. Spätzle are egg noodles typical of south Germany – most restaurants make them fresh. Due to the easiness of its preparation ordering it might be perceived as an insult to any business with a decent reputation (with the exception of Wiener Schnitzel perhaps), admittedly it is almost unavoidable to spot it on the menu of any German sleazy joint (and there were – and still are – so many that even Churchill's bombs couldn't hit 'em all…), if nothing else therefore it might even be the most common dish in German restaurants (yes, at least German government officials do call their taverns as well as the common fast food stalls restaurants!).
Badische Maultaschen
Rehrücken mit Spätzle: Germany has maintained huge forests such as the famous Black Forest, Bayrischer Wald and Odenwald. In and around these areas you can enjoy the best game in Germany. Rehrücken means venison tenderloin and it is often served with freshly made noodles such as Spätzle and very nice gravy based on a dry red wine.
Wurst "sausage": there is no country in the world with a greater variety of sausages than Germany and it would take a while to mention them all. "Bratwurst" is fried, other varieties such as the Bavarian "Weißwurst" are boiled. Here is the shortlist version: "Rote" beef sausage, "Frankfurter Wurst" boiled pork sausage made in the Frankfurt style, "Pfälzer Bratwurst" sausage made in Palatine style , "Nürnberger Bratwurst" Nuremberg sausage – the smallest of all of them, but a serious contender for the best tasting German sausage, "grobe Bratwurst", Landjäger, Thüringer Bratwurst, Currywurst, Weißwurst … this could go on till tomorrow. If you spot a sausage on a menu this is often a good (and sometimes the only) choice. Often served with mashed potato, fries or potato salad. The most popular type of sausage probably is the Currywurst (Bratwurst cut into slices and served with ketchup and curry) and can be bought almost everywhere.
Schweinebraten.wmt
Schweinebraten: Roast pork, traditional the closer you get to (or into) Munich. Try the crust, which should be crispy. There sould be little visible (but testable) fat. If you pass through Nuremberg, try Schäufele, the local variant of pork shoulder in a restaurant that has it on the daily (not the regular) menu. Both are usually served with Klöße, made from raw (or cooked) mashed potatoes and lots of gravy (feel free to order more).
Königsberger Klopse: Literally "meatballs from Königsberg", this is a typical dish in and around Berlin. The meatballs are made out of minced pork and anchovies and are cooked and served in a white sauce with capers and rice or potatoes.
Matjesbrötchen: Soussed herring or "roll mops" in a bread roll, typical street snack.
Local specialities
Starting from the north of Germany going south you will find a tremendous variety of food and each region sticks to it origins. The coastal regions are fond of seafood and famous dishes include "Finkenwerder Scholle", going south to the region of Cologne you will find Sauerbraten (a roast marinated in vinegar), if made really traditionally it's from horse meat.
Labskaus (although strictly speaking not a German invention) is a dish from the north and the opinions about this dish are divided, some love it, others hate it. It is a mash of potato, beetroot juice and cured meat decorated with rollmops and/or young herring and/or a fried egg and/or sour cucumber and/or beetroot slices on top. The north is also famous for its lamb dishes, the best type of lamb probably being "Rudenlamm" (lamb from Ruden, a small island in the Baltic Sea; only a few restaurants in Mecklenburg-Western Pomerania serve this), the second best type being "Salzwiesenlamm" (salt meadow lamb). The Lueneburger Heide (Lueneburg Heath) is famous not only for its heath but also for its Heidschnucken, a special breed of sheep. Be aware that a lot of restaurants import their lamb from New Zealand though because it is cheaper. Crabs and mussels are also quite common along the German coasts, especially in North Frisia.
A speciality of Hamburg is "Aalsuppe" which – despite the name (in this case "Aal" means "everything", not "eel") – originally contained almost everything – except eel (today many restaurants include eel within this soup, because the name led tourists into confusion). At the coast there's a variety of fish dishes. Beware: if a restaurant offers "Edelfischplatte" or any dish of similar name, the fish may be not fresh and even (this is quite ironical) of poor quality. Therefore, it is strongly recommended that, for eating fish, you visit specialised (or quality) restaurants only. A fast-food style restaurant chain serving standardized quality fish and other seafood at low prices all over Germany is "Nordsee", though you will rarely find authentic specialties there.
Pfälzer Saumagen: known for a long time in Palatinate, but difficult to find outside of this area. The dish became well known to the general public in Germany as then-Chancellor Helmut Kohl's favourite dish, especially when this was enjoyed by him and the Russian president Mikhail Gorbatchev on a State visit in Germany in Deidesheim. Pictures of the feast are shown in the restaurant " Deidesheimer Hof" in Deidesheim. Literally this is pig stomach filled with a mash of potato and meat, cooked for 2-3 hours and then cut in thick slices often served with sauerkraut.
Spätzle
Swabia is famous for Spätzle (a kind of noodle), "Maultaschen" (noodles stuffed with spinach and mincemeat, but lots of variations, even veggie ones, exist).
In Bavaria, this may be Schweinshaxe mit Knödeln (pork's leg with knödel, a form of potato dumplings), "Leberkäs/Fleischkäse mit Kartoffelsalat" (kind of meat pie and potato salad), "Nürnberger Bratwurst" (probably smallest sausage in Germany), Weißwurst (white sausages) and "Obatzda" (a spicy mix of several milk products).
The south is also famous for its nice tarts such as the "Schwarzwälder Kirschtorte" (tart with lots of cream and spirit made from cherries).
A delicacy in Saxony is Eierschecke, a cake made of eggs and cream similar to cheese cake.
A specialty of the East is "Soljanka" (originating from Ukraine, but probably the most common dish in the GDR), a sour soup containing vegetables and usually some kind of meat or sausages.
Seasonal specialities
White "Spargel" (asparagus) floods the restaurants from April to June all over Germany, especially in and around Baden-Baden and the small town of Schwetzingen ("The Asparagus Capital"), near Heidelberg, in an area north and north-east of Hannover ("Lower Saxony's Asparagus Route"), as well as in the area southwest of Berlin, especially in the town of Beelitz and along the Lower Rhine ("Walbecker Spargel"). Many vegetables can be found all year round and are often imported from far away. Whereas asparagus can be found for only 2 months and is best enjoyed fresh after harvest, it stays nice for a couple of hours or until next day. The asparagus is treated very carefully and it is harvested before it is ever exposed to daylight, therefore it remains white. When exposed to daylight it changes its colour to green and might taste bitter. Therefore, white asparagus is considered to be better by most Germans.
The standard asparagus meal is the asparagus stalks, hollandaise sauce, boiled potatoes, and some form of meat. The most common meat is ham, preferably smoked; however you will also find it teamed with schnitzel (fried breaded pork), turkey, beef, or whatever is available in the kitchen.
White asparagus soup is one of the hundreds of different recipes that can be found with white asparagus. Often it is made with cream and contains some of the thinner asparagus pieces.
Another example of a seasonal speciality is "Grünkohl" (kale). You can find that mainly in Lower Saxony, particularly around Oldenburg and the "Ammerland", Bremen, as well as the southern and south-western parts such as the "Emsland" or around the "Wiehengebirge" and the "Teutoburger Wald", but also everywhere else there and in the eastern parts of North-Rhine-Westphalia. It is usually served with a boiled rough sort of sausage (called "Pinkel" around Oldenburg) and roasted potatoes. If you are travelling in Lower-Saxony in fall, you should get it in every "Gasthaus". Usually the first "Grünkohl" is harvested after the first frost in autumn and is on the menu from November until March.
Lebkuchen are some of Germany's many nice Christmas biscuits and gingerbread. The best known are produced in and around Nuremberg.
Stollen is a kind of cake eaten during the Advent season and Yuletide. Original Stollen is produced only in Dresden, Saxony, however you can buy Stollen everywhere in Germany (although Dresdner Stollen is reputed to be the best (and – due to the lower salaries in Eastern Germany – comparatively cheap)).
Around St. Martin's day and Christmas, roasted geese ("Martinsgans" / "Weihnachtsgans") are quite common in German restaurants, accompanied by "Rotkraut" (red cabbage) and "Knödeln" (potato dumplings), preferably served as set menu, with the liver, accompanied by some kind of salad, as starter, goose soup, and a dessert.
Miscellaneous
Germans are very fond of their bread, which they make in many variations. This is the food that Germans tend to miss most when away from home. Most people like their bread relatively dark and dense and scorn the soft loaves sold in other countries. Bakeries will rarely provide less than twenty different sorts of bread and it's worth trying a few of them. In fact, many Germans buy their lunch or small snacks in bakeries instead of takeaways or the like. In bakeries it is possible and even common to buy half or even quarter of a loaf.
Vegetarian
Most restaurants have one or two vegetarian dishes, but there aren't many places which are particularly aimed at vegetarian or vegan customers, except a few places in big cities like Berlin. If the menu does not contain vegetarian dishes, do not hesitate to ask. Be aware when ordering to ask whether the dish is suitable for vegetarians, as chicken stock and bacon cubes are a commonly "undeclared" ingredient on German menus.
However, there are usually organic food shops ("Bioladen", "Naturkostladen" or "Reformhaus") in every city, providing veg(etari)an bread, spreads, cheese, ice cream, vegan milk substitutes, tofu and seitan. The diversity and quality of the products is great and you will find shop assistants that can answer special nutritional questions in great depth.
Veganism and vegetarianism is on the rise in Germany so that many supermarkets (such as Edeka and Rewe) have a small selection of vegan products as well in their "Feinkost"-section such as seitan-sausages, tofu or soy milk at a reasonable price.
Allergy & Celiac Sufferers
When shopping for foods, the package labelling in Germany is generally reliable. All food products must be properly labeled including additives and preservatives. Be on the look out for "Weizen" (wheat), "Mehl" (flour) or "Malz" (malt) and "Stärke" (starch). Be extra cautious for foods with "Geschmacksverstärker" (i.e. flavor enhancers) that may have gluten as ingredients.
Reformhaus – a 3.000 strong network of health food stores in Germany and Austria that has dedicated gluten-free sections stocked with pasta, breads and treats. Reformhaus stores are usually found in the lower level of shopping centres (i.e. PotsdamerArkaden, etc.)
DM Stores – the CWS/Shopper's Drug Mart equivalent in Germany has dedicated wheat and gluten free sections
Alnatura – natural foods store with a large dedicated gluten-free section
Smoking
The German federal-states started banning smoking in public places and areas in early-2007, however the laws vary from state to state. Smoking is generally banned in all restaurants and cafes. Some places may provide separate smoking areas but it is best to enquire when booking. Smokers should be prepared to step outside if they want to light up. Smoking is banned on all forms of public transport including on railway platforms (except in designated smoking areas, which are clearly marked with the word "Raucherbereich" [smoking area]). The laws are strictly enforced, although when found smoking in a non-smoking area for the first time you will not usually be fined, but merely reminded not to smoke there.
The German smoking ban does not apply to e-cigarettes. Therefore, pubs and restaurants may allow their guests to use e-cigarettes. It is advisable to ask whether it is permitted or not. E-cigarettes may not be used on public transport, at railway stations and airports outside smoking areas. However, this ban is not by law, but rather by the house rule of the transport company or the airport.