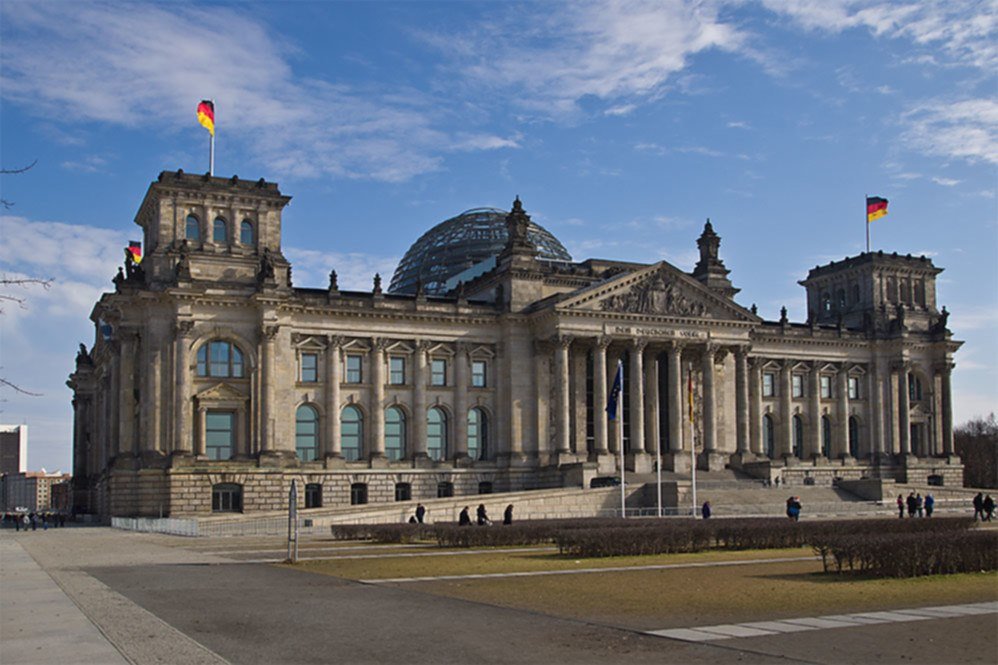 Legal drinking age is 18 for spirits (drinks containing distilled alcohol) and 16 for everything else (e.g. beer and wine). Drinking in public is generally legal and accepted as long as you still know how to behave. A few cities tried to restrict drinking in public places/at certain times but the legal status of those laws are disputed and they were sometimes abolished some time later. Consuming alcoholic drinks might be prohibited in some (local) public transports. In case of an offence you might be expelled and fined. Sometimes the restriction only mentions "excessive" drinking. Violations are always considered a civil and not criminal matter.
Beer
For centuries, beer-making in Bavaria has been governed by the Reinheitsgebot (purity law) that was made national policy with the unification of Germany in 1871, which states that German beer may be made only from hops, malt, yeast and water. The Reinheitsgebot has come down with the European integration, but German breweries still have to stick to it since for them, national law applies.
The domestic beer market is not dominated by one or a only a few big breweries. Even though there are some big players, the regional diversity is enormous, and there are over 1200 breweries with most of them serving only local markets. Usually bars and restaurants serve the local varieties that differ from town to town. When sitting in a German Kneipe, a local beer is always an option, and often the only option.
Specialities include Weizenbier (or Weissbier in Bavaria), a refreshing top-fermented beer which is popular in the south, Alt, a kind of dark ale that is especially popular in and around Düsseldorf, and Kölsch, a special beer brewed in Cologne. "Pils", the German name for pilsner is a light-gold coloured beer that is extremely popular in Germany. There are also seasonal beers, which are made only at different times of the year (such as Bockbier in winter and Maibock in May, both containing a greater quantity of alcohol, sometimes double that of a normal Vollbier). If you simply order a beer, it will typically be a Pilsener. Beer is usually served in 200 or 300ml glasses (in the northern part) or 500ml in the South. In Biergartens in Bavaria, 500ml is a small beer ("Halbe") and a liter is normal ("Maß" pronounced "Mahss"). Except for in Irish pubs, pints or pitchers are uncommon. For Germans, a lot of foam is both a sign of freshness and quality; thus, beer is always served with a lot of head. (All glasses have volume marks for the critical souls.) Additionally, Germans are not afraid to mix beer with other drinks (though the older generation may disagree). Beer is commonly mixed with carbonated lemonade (usually at 1:1 ratio) and called a "Radler" (or cyclist so named because it is commonly associated with a refreshing drink a cyclist might enjoy in spring or summer during a cycling excursion) (or "Alsterwasser"/"Alster" (after the river in Hamburg) in the north); "Cocktails" of Pilsener/Altbier and soft drinks like Fanta, a "Krefelder"/"Colaweizen" cola and dark wheat beer is another combination that can be found. Pils mixed witch Cola is very popular especially amongst younger Germans and goes different names – depending on your area – such as "Diesel", "Schmutziges" (dirty) or "Schweinebier" (pigs beer) to name a few. Another famous local delicacy is "Berliner Weiße", a cloudy, sour wheat beer of around 3% abv. that is mixed with syrups (traditionally raspberry) and is very refreshing in summer. These beer-based mixed drinks are widespread popular and can be bought as pre-mixed bottles (typically in six packs) wherever regular beer is sold.
Pubs are open in Germany until 2 in the morning or later. Food is generally available until midnight. Germans typically go out after 8PM (popular places already fill up at 6PM).
The American English word "stein", used for a large mug, is unknown in Germany, which might be surprising for many tourists. In German language, the word means "stone" and does not at all relate to any vessel. Except in places where many American tourists are present, staff might not understand any order for a "stein" of beer, as the word is usually not being taught in English lessons at German schools.
Cider
Undisputed capital of "Apfelwein" cider in Germany is Frankfurt. Locals love their cider and it is very popular around there. There are even special bars ("Apfelweinkneipe") that will serve only "Apfelwein" and some gastronomic specialities. Cider is often served in a special jug called "Bembel". The taste is slightly different from Ciders in other countries and tends to be quite refreshing. In autumn when apples are turned into cider you might find "Frischer Most" or "Süßer" signposted at some places. That is the first product in the chain of "Apfelwein" production; one glass of it is nice, but after two or three glasses you will have a problem unless you enjoy spending lots of time on the toilet. In the Saarland and surrounding regions "Apfelwein" is called "Viez". It varies here from "Suesser Viez" (sweet), to "Viez Fein-Herb" (medium sweet) to "Alter Saerkower" (sour). The Viez capital of that region is Merzig. During winter it is also quite common to drink hot cider (along with some cloves and sugar) as a prophylactic measure against an upcoming cold.
Apfelschorle
The real national drink of Germany is not beer. Good beer is also made in many other countries (ask the Czechs, the Brits, the Belgians, the Dutch, etc…). The true national drink is "Apfelschorle" – a fact that even some Germans may only realize as soon as they leave their country and just can't find their everyday drink abroad. You get it everywhere in Germany (plus Austria and Switzerland) but nowhere else.
Apfelschorle is a 50-50 mix of apple juice and carbonated water. It is popular in particular on hot summer days and kind of replaces soft drinks and sometimes even a beer! You will get it at almost any restaurant and bottled ready-mixed at every supermarket including the "discounters" and also from Cola vending machines. Even McDonald's put it on its German menu and The CocaCola Company launched "Lift", its own Apfelschorle brand – although you can't get the really good natural unfiltered-murky stuff from them.
And yes: it is Alcohol-free and (also) very popular among kids.
In Bavaria and Austria you may have to ask for Gespritzter Apfelsaft to get the same kind of drink.
When buying a bottled Schorle, read the fine print to make sure there is nothing but Apple juice and carbonated water in your drink. (Versions with 10% lemon juice may be acceptable though this is not part of the "pure" recipe.) In Summer be careful opening unrefrigerated plastic Schorle bottles. Schorle was not invented by industrial food designers that would have added de-foaming agents, so wetting yourself may be the price you have to pay for a sip of (violent) nature.
Coffee
Germans drink lots of coffee. Currently, the port of Hamburg is the world's busiest place for coffee trading. Coffee is always freshly made from ground coffee or beans – no instant. However, persons coming from countries with a great coffee tradition (like Italy, Portugal, Turkey, Greece or Austria) might find the coffee that is served in normal restaurants a bit boring. A German specialty, originating from North Frisia but nowadays also common in East Frisia, is "Pharisäer", a mixture of coffee and a spirit, usually rum, with a thick cream top. A variation of this is "Tote Tante" (dead aunt, with coffee replaced by hot chocolate).
Over the past few years, American coffee house chain Starbucks has expanded into Germany, but mostly you will encounter "Cafés" which usually offer a large selection of cakes to go along with the coffee.
Glühwein
Visiting Germany in December? Then go and see one of the famous Christmas markets (the most famous taking place in Dortmund, Nuremberg, Dresden, Passau, Leipzig, Münster, Bremen, Augsburg and Aachen) and this is the place where you find Glühwein (mulled wine), a spiced wine served very hot to comfort you in the cold of winter.
Spirits
"Kirschwasser" literally means cherry water; it certainly tastes of cherry but on the other hand it is not regular drinking water. There is a long lasting tradition in making spirits in Baden, and "Kirschwasser" is probably the flagship product and it might encourage you to taste other specialities such as Himbeergeist (from raspberry), Schlehenfeuer (flavored with sloe berries), Williamchrist (pear) and Apfelkorn (apple).
"Enzian" Bavarians like their beer as well their Enzian. A spirit high in alcohol that is best as a digestive after a hefty meal.
"Korn", made of grain, is probably the most common spirit in Germany. Its main production centre (Berentzen) lies in Haselünne, where tours and tastings can be arranged in the distilleries. The town is located near the river Ems in northwest Germany; for rail service to Haselünne (very sparse) see Eisenbahnfreunde Hasetal. Another sort is the Doppelkorn from Nordhausen in Thuringia, in the very middle of Germany.
In North Frisia, "Köm" (caraway spirit), either pure or mixed with tea ("Teepunsch", tea punch), is very popular.
"Eiergrog" is a hot mixture of egg liquor and rum.
"Eierlikörpunsch" is a hot eggnog drink with rum often founds in Christmas markets.
"Jägermeister" is a famous German bitter liquor brewed with herbs and spices. Produced only in Wolfenbüttel, Lower Saxony, but exported to many countries.
Tea
Tea is also very popular, and a large choice is readily available. The region of East Frisia in particular has a long tea tradition, and is probably the only place in Germany where tea is more popular than coffee. The East Frisian tea ceremony consists of black tea served in a flat porcelain cup with special rock sugar (Kluntje) that is put in the cup before pouring the tea. Cream is added afterwards, but is not stirred into the tea.
Wine
Germans are just as passionate about their wines as they are about their beer. The similarities don't stop here, both products are often produced by small companies if not by families or individuals, and the best wines are consumed locally and only the remaining ones are exported. The production of wine has a 2000 year old history in Germany as learned from the Rheinisches Landesmuseum Trier, but of course this was a roman settlement at this time. Sunshine is the limiting factor for the production of wines in Germany and therefore the wine production is limited to the south. White wine plays a main role in the wine production, but some areas produce red wines (Ahr, Baden Württemberg). White wines are produced from Riesling, Kerner and Müller-Thurgau grapes (there are a lot more, but to name them all would be too much), and produce generally fresh and fruity wines. German wines can be rich in acid and are quite refreshing. It is generally accepted that Riesling grapes produce the best German wines, but they demand a lot of sunshine and they grow best in very exposed areas such the Mosel, Rheingau, Bergstrasse, Kaiserstuhl and Pfalz.
The best way to learn about wines is go to the place where they are grown and taste them on the spot. This is called "Weinprobe" and is generally free of charge though in touristic areas you have to pay a small fee. Good wines usually go together with good food and therefore it is well worth it to visit some of those places.
Another nice opportunity to get a taste of local wine is the so-called Straußenwirtschaft, Besenwirtschaft or Heckenwirtschaft. These are little "pubs" or gardens where a wine-producer sells his own wine, normally with little meals such as sandwiches or cheese and ham. Normally, they are open only in summer and autumn, and not longer than 4 months a year (due to legal regulations). As they are sometimes located in the vineyards or in some backstreets, they are not always easy to find, so you best ask a local for the next (or best) Straußenwirtschaft he knows.
During the fall you can buy "Federweisser" in south-western Germany. This is a partially fermented white wine and contains some alcohol (depending on age), but tastes very sweet. It is also available from red grapes, being called "Roter Sauser".
Wine producing areas are:
Ahr Ahr is the paradise of German red wines. Half of the production is dedicated to red wines and it is densely populated with "Gaststätten" and "Strausswirten". A saying goes: Who visited the Ahr and remembers that he was there, hasn't actually been there.
Baden with approx. 15,500 hectare of wine yards and a production of 1 mn hectolitre Baden is Germany's third biggest wine growing area. It's the most southern German wine growing area and is Germany's only member of the European Wine Category B together with the famous French areas Alsace, Champagne and Loire.
Franken: Franconia is in the northern part of Bavaria and you can find there very nice wines. Some wines produced in Franconia are sold in a special bottle called "Bocksbeutel".
Hessische Bergstrasse: located on the slopes of the Rhine valley it is a quiet small wine producing area and wines are usually consumed within the area in and around Heppenheim.
Mosel-Saar-Ruwer: the steepest vineyards in Germany can be seen when driving in the Mosel valley from Koblenz to Trier.
Pfalz: biggest wine producing area in Germany. Has some excellent wines to taste and a lot of nice villages embedded in vineyards. Tasting wine in Deidesheim is a good idea and several prime producer of German wine are all located on the main road. Want to see the biggest wine barrel in the world then go to Bad Dürkheim.
Rheingau: is the smallest wine producing area, but it produces the highest rated Riesling wines in Germany. Visit Wiesbaden and make a trip on the Rhine to Rüdesheim.
Rheinhessen too is especially famous for its Riesling.
Sachsen: One of the smallest wine regions in Germany nestled along the Elbe River near Dresden and Meissen.
Württemberg As it was mentioned before, here the rule that the wine production is consumed by the locals, strictly applies. The wine consumption is twice as high as in the rest of Germany, regardless of whether it's red or the white wine. The specialty of the region is the red wine called Trollinger and it can be quite nice by German standards.
Saale-Unstrut: located in the state Saxonia-Anhalt at the banks of the rivers Saale and Unstrut it is most northern wine area in Europe.