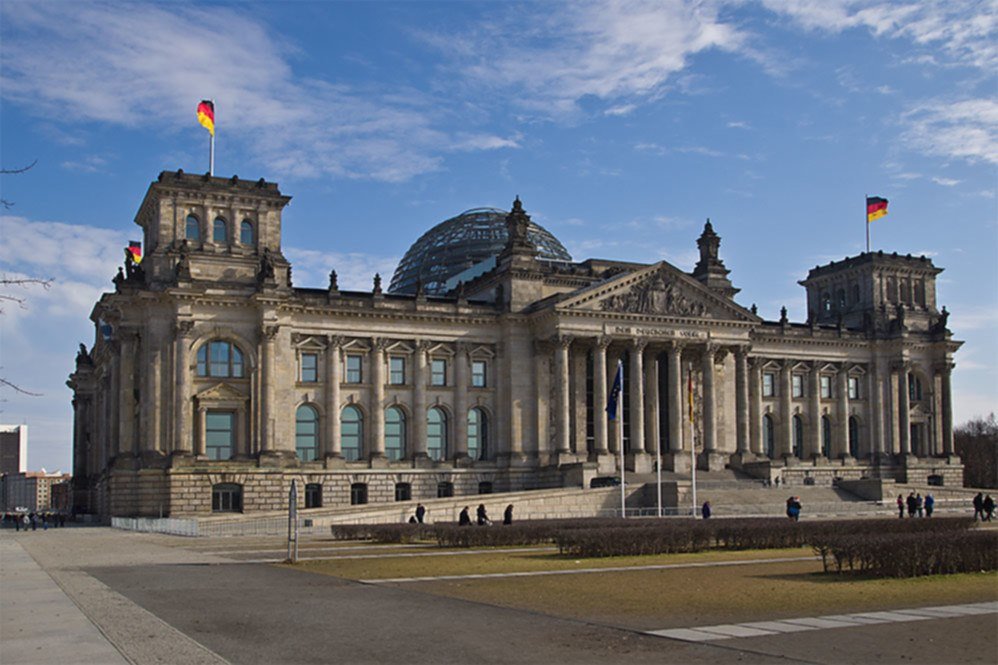 Currency
Germany has the euro (€) as its sole currency along with 24 other countries that use this common European money. These 24 countries as well as Andorra, Kosovo, Monaco, Montenegro, San Marino and the Vatican which use it without having a say in Eurozone affairs and without being European Union members. Together, these countries have a population of more than 330 million.
Do not expect anybody to accept foreign currencies or to be willing to exchange currency. An exception are shops and restaurants at airports and also – more rarely; fast-food restaurants at major railway stations. These will generally accept US dollars at a slightly worse exchange rate.
While German domestic debit cards – called girocard, formerly EC-Karte – (and, to a lesser extent, international PIN-based Maestro and V PAY cards) enjoy almost universal acceptance, this is not true for credit cards (VISA, MasterCard, American Express) or foreign debit cards (VISA Debit/Electron, Debit MasterCard etc.), which are not as widely accepted as in other European countries or the United States but will be accepted in several major retail stores (department stores like Kaufhof and Karstadt, and mid-class supermarkets like REWE and Edeka, but not at every discount supermarket like Lidl, Aldi or Netto) and some fast food restaurants (such as many McDonalds).
Supermarkets
Many Germans look for the best prices and do not like getting "ripped off" when shopping for food. As a result, the competition between food discounters (which might be the cause of this very specific behavior) is exceptionally fierce (in fact, WalMart had to completely withdraw from the German market because it failed at competing on price) and results in very low food prices compared to other European countries. The chains "Aldi", "Lidl", "Penny" and "Netto" are a special type of supermarket (sometimes called "Discounter", but generally referred to as "Supermarkt", as well): Their range of products is limited to the necessities of daily life (like fruit, vegetables, pasta, milk, eggs, tinned foods, toiletries etc.), sold in rather simple packaging for tightly calculated prices. While quality is generally surprisingly high, do not expect delicatessen or local specialities when you go to shop there. Many Germans buy their daily needs there and go to the more "standard" supermarket (like the chains Rewe, Edeka, Real, Tengelmann/Kaisers, Globus or Famila) to get more special treats. The personnel in these shops is trained to be especially helpful and friendly and there are big cheese/meat and fish counters where fresh products are being sold. Don't blame discounter personnel for being somewhat harsh; although they are paid slightly better than usual, they have to cope with a rather grim working atmosphere and a significantly higher workload than colleagues in "standard" supermarkets and therefore are certainly not amused about being disturbed in getting their work done. Beside those major chains, Turkish supermarkets can be found in townships with a predominantly Turkish immigrant population can be a worthwhile alternative since they combine the characteristics of discounters (low price levels but limited assortment) with those of "standard" supermarkets ((Turkish) specialties and usually friendly personnel).
If you are looking for organic products, your best bet is to visit a "Bioladen" or "Biosupermarkt". There are also many farmers selling their products directly ("Hofladen"), most of them organized in the "Bioland" co-operative. They offer reasonable food at reasonable prices.
Similarly it applies to clothes; although competition on this market is not that fierce and quality varies, cheap clothing of sufficient quality might be bought at C&A, but don't expect designer clothes though. During the end-of-season sales, you should also compare prices of conventional stores since they may be even cheaper than the discounters. The Swedish brand H&M sells cheap, stylish clothing.
Be prepared to bag your own groceries and goods as well as provide your own shopping bags for doing so. While most stores provide plastic as well as canvas shopping bags at the checkout, you will be charged for them. It is more environmentally-friendly to re-use shopping bags rather than get a new one each time. It's a good reminder to also keep a euro coin handy for the shopping trolleys. They all require a euro to unlock them but you get it back once your shopping is done. At most supermarkets, you can spot a canister with lots of cardboard boxes in it; usually after the tills. You are allowed to take cardboard boxes from there! It is a service the markets offer and also a easy waste disposal for them. Just tell them you are getting yourself a box when the cashier starts to scan your goods, come back and start packing.
Sausage If you are into trying German Wurst, any decent butcher ("Metzgerei", also in supermarkets with non-prepackaged sausages and someone behind the counter) will be happy to let you try a anything before you buy it (for free) if you ask. Still, you will be considered rude if you do not buy anything after trying (even though you may just ignore that).
Factory Outlets: Germany has only few Factory Outlet Centers, but approximately up to 1000 Factory Outlets called "Fabrikverkauf".
Local Products: You can find local food products (not necessarily organic) in most places at the farmer's market ("Wochenmarkt" or simply "Markt"), usually once or twice a week. While you your chances on finding English-speaking sellers there may be somewhat reduced, it's nevertheless quite fun to shop there and mostly you will get fresh and good quality food for reasonable prices. Most winemakers sell their products either directly or in "Winzergenossenschaften" (winemaker cooperatives). These wines are almost always superior to the ones produced by German wine brands. Quality signs are "VdP" ("Verband deutscher Prädikatsweingüter", symbolized by an eagle) and "Ecovin" (German organic winemaker cooperative).
Souvenirs
German honey is a good souvenir, but only "Echter Deutscher Honig" is a guarantee for reliable quality. Look out for honey with a (the higher, the better) percentage of "Nektar".
Along the German coasts, smoked eel is quite a common delicacy and a typical souvenir.
Cheese: If you head for a supermarket (even a "standard" one) to buy some cheese you certainly will discover its taste being as cheesy as the TV spot propagating it. What even many Germans do not know is that beside those "Qualitätsprodukte" (literally: quality produces – one of many quite cynical German legal terms), there actually exists an astonishing German cheese variety – you may find them in (one of the rare) cheese stores or in Bioläden.
Chocolates & Sweets: If you are not intending to visit Switzerland, Germany is one of the best places to find chocolades. Try "Ritter Sport" in a wide, inexpensive variety as a German variant to Swiss brands (Milka, Lindt, …) and do not forget you are in the home country of gummy bears (by Haribo).
Houseware: Chances are good that you'll find excellent deals on quality kitchenware at any larger shopping area – "Made in Germany" got big for knives, pots and pans. Be aware of the quality, even name brands sell medium-quality products at certain outlets.
Cigarettes
Are easily available at most kiosks, supermarkets and newsagents. Cigarette machines are often dotted around towns and cities (be aware you will need an EU driving license or a debit card with an electronic chip to "unlock" the machine; in restaurants you may ask the waiter for an identification card). The legal age to buy tobacco and smoke publicly in Germany is 18. Some Germans buy rolling paper and rolling tobacco separately as this is significantly cheaper.
Opening hours
Due to a federal reform, opening hours are set by the states; therefore opening hours vary from state to state. Most states have no more strict opening hours from Monday to Saturday (however, you will rarely find 24 hours shops other than at petrol stations) the only exceptions are Saarland and Bavaria where stores are only allowed to open 6-20 and Sachsen 6-22. Sunday and national holidays is normally closed for shops everywhere in Germany, including pharmacies. However single pharmacies remain open for emergencies (every pharmacy will have a sign telling you which pharmacy is currently open for emergencies). Shops are allowed to open on Sundays on special occasions called "Verkaufsoffener Sonntag". Every German city uses these days except Munich.
As a rule of thumb:
Supermarkets: 08:00 or 09:00–20:00
Big supermarkets 08:00-22:00
Rewe supermarkets 07:00-22:00 or 23:59
Shopping centers and large department stores: 10:00–20:00
Department stores in small cities: 10:00–19:00
Small and medium shops: 09:00 or 10:00–18:30 (in big cities sometimes to 20:00)
Petrol stations: in cities and along the "Autobahn" usually 24 hours
Restaurants: 11.30-23:00 or 23:59, sometimes longer, many closed during the afternoon
Small shops are often closed 13:00-15:00. If necessary in many big cities you will find a few (sometimes more expensive) supermarkets with longer opening hours (often near the main station). Bakeries usually offer service on Sunday mornings (business hours vary) as well. Also most petrol stations have a small shopping area.
In some parts of Germany (like Berlin, Cologne, Düsseldorf and the Ruhr area) there are cornershops called "Späti" oder "Spätkauf" ("latey"), "Kiosk", "Trinkhalle" (drinking hall) or "Büdchen" (little hut) that offer newspapers, drinks and at least basic food supplies. These shops are often run by Arab or Turkish immigrants and are, depending on the area, open till late night or even 24/7.
Basic supplies can usually be bought around the clock at gas stations. Gas station owners work around opening hour restrictions by running 7-Eleven style mini marts on their gas station property. Be aware that prices are usually quite high. Another exception to this law are supermarkets located in touristy areas. Towns designated as a Kurort (health resort) are allowed to have their stores open all week during tourist season. Just ask a local for those well-kept secret stores.
Train stations are allowed to and frequently have their stores/shops open on Sundays, though usually for limited hours. In some larger cities such as Leipzig and Frankfurt, this can include an entire shopping mall that happens to be attached to the train station.