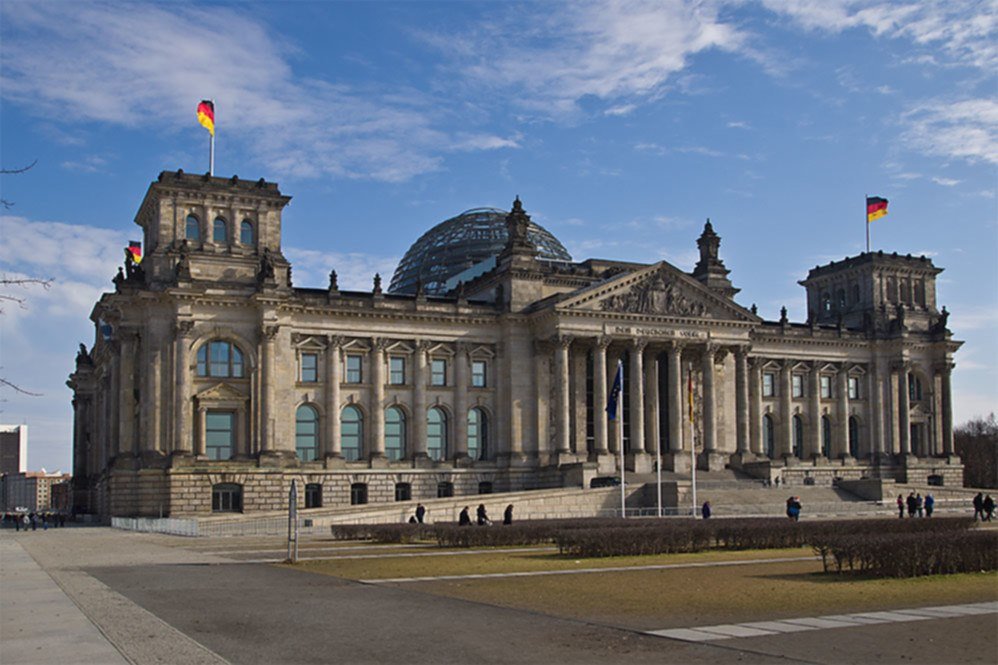 Germany officially: the Federal Republic of Germany; German: Bundesrepublik Deutschland is the largest country in Central Europe. It is bordered to the north by Denmark, to the east by Poland and the Czech Republic, to the south by Austria and Switzerland, and to the west by France, Luxembourg, Belgium and the Netherlands. Germany is a federation of 16 states, roughly corresponding to regions with their own distinct and unique cultures.
Explore Germany as one of the most influential European nations culturally, and one of the world's main economic powers. Known around the world for its precision engineering and high-tech products, it is equally admired by visitors for its old-world charm and "Gemütlichkeit" (coziness). If you have perceptions of Germany as simply homogeneous, it will surprise you with its many historical regions and local diversity.
History
The roots of German history and culture date back to the Germanic tribes and after that to the Holy Roman Empire. Since the early middle ages, Germany started to split into hundreds of small states. It was the Napoleonic wars that started the process of unification, which ended in 1871, when a large number of previously independent German kingdoms united under Prussian leadership to form the German Empire (Deutsches Kaiserreich). This incarnation of Germany reached eastward all the way to modern day Klaipeda (Memel) in Lithuania and also encompassed the regions of Alsace and Lorraine in modern day-France, a small portion of eastern Belgium (Eupen-Malmedy), a small border region in southern Denmark and over 40% of contemporary Poland. The empire ended in 1918 when Kaiser Wilhelm II was forced to abdicate at the time of Germany's defeat at the end of World War I (1914-1918) and was followed by the short-lived and ill-fated so called Weimar Republic, which tried in vain to completely establish a liberal, progressive and democratic nation. Due to the fact the young republic was plagued with massive economic problems stemming from the war, such as: the hyperinflation crisis from 1921-23, the reparations payments owed as a result of losing the war, along with the cultural disgrace of a humiliating defeat in World War I, political extremists from both the left and the right took advantage of the inherent organizational problems of the Weimar Constitution, leading to the Nazi Party led by Adolf Hitler seizing power in 1933.
Economy
Germany is an economic powerhouse, boasting the largest economy in Europe. In spite of its relatively small population it is the second largest exporter in the world.
The financial centre of Germany and continental Europe is Frankfurt am Main, and it can also be considered one of the most important air traffic hubs in Europe, with Germany's flag carrier Lufthansa known for being not just a carrier, but rather a prestigious brand. Frankfurt features an impressive skyline with many high-rise buildings, quite unusual for Central Europe; this circumstance has led to the city being nicknamed "Manhattan". It is also the home of the European Central Bank (ECB), making it the centre of the Euro, the supra-national currency used throughout the European Union. Frankfurt Rhein-Main International Airport is the largest airport of the country, while the Frankfurt Stock Exchange (FSE) is the most important stock exchange in Germany.
Culture
Being a federal republic, Germany is very much a decentralized country, which embraces the cultural differences between the regions. Some travellers will perhaps only think of beer, lederhosen and Oktoberfest when Germany is mentioned, but Germany's famous alpine and beer culture is mostly focused around Bavaria and Munich. Here the beer is traditionally served in 1 liter mugs (normally not in pubs and restaurants, though). The annual Oktoberfest is Europe's most visited festival and the world's largest fair. Germany's south-western regions, however, are well known for their wine growing areas (e.g. Rheinhessen and Palatinate) and Bad Dürkheim on the 'German Wine Route' (Deutsche Weinstraße) organises the biggest wine festival worldwide with over 600,000 visitors annually.
Cars are a symbol of national pride and social status in Germany, like in many other countries. Certainly manufacturers such as Audi, BMW, Mercedes-Benz, Porsche and Volkswagen are internationally renowned for their quality, safety, success and style. This quality is matched by Germany's excellent network of roadways including the renowned Autobahn network, which has many sections without speed limits that attract speed hungry drivers. There are actually speed tourists who come to Germany just to hire an exotic sports car and race down the autobahn. Amazingly for its size, Germany is home to the sixth-largest motorway network in the world. Germany also features an extensive network of high-speed trains – the InterCityExpress (ICE).
Germans are generally friendly people, although the stereotype that they can be stern and cold is sometimes true. Just be polite and proper and you'll be fine.
Regions
Germany is a federal republic consisting of 16 states (called "Bundesländer" or shortened to "Länder" in German). Three of the Bundesländer are actually city-states: Berlin, Bremen, and Hamburg. The states can be roughly grouped by geography as listed below.
Northern Germany (Bremen, Hamburg, Lower Saxony, Mecklenburg-Western Pomerania, Schleswig-Holstein). Wind-swept hills and the popular vacation destinations of the North Sea and Baltic Sea coasts.
Western Germany (North Rhine-Westphalia, Rhineland-Palatinate, Saarland). Wine country, modern cities and a history of heavy industry sharply cut by the breathtaking Rhine Valley and Moselle valley.
Central Germany (Hesse, Thuringia). The green heart of Germany, with some of the most important historical and financial cities and the ancient Thuringian Forest.
Eastern Germany (Berlin, Brandenburg, Saxony, Saxony-Anhalt). highlighted by the eccentric and historic capital Berlin, and rebuilt historic Dresden, "Florence on the Elbe".
Southern Germany (Baden-Württemberg, Bavaria). Black Forest, Franconian Switzerland, Franconian Lake District, Bavarian Forest, Bavarian Alps and Lake Constance.
Cities
Germany has numerous cities of interest to travellers; here are just ten of the most famous:
Berlin — the reunified and re-invigorated capital of Germany; known for its division during the Cold War by the Berlin Wall. Today, it's a metropolis of diversity with plenty of nightclubs, elegant shops, galleries and restaurants
Bremen — one of the most important cities in northern Germany, its old town is a slice of history
Cologne — city founded by the Romans 2000 years ago with a huge cathedral, Romanesque churches, and archaeological sites
Dortmund — former Steel and Beer City is today famous for football, industry culture, shopping and the biggest Christmas market in Germany.
Dresden — once called 'Florence on the Elbe' and world-famous for its Frauenkirche and rebuilt historic centre destroyed during World War II
Düsseldorf — Germany's capital of fashion also offers fascinating new architecture and a vibrant nightlife
Frankfurt — seat of the European Central Bank (ECB), with a skyline reminiscent of Manhattan ("Manhattan")
Hamburg — Germany's second-largest city is famous for its harbor, its liberal and tolerant culture, and the Reeperbahn with its nightclubs and casinos
Munich — Bavaria's capital and economic powerhouse combines high tech with fine arts, world class shopping, a vibrant nightlife and the Oktoberfest, and is the gateway to the Alps
Nuremberg's old town has been reconstructed, including the Gothic Kaiserburg Castle. Visit the Nazi party rally grounds, the Documentation Centre and Courtroom 600 (the venue of the Nuremberg Trials)
Other destinations
Castle of Münster (today used by the University)
Baltic Sea Coast (Ostseeküste) — miles of sandy beaches and resorts with picturesque islands such as Rügen.
Bavarian Alps (Bayerische Alpen) — home to the world famous Neuschwanstein Castle, and Germany's best skiing and snowboarding resorts. Endless hiking and mountain biking. Passion Play village Oberammergau.
Black Forest (Schwarzwald) — a region with wide mountain peaks, panoramic views, it is a heaven for tourists and hikers.
East Frisian Islands (Ostfriesische Inseln) — twelve islands in the Wadden Sea; Borkum is the largest island by both area and population.
Franconian Switzerland (Fränkische Schweiz) — one of the oldest travel destinations in Germany, it was called by Romantic artists who said its landscape was of the aesthetic beauty of Switzerland's. Although the scenery is similar like in Switzeland, the prices are the opposit. Because the "Fränkische Schweiz" is one of the most inexpensive parts of Germany.
Harz — a low mountain range in the Central Uplands of Germany, famous for its historic silver mines and for the scenic towns of Quedlinburg, Goslar and Wernigerode.
Lake Constance (Bodensee) — an extremely beautiful corner of Central Europe, it boasts water sports and beautiful towns and villages to be seen by the visitor.
Middle Rhine Valley (Mittelrheintal) — part of the Rhine River is a UNESCO Heritage Site between Bingen / Rüdesheim and Koblenz and famous for its wines.
Romantic Road (Romantische Straße) — a theme route over 400 km in length in southern Germany that passes by many historical castles, between Würzburg and Füssen. Old World Europe alive and well!
By car
Germany has a world-famous network of excellent roads and Autobahnen (motorways) with no toll or fees for cars (trucks have to pay), but gasoline prices are kept high by taxation.
Fuel stations situated at the autobahn are quick and convenient and usually accept international debit/credit cards, but as a rule, fuel is generally more expensive. Less expensive are stations announced as "Autohof" at Autobahn exits, which are situated a kilometer or less from the exit and often also provide cheap, mostly low-quality food for professional drivers. You may also save a few euros by filling up your car at fuel stations situated in smaller cities or on the countryside – just be aware that small petrol stations do not always accept international debit/credit cards, so keep some cash on hand!
All German airports offer car hire services and most of the main hire firms operate at desk locations
Car hire is available in most cities, and one-way rentals (within Germany) are generally permitted with the larger chains without an additional fee. When renting a car, be aware that most cars in Germany have manual gearbox (stick-shift), so you might want to ask for a car with an automatic gearbox if you are used to that type. Drivers with an endorsement in their license that restricts them to driving automatic transmission vehicles will not be allowed to rent a manual-transmission car.
Most car rentals prohibit having their cars taken to eastern European countries, including Poland and the Czech Republic. If you plan to visit these countries as well, you might choose to rent your car there, as those limitations do not apply the other way round.
Talk
The official language of Germany is German.
All Germans learn English at school, so you should be able to get by with English in most places especially in the former West Germany. Many people–especially in the tourism industry and higher educated persons–also speak French, Russian or Spanish, but if you can't speak German, English remains your best bet. Even if one member of the staff doesn't speak English, you are likely to find someone who does and is more than willing to help you.
Best top attractions in Germany and what to do in Germany
Public Holidays
On national holidays, shops are closed and public transportation runs at a lower level. The national holiday is October 3rd, in memory of the German Reunification on this date in 1990. There are two christmas holidays, December the 25th and 26th. Christmas eve ist a holiday from 2 p.m. or 4 p.m., depending on the Bundesland. The same goes for New Year's Eve, while New Year's Day is a holiday in whole. Good Friday (Karfreitag), Easter Sunday (Ostersonntag) and Easter Monday (Ostermontag) are public holidays, as are Pentecost Sunday (Pfingstsonntag) and Whit monday (Pfingstmontag). Other holidays depend on the Bundesland. Typically the holidays differ with the major confession of the state. E.g. the protestant Reformation Day (October 31st) is a holiday in Brandenburg, Mecklenburg-Western Pomerania, Saxony, Saxony-Anhalt and Thuringia, while the catholic All Saint's Day (November 1st) is a holiday in Baden-Wuerttemberg, Bavaria, North Rhine-Westphalia, Rhineland-Palatinate and Saarland. States with a catholic majority are said to have a few more holidays than protestant dominated Bundesländer.
Respect
The Germans adhere to a set of values revolving around order, privacy and punctuality. They respect and pursue perfectionism in all aspects of life.
Germans have an undeserved reputation for being "cold", but in actuality that's far from the truth. Communication is direct, and chit chat is largely ignored unless there's an absolute necessity for it. Hence, it's uncommon for Germans to communicate with strangers. Once you do get past a certain barrier though, Germans become warm, welcoming and sincere.
Internet
Internet cafes are common and usually small, local businesses. You probably won't have a problem finding at least one in even smaller towns or large villages. Phone shops will often offer internet access, too.
Most hotels offer free internet access for guests, however speeds are limited and may be inadequate for viewing and using multimedia-rich pages/apps quickly. Premium high-speed internet may be available – often at rip-off rates, so confirm access and rates with your hotel before using.
In several cities, projects exist to provide free "community" hotspots for wireless networking.
Passenger lounges at some airports and central railway stations also provide internet access to their customers.
Public libraries often offer Internet access, however usually not free of charge. The libraries are open to the public for free; taking a book home might require you to get a customer card at a low fee, though. Note the National Library in Leipzig, Frankfurt am Main and Berlin is not free. To explore Germany to its fullest, a lifetime may not be enough…
Official tourism websites of Germany
For more information please visit the official government website: 
Watch a video about Germany
Instagram Posts from other users
Tickets for remarkable experiences
If you want us to create a Blog Post about your favourite place,
please message us on FaceBook
with your name,
your review
and photos,
and we will try to add it soon
Useful Travel Tips Be sure to read these travel tips before you go. Travel is full of major decisions — like which country to visit, how much to spend, and when to stop waiting and finally make that all-important decision to book tickets.  Here are some simple tips to smooth the way on your next […]