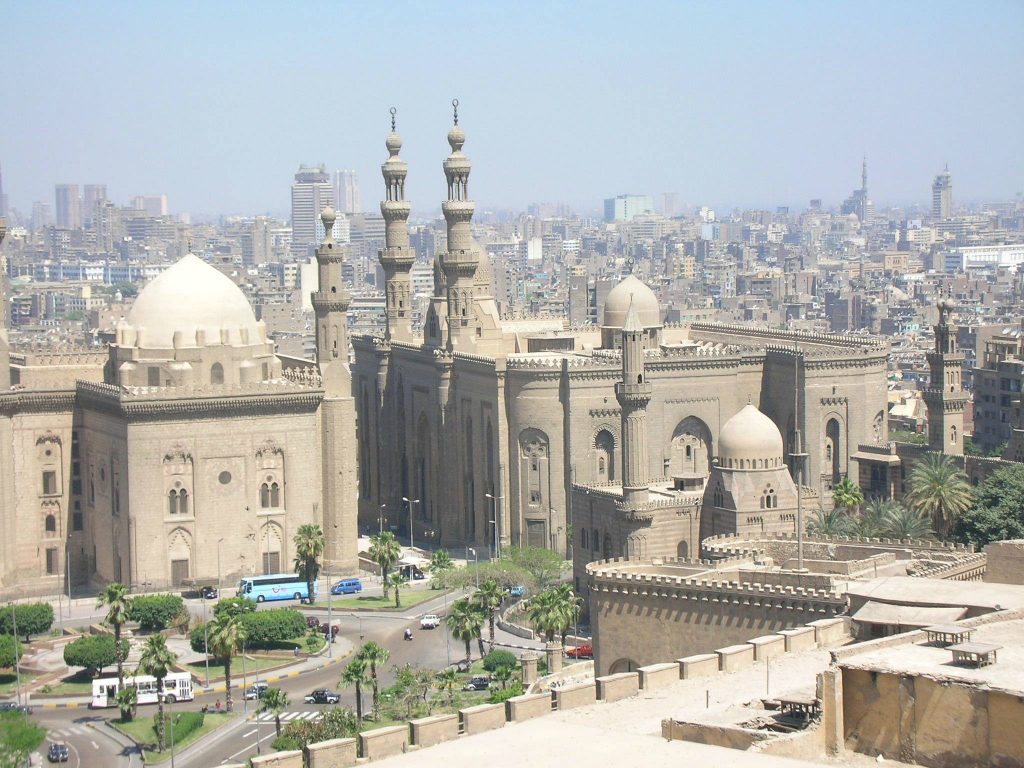 What to try in Cairo, Egypt
Coffee & shisha. In Egypt there's a coffee shop on every corner, sometimes you could even find them in the middle of the road. They're all similar but different in many ways. Mostly men sitting smoking shishas (water-pipes), Playing backgammon, cards, drinking tea, and reading newspapers. These coffee shops are called Ahwas. Some are huge and fancy, and some are just plastic chairs and tables in the middle of the road. They are often very cheap and relaxing. Smoke a shisha water pipe and watch the world go by. Great cheap entertainment.
Ride a felucca along the Nile River. A great way to relax and enjoy a night under the stars in Cairo. Feluccas are available across from the Four Seasons Hotel in Garden City. To charter your own, negotiate a fair price no matter how many people are on it. Pay after your ride, or you may get much less than you bargained for. Public boats with loud Arabic music and a giggling crowd are also.
Cairo has a shortage of parks, but a few of them exist. The most famous is the Giza Zoo located in the Giza district of Cairo, right in front of the entrance to the Four Seasons Hotel in Giza. This is actually one of the oldest zoos in the world (it was built approximately 100 years ago).
Hadiqat Al Orman, traslated (Al Orman Gardens). This is a fairly large park in the giza district, close to the Giza zoo, and it can be entered by paying a daily ticket at the gate. It contains a variety of trees and flowers and is a nice place to escape the noise and traffic of the city. However, it may be very crowded with locals especially on weekends and public holidays like the Eid, etc.
Hadiqat Al Azbakiya, translated (Al Azbakieya Gardens). Another nice park to enjoy the greenery and scenery of trees and gardens, while remaining inside the city. It is located in the Azbakiya area of Cairo.
Genenet El Asmak, another park located in Zamalek. It is a nice park, which also includes several large caves containing water aquariums, where you can see different species of fish and underwater life through glass windows. Like other parks, a very cheap ticket enables you to enter and enjoy the day there. Genene El Asmak means Garden of the Fish in English.
Merryland, in Arabic (Genenet El Merryland), located in Heliopolis district near Roxy Cinema. Again, another park with trees and gardens and nice scenery, but in the last a few years ago, a number of restaurants and cafes have also opened up inside the park, which means it is now a place where people can eat, drink, and enjoy the park all together.
El Hadiqa El Dawliya, in English this means (The International Garden), located in Nasr City district. It is one of the more recently opened parks, built when Nasr City district was built. Again, it is another park, with sections containing different copies of famous buildings from around the world. (The copies are much smaller of course and are like small statues that you can view (ie. The Eiffel Tower of Paris, The Great Wall of China, The Windmills of Holland, etc.) Interesting to see.
Al-Azhar Park near Heliopolis is probably the newest and most recent park to open in Cairo, also with restaurants and entertainment available. It has a good vantage point of Islamic Cairo and the city skyline.
Take a stroll along the Corniche el-Nil, and there is a river promenade on Gezira Island.
Desert Park. Wadi Digla Protected Area is a 60 square kilometer environmentally protected park near Ma'adi, that offers opportunity for taking a trek, jogging, rock climbing, and cycling. Wadi Degla is also a good spot for bird watching, and viewing the various reptile species, plants, and deer that reside there. You can take a cab from Ma'adi to the entrance at Wadi Delga. Cab drivers in Ma'adi should know where to go.
If the family, and especially children are fed up looking at monuments and museums, a ten minute trip from the Giza Pyramids by micro-bus, taxi, or car, will take you to two of the biggest and best theme parks in Cairo, Dream-park, and Magic land, both in nearby Sixth Of October City. Magic land is also part of The Media Production City complex, including The Mövenpick Hotel, where visitors can take a tour of the Egyptian TV and drama sets, and studios which house many of the Egyptian and other Arabic TV stations.
Citystars is Egypt's premier shopping mall and is quite comparable to a foreign mall. It offers most international brands and most international food chains. It offers a cinema and amusement park. McDonald's, TGI Fridays, Fuddruckers, Ruby Tuesday, and more are all here.
Go horseback riding in the desert from one of the Nazlet El-Samaan stables. Ride in the shadow of the Great Pyramids or further afield to Saqqara or Abu Sir or camp out over night with a barbecue and fire. Longer rides to Saqqara and Abu Seer can be arranged in advance, as can sunrise, sunset and full moon rides.
Accessible from Cairo are a number of other pyramids beyond the Great Pyramids of Giza. Consider visiting the Pyramid of Meidum (~100km south of Cairo) and the complexes at Dahshur (Red Pyramid, Bent Pyramid & Black Pyramid) and Saqqara (Imhotep Museum and Egypt's oldest pyramid, the Step Pyramid). The Pyramid of Meidum is a collapsed pyramid which displays the inner structure amidst an impressive slope of sand. A real contrast from Giza in its quiet remoteness and freedom from touts, one can explore both the exterior and interior of the site with only the company of an armed policeman. Open until 4pm. A day trip encompassing all these sights is a real highlight on an Egyptian trip.