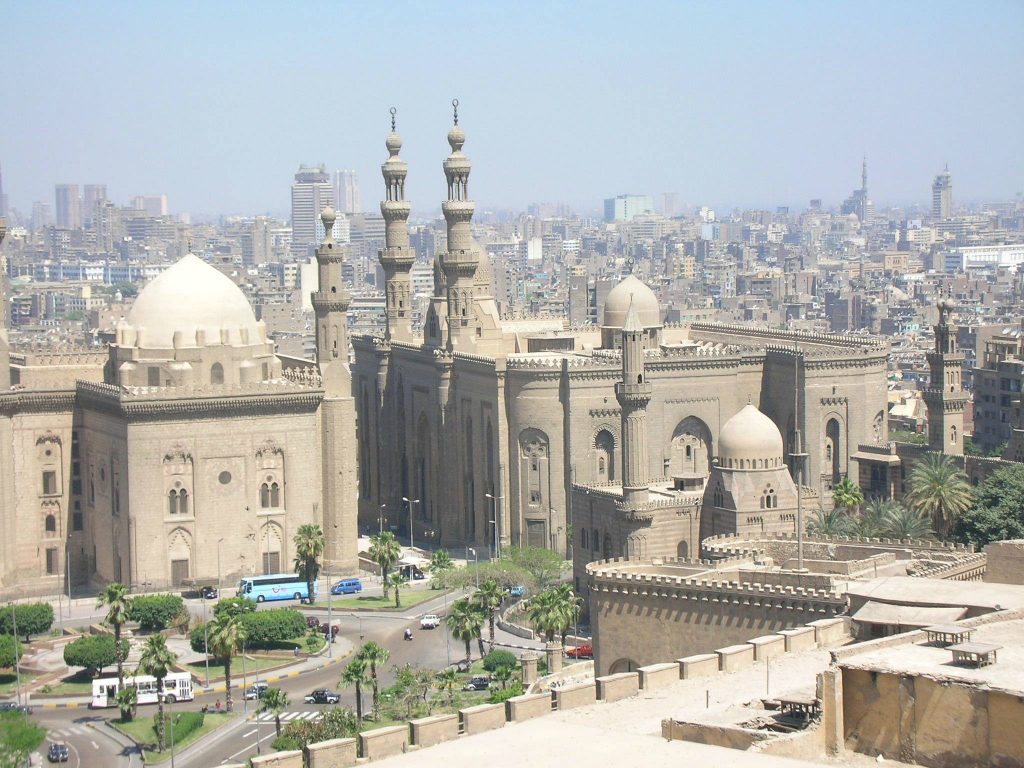 What to drink in Cairo, Egypt
Cairo has an enormous number of restaurants, catering to most needs. The borders between restaurants and cafes are not crystal-clear in the Egyptian capital. In many places it is perfectly acceptable to just have a drink or sheesha. Medium and high-range outlets might have a minimum charge. Cheaper restaurants will normally not serve alcohol as well as some more expensive outlets. Recently, food tourism has started becoming trendier and you can also go to a food tour to experience authentic Egyptian food in a short window of time.
Fatir is a pastry and can be eaten as a meal or snack, with sweet ingredients like jam or honey, or salty toppings like cheese, meat, and vegetables which make it more like a pizza.
Traditional Egyptian staples are available almost everywhere. In stalls and street restaurants you will find traditional dishes like fuul (bean paste), taa'miya (falafel), muzagga (the Egyptian version of the Greek moussaka), kushari (rice, macaroni, lentils, chick peas, tomato sauce with red pepper oil [very spicy] and garlic/vinegar sauce are offered on the side), fetyeer (pancakes with different fillings) and shawarma (a recent import from Lebanon and Syria — pieces of roasted meat usually wrapped in bread).
Otherwise Arabic and oriental restaurants tend to mix styles or completely go for more Lebanese-style eating, considered more stylish by rich Cairenes. The good side of this is that Cairo is blessed with many quality Lebanese outfits, from chains like Dar Al-Qamar to stylish restaurant establishments. Additionally, Turkish food and restaurants catering to Gulf visitors can be found.
Cairo has a growing number of Western fast food outlets available – these are, incidentally, some of the best places to see young Cairenes relaxing together, as fast food restaurants are apparently considered amongst the hippest places to hang out. McDonalds, Hardees, Pizza Hut, and KFC are spread about the city, but they are relatively more expensive. Most of these also offer free wireless internet.
Cairo has a wide range of drinking options from the very traditional to fashionable and modern. At the other end of the scale, almost any street in Cairo has a traditional coffee house, ´ahwa, a traditionally male institution of social life tracing many hundreds of years back in history. Besides that you'll find everything from fruit stalls to patisseries and bakeries and modern cafés whipping up all varieties of modern European coffee. In addition to the traditional Turkish coffee and shai tea, virtually everywhere you'll find drinks like hibiscus tea kerkedeeh, served warm or cold depending on season, sahleb, a milk-based drink usually served in winter, fakhfakhenna (a kind of fruit salad), sugarcane juice, mango and tamarind juice, Tamr hindi.
Cairo remains one of the best cities in the world to sample the traditional coffee house culture of the region. They are called maqhâ in Standard Arabic, but in the local dialect this is turned into ´ahwa. The Turkish coffee remains an invariable ingredient in any Cairene coffee house, and water pipe (sheesha) and tea is even more popular. While considered "old fashioned" for a time, these places are again turning fashionable among younger crowds and even smoking a water-pipe is no longer a male-only pastime. Places vary from just a small affair–plastic chairs and tables put out on the street–to more elaborate cafes especially in upscale and tourist areas.
For most men in Egypt it is an important social institution, usually near one's home and the local mosque or church. It is the place to chat, pick up the latest news, read the paper, watch a TV show or a soccer match, or simply people watch while puffing a waterpipe sheesha. Some say there are more than 20,000 coffee houses in Cairo. Today Downtown and Islamic Cairo are the best places to visit for a sampling of this essential part of Cairene life.
For many, the sheesha or water pipe, is the main attraction of any visit to a Cairene coffee house. It is usually available in at least two varieties, mu´assal, pure tobacco, and tofâh, apple-flavored. Other fruit varieties are sometimes available. Coffee houses range from the more elaborately decorated to a simple counter and some plastic chairs and tables spread out in the street. Foreigners are invariably made welcome, although women might feel uncomfortable visiting coffee houses in traditional, poor areas of the city.
Turkish coffee (´ahwe turki) is served either sweet (helwa), medium sweet (masbout), with little sugar (sukr khafeef) or no sugar (sâda). Sweet means very sweet. Tea (shai) is served either as traditional loose tea (kûshari, not to be confused with the Cairo macaroni-rice stample kushari), known as dust tea in English, or in a tea bag. Most coffee shops usually offer fresh mint leaves to put in your tea, upon request. A range of soft drinks are usually available. Most typically you will find hibiscus tea (karkadee), served warm in the winter season and cold during the warmer parts of the year.
During the hot Cairo summer, fruit juice stalls selling fresh juice (and occasionally fruit salads and other soft drinks) are a delight not to be missed. Basically these places sell fresh-pressed juice of whatever is in season. Typical choices include orange (bortoqâl), lemon (limon), mango (manga) and strawberry (farawla), guava (gawafa), pomegranate (Rummān). Prices and quality depend on season and availability. These places are spread out around the city and available at almost all the places tourists typically visit and in all local residential districts. Traditional coffee houses or fruit juice stalls might sell all or some of these drinks.
Modern cafes and patisseries are spread out around the city. Typically they serve light food like sandwiches and salad in addition to espresso-based coffees and pastries. Most of these places, including all the chains, offer wireless internet connection as well. International chains such as Costa Coffee and Starbucks are also widely available throughout Cairo.
For the capital of a majority Muslim country, Cairo is relatively liberal when it comes to the consumption of alcohol. A wide range of bars and dance clubs is available, basically in every major hotel, and some are open 24/7. If you would like to explore the less fancy drinking places in Cairo, Downtown is definitely the place to go. Upscale nightspots are found in and around the Zamalek area