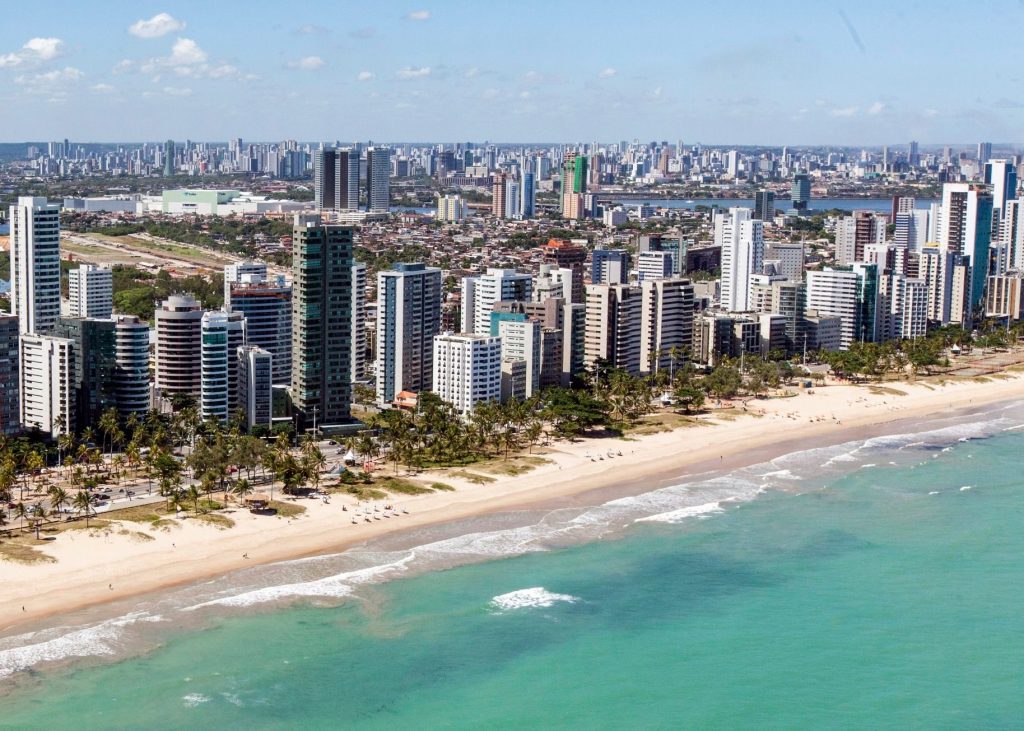 Explore Brazil, the largest country in South America and fifth largest in the world. It is famous for its football (soccer) tradition and its annual Carnival in Rio de Janeiro, Salvador, Recife and Olinda. It is a country of great diversity, from the bustling urban mosaic of São Paulo to the infinite cultural energy of Alagoas, Pernambuco and Bahia, the wilderness of the Amazon rainforest and world-class landmarks such as the Iguaçu Falls, there is plenty to see and to do in Brazil.
Brazil was inhabited solely by indigenous people, mainly of the Tupi and Guarani ethnic groups. Settling by the Portuguese began late in the 16th century, with the extraction of valuable wood from the pau brasil tree, from which the country draws its name. Despite Portuguese rule, in some parts of Brazil the Dutch founded colonies between 1630 and 1654.
Climate
Brazil is a huge country with different climate zones. In the North, near the equator there is a wet and a dry season; from about São Paulo down to the south there is spring/summer/fall/winter. The weather constantly changes and is sometimes a surprise. It can be scorching hot, then simmer down, and get very cold. It could be sunny 1 minute, and start raining the second minute. The warm climate is perfect for the beach and playing outside.
Working hours are usually from 08:00 or 09:00 to 17:00 or 18:00. Banks open Monday to Friday, 10:00-16:00. Street shops tend to close at noon on Saturday and only re-open on Monday. Shopping malls normally open 10:00-22:00, Monday to Saturday, and 15:00-21:00 on Sundays. Some malls, especially in large cities, are also open on Sundays, although not all the stores may be open. It is also possible to find 24-hour stores and small markets that are open even on Sundays.
Talk
The official language of Brazil is Portuguese, spoken by the entire population (except for a few, very remotely located tribes). Indeed, Brazil has had immigrants from all parts of the world for centuries, whose descendants now speak Portuguese as their mother tongue.
English is not widely spoken except in some touristy areas. Don't expect bus or taxi drivers to understand English, so it may be a good idea to write down the address you are heading to before getting the cab. In most big and luxurious hotels, it is very likely that the taxi fleet will speak some English.
Best top attractions in Brazil
Natural wonders
Mata Atlantica, Bahia
Amazon Rainforest – The Amazon River Basin holds more than half of the world's remaining rainforest, and over 60% of that lies within the North of Brazil — approximately one billion acres with incredible biodiversity. The region is home to about 2.5 million insect species, over 40,000 plants species, 2200 fish species, and more than 2,000 types of birds and mammals. One in five of all the bird species in the world live in the rainforests of the Amazon, and one in five of the fish species live in Amazonian rivers and streams.
Atlantic Forest (Mata Atlântica) – A region of tropical and subtropical forest which extends along the Atlantic coast of Brazil from Rio Grande do Norte state in the Northeast to Rio Grande do Sul state in the South. The Atlantic Forest has a wide variety of vegetation, including the many tree species such as the iconic araucaria tree in the south or the mangroves of the northeast, dozens of types of bromeliads and orchids, and unique critters such as capivara. The forest has also been designated a World Biosphere Reserve, with a large number of highly endangered species including the well-known marmosets, lion tamarins and woolly spider monkeys. Unfortunately, it has been extensively cleared since colonial times, mainly for the farming of sugar cane and for urban settlements — the remnants are estimated to be less than 10% of the original, and that is often broken into hilltop islands. However, large swaths of it are protected by hundreds of parks, including 131 federal parks, 443 state parks, and 14 municipal parks, most of which are open to visitation.
Campos Gerais – With a vast vegetation of grasses and areas of transition between the Cerrado and Atlantic Forest, this region offers beautiful scenery of cliffs and canyons, as Jaguaricatú Valley, beyond the fifth and the eighth most extensive canyons in the world, which are respectively Guartelá and Jaguariaíva . Jaguariaíva the canyon is made more beautiful rafting activity in Brazil.
Pantanal – A vast tropical wetland expanse, one of the world's largest. 80% of it lies within the state of Mato Grosso do Sul but it also extends into Mato Grosso (as well as into portions of Bolivia and Paraguay), sprawling over an area estimated at between 140,000 and 195,000 square kilometers (54,000-75,000 sq mi). 80% of the Pantanal floodplains are submerged during the rainy seasons, nurturing an astonishing biologically diverse collection of aquatic plants and helping support a dense array of animal species.
Waterfalls (Cachoeiras) – Brazil has an amazing range of impressive waterfalls of all sizes and shapes. Iguaçu Falls, in eastern Parana, is one of the most spectacular waterfalls in the world, truly a sight to see. The 353-meter Cachoeira da Fumaça in Bahia's Chapada Diamantina National Park is the country's second highest waterfall, after the Amazon's almost inaccessible Cachoeira do Araca. Other famous waterfalls include Caracol Falls, in a Rio Grande do Sul state park of the same name near Canela, Itaquira Falls, an easily accessible 168-meter fall near Formosa, Goiás, and the gorge at Parque da Cascata near Sete Lagoas, Minas Gerais. Aside from the nationally famous falls, in many parts of the country, particularly the South, Southeast, and Central West regions, you are rarely far from at least one locally-famous, named waterfall worth a short hike.
Architecture
Colonial architecture – Many cities have reminders of Brazil's colonial past, with churches, monasteries, forts, barracks, and other structures still intact. Some of the most concentrated and best-preserved colonial buildings can be found in old gold-mining towns such as Ouro Preto and Tiradentes, but many other cities such as Rio de Janeiro, San Paulo, Petrópolis, Salvador, Recife, Paraty, and Goiânia have quite significant colonial centers as well.
Oscar Niemeyer works – Niemeyer, Brazil's most famous architect, is a modern architectural pioneer who explores the aesthetic impact of reinforced concrete, using curves to create buildings with a unique sense of space. He is most famous for designing many of the buildings when the new capital of Brasilia was built in the 1950s, but his works literally dot the country, with major works in Natal, João Pessoa, Recife, Belo Horizonte, Rio de Janeiro, Niterói, São Paulo, Londrina and other locations.
The biggest party in the world takes places across the country every year, lasting almost a week in February or early March. It is celebrated in a wide variety of ways, from the giant boneco masks of Olinda and the trios elétricos of Salvador to the massive samba parades of Rio de Janeiro and São Paulo. For a relatively more subdued atmosphere, check out the university-style street party of Ouro Preto or the sporty beach party at Ilha do Mel. Don't forget to make your reservations well in advance!
New Year Celebrations
Every New Year's Eve, many Brazilians have a very strong celebration that is believed to give luck. The people in the largest cities usually travel to the coast to see and ever contribute to the fireworks, while dressed in white, which is understood to mean a lucky color. They all gather flowers to give to the sea as originally the local African groups thought it would please the goddess of the sea, which means they set the flowers on the water and let it float away to where ever the current will take it. These are usually white flowers with a green stem and green leaves. It is a custom that the flowers should be white as the clothing. Some people nest the flowers in a small fishing boat and some simply drop the leaves on the water. It is said this tradition have been constant since it first started. Not everyone does it, but anyone in the area will most likely do it.
Beaches
Almost the entire coast is lined with fabulous beaches, and the beach lifestyle is a big part of Brazilian culture. Nowhere is that more true than in Rio de Janeiro, with its laidback, flip-flop-footed lifestyle and famous beaches like Ipanema and Copacabana. Beaches in other areas of the country may not have the instant name recognition but are no less amazing. The Northeast has jewels like Jericoacoara, Praia do Futuro, Boa Vista, Porto de Galinhas, and Morro de São Paulo which bring in throngs of travellers, particularly Europeans. Landlocked mineiros go mingle with the rich and famous at Guarapari or dance forró in the sand at Itaunas, while paulistas head for Caraguá or Ubatuba. In the South, weekend revelers flock to Ilha do Mel or Balneário Camboriú, while the 42 beaches of Santa Catarina Island draw in thousands of Argentianian tourists every year. Hundreds more beaches lie ready to be explored as well.
Sports
Soccer – Soccer is the talk of the town wherever you are in Brazil, and the country is brimming with great teams and great players. Rio de Janeiro has the world-famous Maracanã Stadium, Mineirão in Belo Horizonte, Morumbi Stadium in São Paulo, Arena Grêmio and Beira-Rio in Porto Alegre.
Volleyball – While soccer is the main sport in Brazil, is very normal to find spaces on the beaches where you can play beach volleyball, but this version of the sport possess a different code of rules than indoor volleyball (for example instead of six players, only two players are allowed to play on each team).
International Charter Group: Yacht charter and sailing, one of the world's largest yacht charter companies, can take care of all charter requirements, from bareboat to crewed in the Brazil. Operating from nine offices worldwide (USA, Spain, UK, Germany, Italy, France, Spain, Switzerland, Caribbean, Honk Kong and Dubai).
Brazilian Jiu-Jitsu: One of, if not the most, effective martial arts ever created by the Gracie family of Rio de Janeiro.
"Olympics" – The leading international sporting events took place August 5 – August 21 2016 in Rio de Janeiro. 6177 athletes competed in 306 events in 28 sports. 
Souvenirs
Similar to the rest of Latin America, hand-crafted jewelry can be found anywhere. In regions that are largely populated by Afro-Brazilians you'll find more African-influenced souvenirs, including black dolls. Havaianas sandals are also affordable in Brazil and supermarkets are often the best place to buy them — small shops usually carry fake ones. If you have space in your bags, a Brazilian woven cotton hammock is a nice, functional purchase as well. Another interesting and fun item is a peteca, a sort of hand shuttlecock used in a traditional game of the same name, similar to volleyball.
Shopping
It's not a bad idea to pack light and acquire Brazilian clothes within a couple of days of arrival. It will make you less obvious as a tourist. Brazilians have their own sense of style and that makes tourists – especially those in Hawaiian shirts or sandals with socks – stand out in the crowd. Have some fun shopping, and blend in.
Store windows will often display a price followed by "X 5" or "X 10", etc. This is an installment-sale price. The price displayed is the per-installment price, so that, "R$50 X 10", for example, means 10 payments (typically monthly) of R$50 each.
Make sure any appliances you buy are either dual voltage or the same as in your home country. Frequency in Brazil is 60Hz, so don't buy electric clocks or non-battery operated motorized items if you live in Europe or countries like Argentina, Australia or New Zealand. Voltage however varies by state or even regions inside the same state.
Brazilian-made appliances and electronics are usually expensive or of poor quality. All electronics are expensive compared to European or US prices.
There are plenty of bargains to be had, especially leather goods, including shoes (remember sizes are different though). Clothes in general are a good buy, especially for women, for whom there are many classy items. Street markets, which are common, are also a cheap option, but avoid brand names like "Nike" – you will pay more and it's fake. Don't be afraid to "feel" an item. If it doesn't feel right, most likely it isn't. Beware of the dreaded "Made in China" label, and be in mind some Brazilian-made products are less robust than their American or European counterparts.
Sleep
High season in Brazil follows the school holidays calendar, December and January (summer) being the busiest months. New Year, Carnival of Rio (movable between February and March, see Understand above) and Holy week are the peak periods, and prices can skyrocket, especially in coastal cities like Rio and Salvador. Also, during those holidays, many hotels restrict bookings to a 3 or 4-day minimum and charge in advance.
Hotels are plentiful in just about all areas of Brazil and can range from luxury beach resorts to very modest and inexpensive choices. The Brazilian tourism regulation board imposes specific minimum attributes for each type of facility, but as the 1-5 star rating is no longer enforced, check in advance if your hotel provides the kind of services you expect.
Stay safe
By law, everyone must carry a photo ID at all times. For a foreigner, this means your passport. However, the police will mostly be pragmatic and accept a plasticized color photocopy.
Internet
Internet cafes (Lan houses) are increasingly common, and even small towns often have at least one spot with more or less decent connections.
An increasing number of hotels, airports and shopping malls also offer hotspots for Wi-Fi with your laptop computer. When you are on the way to explore Brazil there is nothing you will regret on your way home.
Official tourism websites of Brazil
For more information please visit the official government website: 
Watch a video about Brazil
Instagram Posts from other users
Tickets for remarkable experiences
If you want us to create a Blog Post about your favourite place,
please message us on FaceBook
with your name,
your review
and photos,
and we will try to add it soon
Useful Travel Tips Be sure to read these travel tips before you go. Travel is full of major decisions — like which country to visit, how much to spend, and when to stop waiting and finally make that all-important decision to book tickets.  Here are some simple tips to smooth the way on your next […]