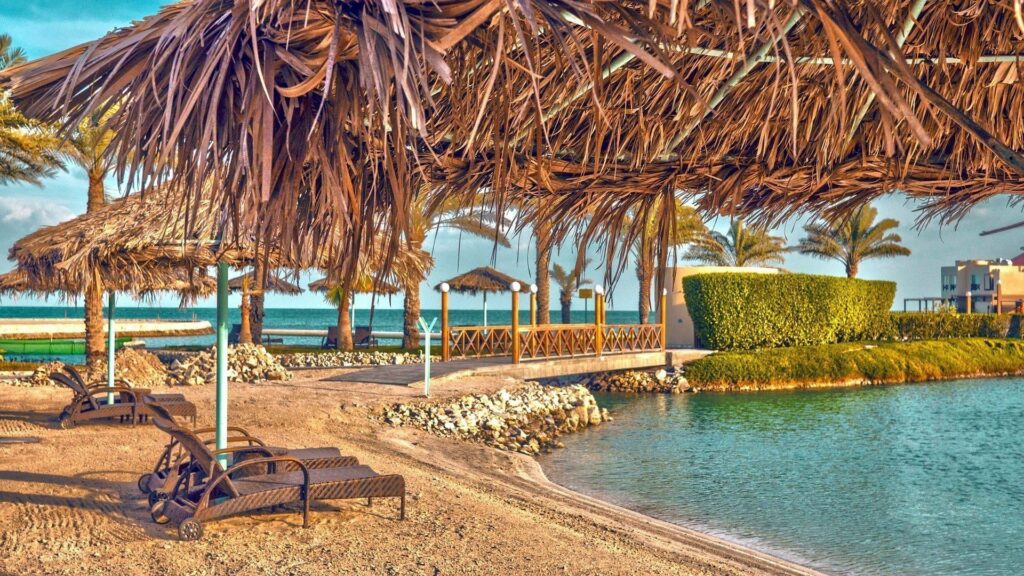 The Kingdom of Bahrain. Explore Bahrain  a Middle Eastern archipelago in the Persian Gulf, tucked into a pocket of the sea flanked by Saudi Arabia and Qatar and is also close to the United Arab Emirates. It's an oasis of social liberalism – or at least Western-friendly moderation – among the Muslim countries of the region. It's popular with travelers for its authentic "Arabness" but without the strict application of Islamic law upon its non-Muslim minority.
Bahrain is the smallest country in GCC, and has often had to walk a diplomatic tightrope in relation to its larger neighbors. The country has few oil reserves, but it has established itself as a hub for refining as well as international banking, while also achieving a socially liberal (by Gulf standards at least) monarchy. Its economy depends to a small extent on Saudis interested in a little entertainment, not available in the strictly Islamic Kingdom of Saudi Arabia.
Bahrain features a tropical desert climate, but due to land reclamation has very few beaches. Man-made beaches at luxury hotels are nice, but only accessible for a price.
What to see in Bahrain. Best top attractions in Bahrain.
Manama – The capital of Bahrain.
Hamad Town
Isa Town
Amwaj Island
Muharraq
Riffa
Juffair
Boujistan
Hawar Islands – just off the coast of Qatar, these islands are very popular with birdwatchers
Bahrain International Airport  in Muharraq just east of Manama, is the main base for Gulf Air and has excellent connections from the Middle East, the Indian subcontinent and North & East Africa, in addition to longer-distance services from Amsterdam, Athens, Bangkok, Frankfurt, London, Manila, Moscow and Paris. The airport has good duty-free shopping for those awaiting flights.
Arabic is the official language. Bahraini Arabic is the most widely spoken dialect of the Arabic language, though this differs slightly from standard Arabic.
English is widely spoken by Bahrainis of all ages, and is a compulsory second language at all schools.
Among the Bahraini and non-Bahraini population, many people also speak Persian or Urdu. Nepali is also widely spoken in the Nepalese workers and Gurkha Soldiers community. Malayalam, Tamil and Hindi are spoken among significant Indian communities.
The Qala'at al-Bahrain(Bahrain Fort) is located off the northern shore and is a five to ten minute drive away from Manama city, in Karbabad. It is restored and in good condition although it lacks furniture, signage, or exhibits. Admission is free and open daily 8am-6pm.
Next door to the fort is a museum, which contains many artifacts ranging from the ancient Dilmun periods through the Islamic era, many of which were found at the fort and additional ruins next door. The museum is a large rectangular and white building with absolutely no signs to indicate that it is a museum. The hours are 8AM-8PM Tues-Sun;
Abu Mahir Fortis located in Muharraq and is also known as Muharraq Fort. It was built on the foundations of much old fort and was positioned to protect the western approaches.
Arad Fort. Dating from the 16th century, this fort was built by the Arabs – before being captured by the Portuguese in 1559. It was then recaptured by the Omanis in 1635. It has been restored and now hosts cultural events. Open Sun-Wed 7am-2pm, Thurs & Sat 9am-6pm.
The Sheikh Salman bin Ahmad Al Fateh Fortis located in Riffa, overlooking the Hunanaiya Valley in the centre of the island. Open Sun-Wed 8am-2pm, Thur & Sat 9am-6pm, Fri 3pm-6pm.
Al Oraifi Museumin Muharraq (Dilmun era artifacts), 
Beit al Quranin Hoora (rare collection of Islamic manuscripts), 
Bahrain National Museumon the Al Fateh Corniche, Manama, 
Currency Museumin the Diplomatic Area (Bahraini coinage)
Oil Museumin Sakhir (history of the local oil industry). For example, this museum exhibits how to get oil in Bahrain and so on.
The year-round warm climate means that the water is very warm, even in wintertime, when cooler temperatures may occur. The water is known for being very calm and clear.
Bahrain also has a set of remarkable prehistoric burial grounds. These extensive sites, often densely covered by burial mounds, can be found at 
A'ali(the biggest prehistoric cemetery in the world), 
Al Hajar, 
Buri, 
Hamad Town
Jannusan, 
Sa'ar, 
Shakhoora
and Tylos.
The high temperatures in Bahrain make sea activities seem extra tempting and water sports are extremely popular in Bahrain, with tourists and locals indulging in their sport of choice all year round in the warm waters of the Persian Gulf. Sailing and scuba diving are particularly popular.
Although a desert country, Bahrain boasts an international 18-hole grass golf course, which is about 15 minutes outside the capital, Manama. The par 72 championship course features five lakes and is landscaped with hundreds of date palms and desert plains.
Enjoy riding a camel along a highway.
Visit Royal Camel Farm
Purchase souvenirs and buy some authentic pottery at A'ali Village Pottery.
There are several malls in Bahrain that offer international and luxury labels shops and boutiques, supermarkets and so forth, as well as food courts, contemporary and traditional cafes, play areas and arcades, cinemas (3D & 2D) and even an in-door water park.
A visit to the local souq is a must. There you can negotiate the price on simple cloths, Bahrain's famous gold, and many other gifts. The souq is also home to many excellent tailors. If you're there for long enough (say a week) then you can take a favorite clothing item in and they will "clone" it precisely in any material you select from the huge range available.
Bahrain has an impressive dining scene, with numerous restaurants to choose from. Restaurants in Bahrain run the gamut for cheap stalls offering local food to fancy restaurants in fancy hotels. The most famous local fast food is Jasmi's (Must try). American fast food franchises such as Burger King and McDonald's are available, as well as Texas Chicken. Western (mostly American) style-foods and franchises can be found around the malls and in the city centre, offering food for upper mid-range prices. Common fast food like KFC, McDonald's, Papa johns, Dairy queen, etc. can be found in the streets in every city and town. Some restaurants are located not in Manama but in other places. Prices of dishes are reasonable, so there are many repeat customers.
Under Bahraini law, any sign of having consumed alcohol may be taken as prima facie evidence of driving under the influence, which can lead to imprisonment and/or fines. However, alcohol is legally sold in various restaurants (in certain areas), hotels, bars, and nightclubs.
The ordinary social crime rate in Bahrain is low and violent crime is rare. However, burglary, petty theft, and robberies do occur..
Drink plenty of water. April through August can be very hot (up to 50 ºC) and humid. Use an umbrella to protect you from the harsh sun. It is important to stay hydrated, especially if you are outdoors during the day. Bottled water is sold practically everywhere in the city from "Cold Stores" and small restaurants at very reasonable prices. In the souk, walking vendors offer small chilled bottles but you may end up paying more than the bottle is really worth. If you are living in Bahrain for an extended period of time, you can set up an arrangement for a neighborhood Cold Store to deliver bottled water to your flat, or sign up for water delivery through several companies on the island. Water on the island is barely potable, but not recommended for drinking due to amount of bacteria and heavy mineral content.
Bahrain is a fairly gracious host nation but it is imperative to demonstrate respect and courtesy in reference to their particular cultural practices and religion at all times. When out in places where local Arabs can be found it is advisable to wear long trousers, or shorts, and women shouldn't wear a see-through dress. However, in beach clubs and hotels, swimsuits, bikinis and shorts are okay to wear. Do not show signs of affection to members of the opposite sex in public. People of the opposite sex have been arrested for kissing in public and it is just not socially accepted. 
Explore Bahrain and keep in mind to always avoid any confrontation and never become involved in an argument, especially with a local.
Official tourism websites of Bahrain
For more information please visit the official government website: 
Watch a video about Bahrain
Instagram Posts from other users
If you want us to create a Blog Post about your favourite place,
please message us on FaceBook
with your name,
your review
and photos,
and we will try to add it soon
Useful Travel Tips Be sure to read these travel tips before you go. Travel is full of major decisions — like which country to visit, how much to spend, and when to stop waiting and finally make that all-important decision to book tickets.  Here are some simple tips to smooth the way on your next […]