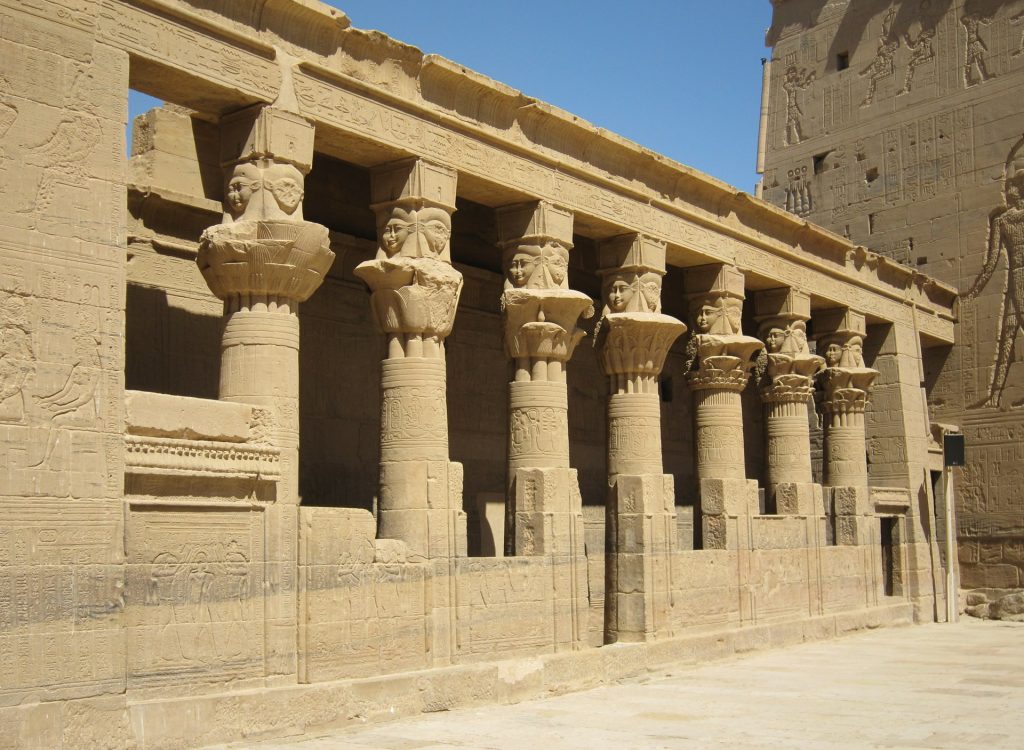 Explore Aswan, a city in the south of Egypt, some 680km (425 miles) south of Cairo, just below the Aswan Dam and Lake Nasser, with a population of 275,000.  Aswan is far more relaxed and smaller than Cairo and Luxor.
Aswan is the smallest of the three major tourist cities on the Nile. Being the furthest south of the three, it has a large population of Nubian people, mostly resettled from their homeland in the area flooded by Lake Nasser. Aswan is the home of many granite quarries from which most of the Obelisks seen in Luxor were sourced. Aswan was the ancient Egyptians' gateway to Africa.
Aswan International Airport is situated 25km SSW of the city, on the west bank and just south of the high dam and takes roughly 30-40 minutes of travel time. Public buses don't go to the airport and security on the approach road to the terminal is tight so keep your passport and proof of ticket handy.
What to do in Aswan Egypt
Rent a Bike. Bikes available at many hotels. Cross the modern bridge to the east bank and bring back your bicycle afterwards by ferry boat. edit
Local Felucca Cruise. Aswan is a great place for a local cruise to the nearby islands.
Trips to Abu Simbel. This is a must!
Camel Rides. Grab a felucca captain and they will shuttle you across to the camel marshaling area. Ride the camel to the Monastery of St Simeon.
Tea with the Local Shopkeepers. You will get a fascinating insight into their daily lives, and they love to practise their English on you.
Animalia: Nature in Nubia Tours, Elephantine Island. 8am – 7pm. A fascinating tour of the old city's plants, birds, rocks, wild animals and sand dunes. Animalia's tour guides are fluent in English, Arabic, Spanish and French.
Nubian Village. 3. Hire a felucca or a motor boat and ask them to take you to the Nubian Village to see the Crocodiles. Yes, local Nubians keep large and small Crocodiles in their homes. You can hold them, get a free drink and enjoy time with local Nubians.
The souqs (markets) in Aswan are refreshingly exotic without the same level of high-pressure selling found in some tourist towns further north. You will generally find that Nubian handicrafts are of higher quality and better value in Aswan. All other goods will be more expensive than in Cairo due to shipping costs to Aswan and the lower tourist demand. Having said that, the Aswan souk still has a lot of unscrupulous sellers trying to con their way into selling you low quality goods at high price. Try your best to compare the prices before buying and don't be hesitant to haggle.
Sharia as-Souq. The most charming souq in Egypt, There is far less pressure to buy than in other cities. Buy Nubian talisman, baskets, Sudanese swords, African masks, live produce, food, fruit, vegetables, henna powder, t-shirts, perfume, spices, robes, statues.
As in Luxor some restaurants have two identical menus: one with Egyptian prices in Arab, another one with (double) tourist prices in English. Also keep in mind that many restaurants add charges that increase your bill with about 20% Check before you order.
Aswan is much less strict on drinking alcohol than Cairo or Luxor, and many of the restaurants sell Stella (Egyptian brand not the Belgian brand) and Saqqara, both of which are lagers and comparable to European beers.
Aswan is Egypt's capital of sugarcane. When you are there you should try the fresh sugarcane juice. There's a recommended sugarcane juice shop nearby the Catholic basilica near to "the souk", but remember to ask for a straw because they don't wash the glass well. You can enjoy many sugarcane juice shops as you walk around.
Aswan is generally a very safe city. Watch out for pickpockets in the souq. These thieves will approach you carrying scarves, shirts or even papyrus in one hand to sell to you, while attempting to go into your pockets with the other hand. Most horse carriage drivers will not commit on the price when you arrive at your destination and you're expect to give more. Once you escape the tourist-heavy places (i.e. the corniche), you'll find that many of the locals are very friendly as is Egyptian culture. If you go into a shop to buy some snacks/water and the owner does not have change, it is not at all uncommon to see him look for change while leaving you alone in the shop. Egyptians are by nature very friendly and honest people, with an unfortunate population corrupted by the need to scam and steal from tourists.
Explore Aswan…
Official tourism websites of Aswan, Egypt
For more information please visit the official government website: 
Watch a video about Aswan, Egypt
Instagram Posts from other users
If you want us to create a Blog Post about your favourite place,
please message us on FaceBook
with your name,
your review
and photos,
and we will try to add it soon
Useful Travel Tips Be sure to read these travel tips before you go. Travel is full of major decisions — like which country to visit, how much to spend, and when to stop waiting and finally make that all-important decision to book tickets.  Here are some simple tips to smooth the way on your next […]